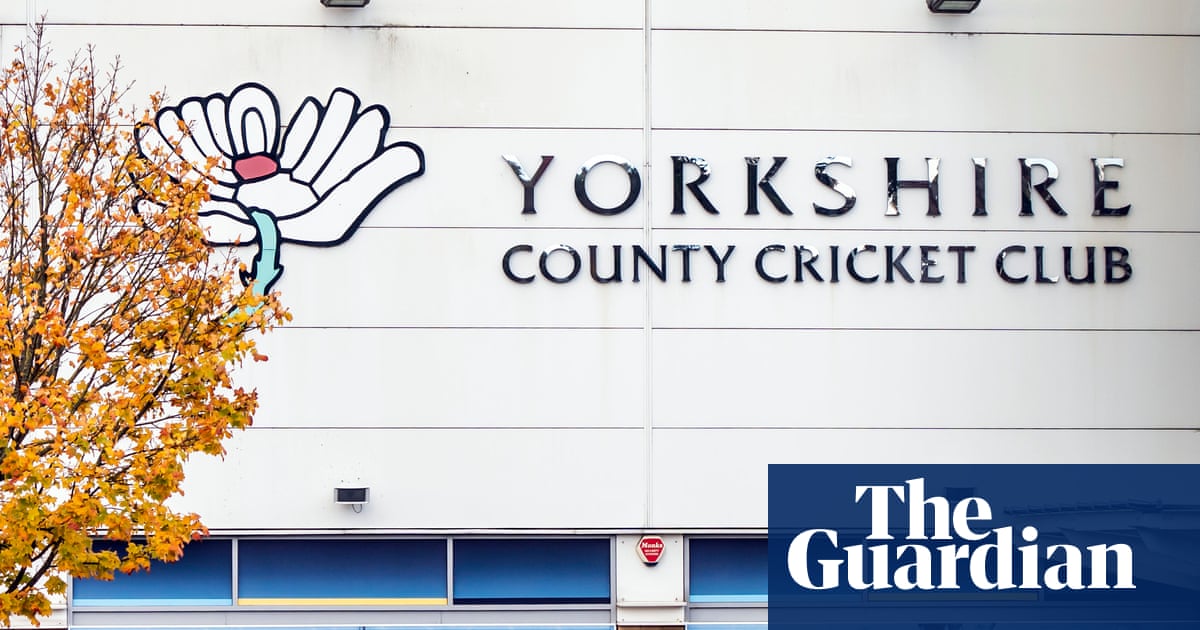 Yorkshire have been suspended from hosting international cricket and face the prospect of additional financial sanctions following the club's botched handling of Azeem Rafiq's racism allegations.
Engeland en Wallis Krieket Board announced this unprecedented move on Thursday night in response to mounting political pressure, describing the issues raised by Rafiq as "abhorrent" and having led to "serious questions" about the club's governance and management.
Coming on the day that Nike became the latest and most high profile sponsor to terminate a deal with Yorkshire, die ECB also confirmed that Gary Ballance is suspended from international duty after he admitted this week to using racist language towards Rafiq – explained as two-way verbals between friends – when the pair were teammates.
The ECB statement, which followed an emergency board meeting on Thursday afternoon, lees: "As a governing body with duties to act for all in cricket, the ECB board reaffirmed its commitment to taking decisions in the best interests of the whole game.
"It also agreed that sanctions including, but not limited to, financial and future major match allocations may be considered at the conclusion of our investigations.
"In the meantime, YCCC are suspended from hosting international or major matches until it has clearly demonstrated that it can meet the standards expected of an international venue, ECB member and first-class county."
Next summer Headingley is due to host the third men's Test between England and New Zealand, begin aan 23 Junie, as well as a men's one-day international against South Africa on 24 Julie. These lucrative fixtures, plus a men's Ashes Test in 2023, could now move to other venues depending on the final outcome of the ECB's investigation.
"If so, it would also see the club barred from bidding to stage the final of the Hundred, even if Headingley would continue to be the home of the Northern Superchargers team.
Yorkshire's 2019 accounts showed the club had earned just under £10.5m from international ticket and hospitality revenue, compared with just over £3m from commercial income, which would include sponsorship.
The ECB statement continued: "There is no place for racism or any form of discrimination in cricket and where it is found, swift action must be taken. This matter must be dealt with robustly if the sport is to demonstrate its commitment to truly being a game for everyone.
"The ECB will therefore hold YCCC to account in relation to their handling of the matter. Given recent events, it is clear there are serious questions regarding the governance and management of YCCC. The club's failure in relation to actions and responses to their own report represent a significant breach of its obligations to the game.
"The ECB board has asked the ECB executive to commission a review of Yorkshire CCC's governance to consider whether the existing arrangements are fit for purpose.
"The board reiterated its unwavering commitment to ensuring that cricket is a game for everyone. Discrimination of any kind on the field of play, in the dressing room, in the stands, or in the boardroom is intolerable in sport or indeed, society. Cricket must work together to eradicate it."
Ballance's ban represents a notional sanction, with the 31-year-old having won the last of his 39 caps in 2017. Like Headingley's international status, his fate will instead hinge on the final outcome of the ECB's regulatory process, something which began last week when it finally received a copy of Yorkshire's report into Rafiq's allegations.
The focus on Ballance is something Rafiq himself is keen to move away from, egter, with the former England Under-19s captain instead insistent the issues he encountered are far broader than one individual and that the club's leadership must be held accountable.
Chiefly this surrounds the club's failure to escalate an allegation of bullying that Rafiq first raised in 2017 and then a further complaint of racism a year later. Despite the investigation confirming Yorkshire had indeed failed to follow their own procedures here, it was announced last week that no action would be taken against any current employee.
Writing on Twitter on Thursday, Rafiq said: "I wanted to stress this is not really about the words of certain individuals. This is about institutional racism and abject failures to act by numerous leaders at Yorkshire County Cricket Club and in the wider game. The sport I love and my club desperately need reform and cultural change."
Rafiq, who the club admitted was the victim of "racial harassment and bullying" during his two spells at Headingley between 2008 en 2018, is due to give evidence to the House of Commons' digital, kultuur, media and sport select committee on 16 November, with Roger Hutton, Yorkshire's chair, Mark Arthur, the chief executive, and Martyn Moxon, the director of cricket, also expected to be questioned by MPs.
Whether all three administrators will still be with the club when the hearing comes around remains to be seen, with the Yorkshire board due to hold an emergency board meeting about the crisis ton Friday amid the suggestion that Hutton may stand down. Hutton took charge in April last year – after the events in question – but has come under increasing internal pressure over his handling of the club's response over the past 14 maande.
The DCMS committee chair, Julian Knight MP, getwiet: "The ECB's action in taking international cricket away from Yorkshire should act as a short, sharp shock to bring the club to its senses…I imagine the members of Yorkshire CCC will be questioning why the board is still in place."
Colin Graves, the former ECB chair, is reportedly in line for a return to the club that owes in excess of £15m to a trust in his family's name. Graves, who was previously chairman of Yorkshire from 2002 aan 2015, is understood to want the report into Rafiq's allegations made public, something that has previously been prevented by a fear of legal reprisals from individuals named within.
Either way the reputational damage continues to see sponsors flee the club, with Harrogate Spring Water, Bagnalls Painting and Decorating and the furniture manufacturer JT Ellis joining Nike on Thursday by ending commercial partnerships with the club.
Leeds Beckett University has also "paused all activity" with Yorkshire pending the outcome of the ECB's investigation into the matter, while Emerald, David Lloyd Clubs, Yorkshire Tea and Anchor Butter all ended their respective deals earlier in the week.