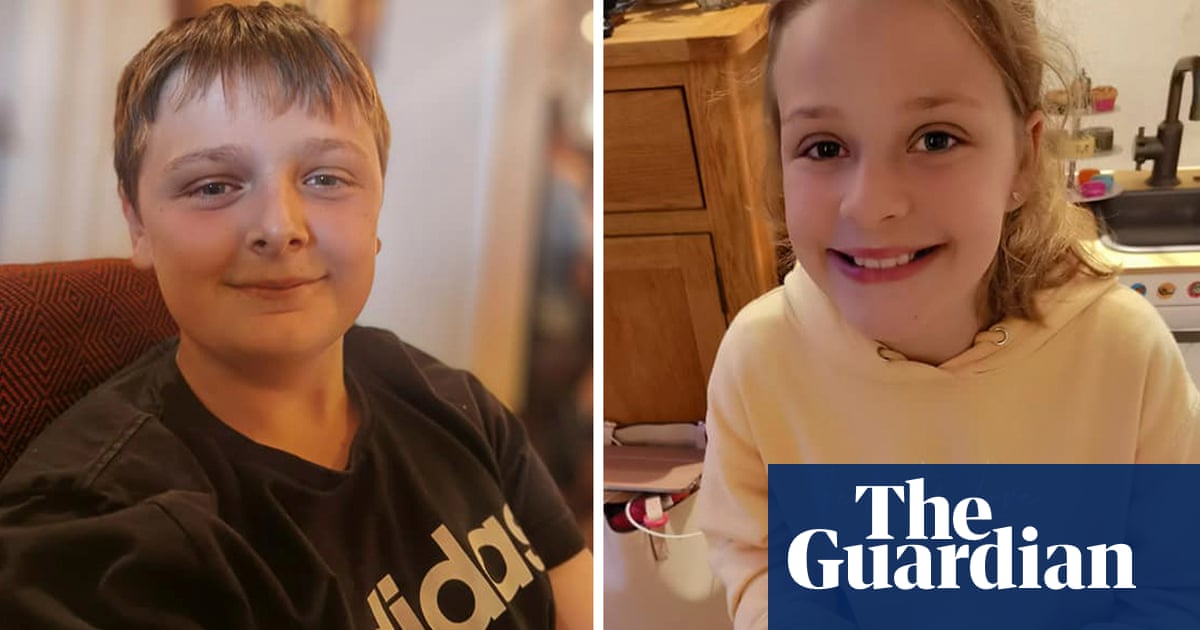 Three children and a woman are suspected to have been killed at a house near Sheffield at the weekend, relatives have said.
A man has been arrested after Derbyshire police were called to a property on Chandos Crescent in Killamarsh, Derbyshire, at about 7.25am on Sunday. The force said it was not looking for anyone else in connection with the deaths.
Family at the scene on Monday said the victims were two siblings and a friend who was at a sleepover, while the fourth victim was named as Terri Harris, the mother of the siblings.
Jason Bennett, the father of two of the children, John, 13 and Lacey, 11, collapsed in tears as he laid flowers at the police cordon around the property on Monday morning. Asked about his feelings as left, he told reporters: "Heartbroken, million pieces, shattered."
John and Lacey's grandparents, Debbie and Trevor Bennett, were also at the scene. Debbie told reporters: "We are just heartbroken. They were beautiful, well mannered kids. Terri was a beautiful mother, a wonderful mother. We are just devastated."
Debbie said Jason Bennett was on holiday in Devon at the time of the incident and returned home overnight. "He has lost everything," she added.
Both the children enjoyed football, TikTok and walks with their dad, the grandparents said. Debbie said: "As far as Lacey goes she was a proper girl, pink and sparkly. John was into computers. They were the most well mannered kids you could hope to meet. They always said please and thank you. I don't know how we are going to cope."
The third child victim was Lacey's best friend who was at the house for a sleepover, they said. "Their parents have got to be devastated. Just the same as us," Debbie said.
Trevor told reporters: "My son Jason is going to be in bits, he's lost his entire family. He will be blaming himself, there will be the 'what ifs?' I don't know how he's going to come through this, he's going to need a lot of strength."
Police have not identified the victims but said close family have been informed and were being supported by specially trained officers.
Outwood Academy City, a school for children aged 11 to 16 about fives miles away from the incident, said it would be closed on Monday after a tragic incident took place "involving three of our students".
The post reads: "It is with great sadness that the academy will be closed today. A tragic incident has taken place in the community involving three of our students. We will, however, be open to any students who need our support.
"Our thoughts are with all those affected by this sad news. We are working with the police and are unable to give more information at this time."
DCI Rob Routledge, who is leading the investigation, said: "We would really like to hear from anyone who saw or heard anything suspicious in the early hours of this morning, or has any information which they think could help with our inquiries.
"No matter how small you think that information may be, please do get in touch with us. It is understandably a worrying time for the community, and we would like to thank them for their patience and understanding at this time.
"It was important to us that close relatives of those involved were informed before we could give further details about incident. Residents will continue to see a large police presence in the area, and patrols are being carried out for reassurance. If you do have any concerns, please don't hesitate to speak to them."
The North East Derbyshire MP, Lee Rowley, offered his condolences after the "terrible and hugely tragic" incident. "Terrible and hugely tragic news from Killamarsh this evening. Our condolences to the family and our thoughts are with them," he tweeted.
The Conservative MP also paid tribute to Killamarsh as a "lovely community" that would show its resilience.
"Killamarsh is such a lovely, close-knit and warm community, and I know that many residents will be shocked and worried by the news," he tweeted. "This is believed to be an isolated incident with an arrest having been made. I've no doubt that the village will pull together at this difficult time."