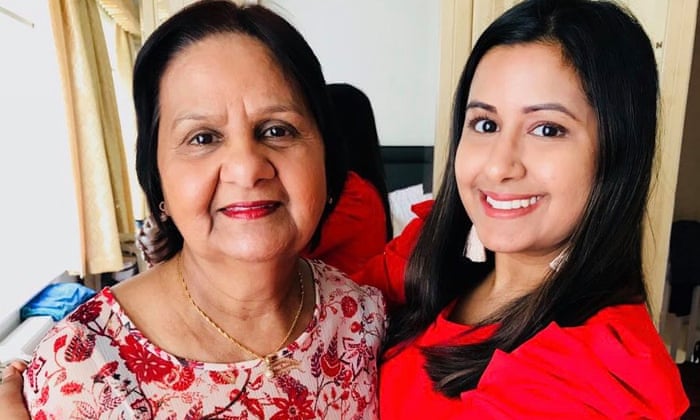 Safeera Sarjoo is not new to saving, but this time around she's saving for something particularly special – a spa trip for her hard-working mum. "It'll be a day of relaxation for her," says the 32-year-old. "She definitely deserves it."
For the past five years Sarjoo's mum, Bibi, 69, has been caring for her own mother, 92-year-old Isha, who has dementia. It's a full-time job to help Isha with day-to-day tasks, such as cooking and cleaning. "It's quite a lot of work," Sarjoo says.
Sarjoo, who lives with her mum, dad and grandma in London, says she noticed it was particularly difficult for her mother during the Covid-19 lockdowns. "Normally I'm at work and not here to see it," she says. "But for a year, I've been working from home and could see how hard it was."
Because of the lockdowns, Sarjoo worries that her mum hasn't been able to take any time for herself or to properly relax. "Sometimes she really does need to step away but with lockdown you couldn't go anywhere," she says. "It's a lot for my mum to grapple with."
Despite this, her mum rarely complains and just gets on with things. "She's much more patient than I would be," Sarjoo says. "I think she's been awesome."
Sarjoo says that her mum spent lockdown tirelessly helping others. "She's got a good friend who isn't very well, so she cooked food and took it to them twice a week," she says.
But Sarjoo has had enough of seeing her mum put herself last and decided to save up for the spa trip so she can put her first for once. "She hasn't had a full spa day before. I want it to be a day of whatever treatments she wants, whatever food she wants," Sarjoo says. "Just make it all about her."
The plan is for mum and daughter to go to a spa outside the city. "I want it to be peaceful and quiet. It just sets the tone and the mood," Sarjoo says. She says she definitely wants to pay for a massage for her mum. On top of that, Bibi can pick whatever treatments she fancies. "I thought a luxury facial would be nice. She's not crazy about manicures or pedicures because she's always cleaning and cooking. But I think a nice skin wrap would be good – a bunch of treatments," Sarjoo says.
Sarjoo wants to find somewhere where lunch is included, and imagines the pair can have a look around a local town and perhaps do a bit of shopping, too.
Her mum would probably think it was indulgent to spend money on a spa day for herself, Sarjoo believes. "She would definitely not spend the money on that," she says. "She would probably use it for something else, or for other people rather than herself. It's something someone else has to force her to do."
The secret is already out of the bag – Sarjoo says she accidentally told her mum about the surprise. "She wasn't expecting it," says Sarjoo. "But she's definitely looking forward to it."
For the time being, Sarjoo is keeping the details close to her chest. "She did ask how much it was going to cost and I said don't worry about it. I think she automatically goes into that mum mode and wants to know all the details. But the point is I don't want her to worry about them."
A friend has already agreed to help take care of Sarjoo's grandma for the day because they see how hard her mum works. "We have a lot of really good friends who are happy to step in," she says.
Sarjoo, who is a content editor, says she saved money during the lockdown because she didn't have to pay for travel. So for months she's been putting aside about £50-£75 for the spa trip. She doesn't have a target amount in mind, but is aiming to save as much as possible. "I don't want to have to say you can only have two treatments. I want her to have as many as she wants, money is no object."
It felt good to save for a special treat for someone else, for life post-lockdown, Sarjoo says. "It feels good to be able to give back something to my mum. It's been a good goal to work towards."
Jill Waters, NS&I's retail director, says: "Over the past year we've all learned to really appreciate the carers in our families and local communities. Saving up to give them a special day is a selfless way to thank them."
Bibi will turn 70 at the end of July, so Sarjoo is aiming to take her for the spa day around then. "It would be a nice 70th birthday treat," she says. She's looking forward to pampering her mum. "She needs to be waited on and spoiled for all she does."
Having something joyful to save towards can make putting money aside easier. Start saving for a sunny day with the help of NS&I. Visit nsandi.com for more information