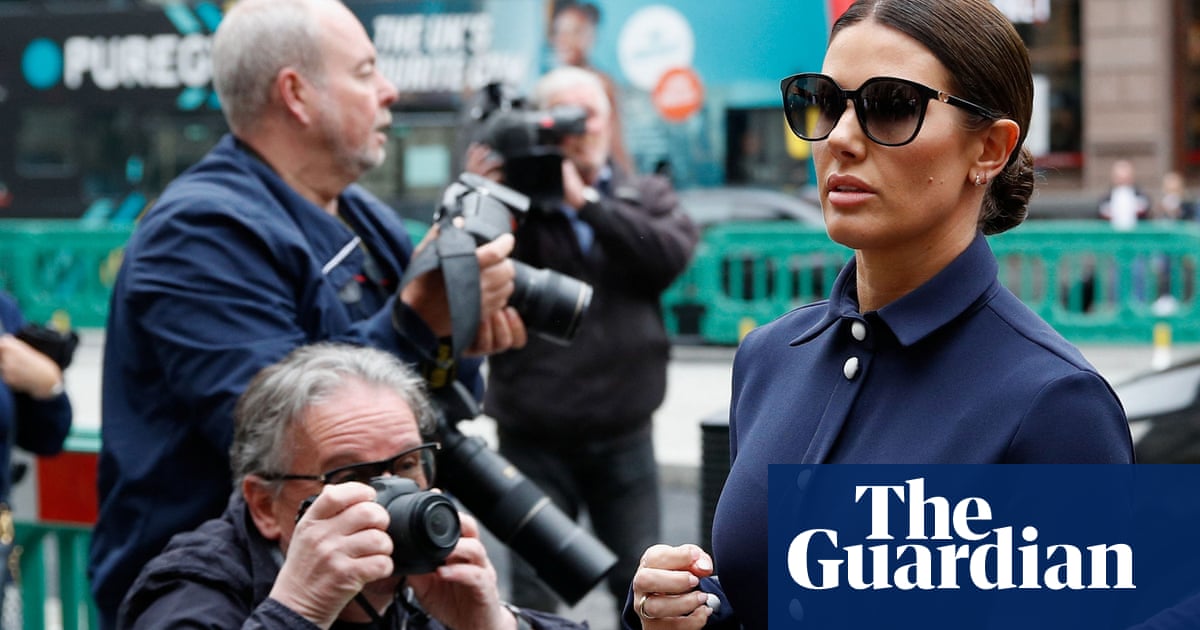 Coleen Rooney has accused Rebekah Vardy of conducting a "deliberate and calculated" campaign to destroy evidence prior to their "Wagatha Christie" libel trial, which got under way at the high court.
Rooney's lawyers claimed potentially important WhatsApp messages involving Vardy had been manually deleted, pointed to an unfortunate incident in which Vardy's agent accidentally dropped her mobile phone off the side of a boat in the North Sea, and discussed how Vardy's own IT expert lost the password to a backup of her WhatsApp account.
In written submissions, Rooney's lawyers said these were not a series of "unfortunate" incidents. Instead, they claimed the loss of data was part of a "deliberate and calculated" campaign by Vardy and her team to dispose of potentially incriminating evidence – and prevent a fair trial.
Vardy's lawyers said the allegation was untrue: "There is no such campaign of deletion. The reason there is no direct evidence against Mrs Vardy is because she didn't do it."
The two women listened to proceedings while sitting close to each other on the front bench of the wood-panelled Victorian courtroom in central London.
Both are expected to give evidence in the coming days, along with other individuals including the former England footballer Wayne Rooney, following almost three years of pre-trial legal arguments.
In 2019 Rooney conducted an elaborate sting operation to find out who was leaking stories from her private Instagram account to journalists at the Sun, ultimately making the public accusation that: "It's………… Rebekah Vardy's account."
Vardy is now suing Rooney for libel, arguing this accusation is false. Following an earlier ruling, it is up to Rooney to prove Vardy was personally responsible for leaking stories to the Sun – or convince the judge that publication of the allegation was in the public interest.
In written submissions, Vardy's barrister, Hugh Tomlinson QC, denied his client had personally leaked any stories to the Sun, nor had she approved or condoned "anyone else to do so on her behalf".
However, in a late change of approach, he suggested it was "possible" Vardy's agent, Caroline Watt, may have acted unilaterally and passed stories to the Sun without Vardy's knowledge. The court heard Watt is no longer healthy enough to give evidence.
Tomlinson insisted that, rather than being the victim of Rooney's sting operation, Vardy was acutely aware that Rooney was posting fake stories in order to see whether anyone would leak them: "She … believed that someone was leaking information from Mrs Rooney's private Instagram but didn't know who it was and thought it must be her PR as she couldn't see why anyone would be 'arsed with selling stories on her'."
He said the "candid" WhatsApp messages previously heard in court between Vardy and Watt showed that "from time to time they did discuss 'leaking' information to the press". But only one story – a drink-driving incident involving the Chelsea footballer Danny Drinkwater – was mentioned.
Rooney simply "can't establish that Mrs Vardy was responsible" for the leaks, he said.
The lawyer said Vardy had suffered immensely as a result of Rooney's allegation and been "subjected to abuse and threats of a horrific nature".
He said the term Wagatha Christie had passed into popular culture, with the media covering the court case as an entertainment story when in reality it was "distressing and disturbing". In an apparent reference to internet memes, Vardy's lawyer described the spread of "little photographs that people have done mocking [Rooney] up as Wagatha Christie".
He also gently mocked Rooney's "belief that what she reads in the Sun is accurate", with regards to an anonymous gossip column about life as a footballer's wife.
Rooney's lawyers said an expert technology witness believed the loss of certain WhatsApp messages "could only have occurred by manual deletion by an individual". The legal team said this left the "whiff of cordite" in the air – an apparent reference to a smoking gun.
They also highlighted the trouble that Vardy's own IT expert had accessing a backup of her WhatsApp messages. At first the technology adviser said the password he had set no longer worked. Following advice from Rooney's team, the IT expert realised he was in fact able to access the files without a password, but the backup files had apparently become corrupted.
Other issues with data recovery raised by Rooney's lawyers included deletion of a Twitter account belonging to Watt, the disposal of a laptop used by Vardy during the crucial period, and the hacking of her husband Jamie Vardy's WhatsApp account, which resulted in the loss of his messages.
The case continues.