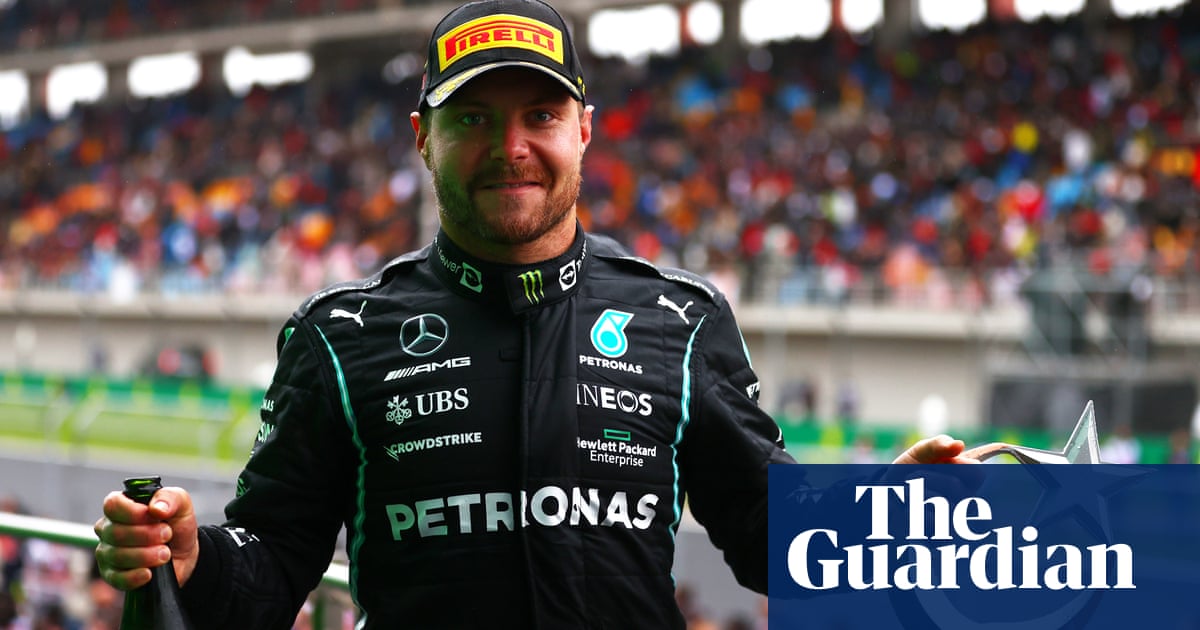 Valtteri Bottas won the Turkish Grand Prix with a composed and well-executed run from pole to the flag. Behind him Mercedes teammate Lewis Hamilton put in a solid recovery drive to come back from 11th on the grid to claim fifth place and stay in touch with his world championship rival Max Verstappen. The Dutchman was second for Red Bull, his teammate Sergio Pérez third, with Ferrari's Charles Leclerc in fourth and AlphaTauri's Pierre Gasly in sixth.
Bottas's win was a dominant composed drive but Hamilton who at one point had charged through the field was left firmly at odds with his team's strategy late in the race that he clearly believed cost him at least a podium at Istanbul Park.
It will be of no little relief to Hamilton that Bottas at least limited what Verstappen could score in what is a tightly-fought championship. It has edged Verstappen once more into the lead of the world champion by six points.
The win is Bottas's 10th career victory, his first this season and the vital boost to his confidence he desperately needed, although it is too late to save his seat with Mercedes who have signed Williams' George Russell to replace the Finn next year.
The race began in light but persistent drizzle that had shrouded the circuit all morning, making intermediates the clear tyre choice. Bottas held his lead from Verstappen through turn one and Hamilton made up one place to 10th when Fernando Alonso spun off through turn one. He passed Sebastian Vettel a lap later to take ninth going round the outside at the hairpin.
The world champion was clearly confident in the conditions and he harried Yuki Tsunoda's AlphaTauri while Bottas and Verstappen opened a three-second gap out front. The Japanese rookie however was in no mood to simply capitulate and held his line impeccably. It held him up until lap eight when Hamilton finally made a move stick round the outside of the fast left-hander, turn three.
Hamilton was 19 seconds back from the leaders and had much to do. In clean air he was flying, putting in a series of fastest laps, up to half a second quicker than Bottas, as he hunted down Pierre Gasly and the Frenchman was duly dispatched once more on the run into turn 12 on lap 15.
Bottas remained 18 seconds ahead and Hamilton now had seven seconds to make up on Verstappen's teammate Pérez in fourth. He was at one point gaining almost half a second a lap on the Mexican, who was clearly told to pick up the pace by Red Bull.
The front three of Bottas, Verstappen and Leclerc remained in a solid group as Hamilton lost some time clearing back markers but had closed to within a second of Pérez by lap 31. By lap 34 they were wheel to wheel and Pérez did as his team required and defended stoutly. They were side by side through the closing corners and while Hamilton edged in front on the straight, Pérez held his line to hold the place into turn one.
Leclerc was told by Ferrari he could make it to the end on his tyres and Hamilton believed he could stay out too. Mercedes went with his instinct as he closed to within four seconds of Verstappen.
Bottas, intussen, had found real pace and caught Leclerc whose tyres looked ominously low on grip. The Finn retook the lead on lap 47 as Mercedes desperately tried to calculate if Hamilton could make it to the end while Ferrari pitted Leclerc.
Hamilton was third, a superb result if he could hold it without dropping
positions through a stop but Mercedes decided not to risk his tyres suddenly losing grip or failing and pitted him on lap 50 to ensure he
emerged in front of Gasly. It dropped him to fifth once more behind Pérez,
who had great pace and swiftly passed Leclerc for third.
Hamilton caught Leclerc by lap 53 but was unhappy with his team's call and
reiterated that he believed he should have stayed out. Struggling on his
new tyres that were graining on the dry line, he had been caught by Gasly.
There were tense moments as Hamilton held his place, as there will
doubtless also be in his debrief with the team afterwards.
Hamilton was on course to finish third with the same rubber he started the race on, before Mercedes' safety-first approach. Hamilton questioned the decision to stop and snapped "leave me alone" when race engineer Peter Bonnington informed him of the gap to Pierre Gasly in sixth. "Shit, man, why did you give up that place? We shouldn't have come in man" he added.
His teammate, Bottas, sealed a superb win over 10 seconds clear of Verstappen. "It is not easy to choose the strategy, but I am glad everything went smoothly for once for me," said Bottas. "It does not take much to go off in these conditions so I had to focus throughout the race."
Championship leader Verstappen said: "It was not easy today. The track was very greasy and we had to manage the tyres. Valtteri had a little bit more pace but I am happy to finish second because in these conditions it is easy to get it wrong and drop back."
Norris was seventh for McLaren. Carlos Sainz was eighth for Ferrari, Stroll
ninth for Aston Martin and Esteban Ocon 10th for Alpine.