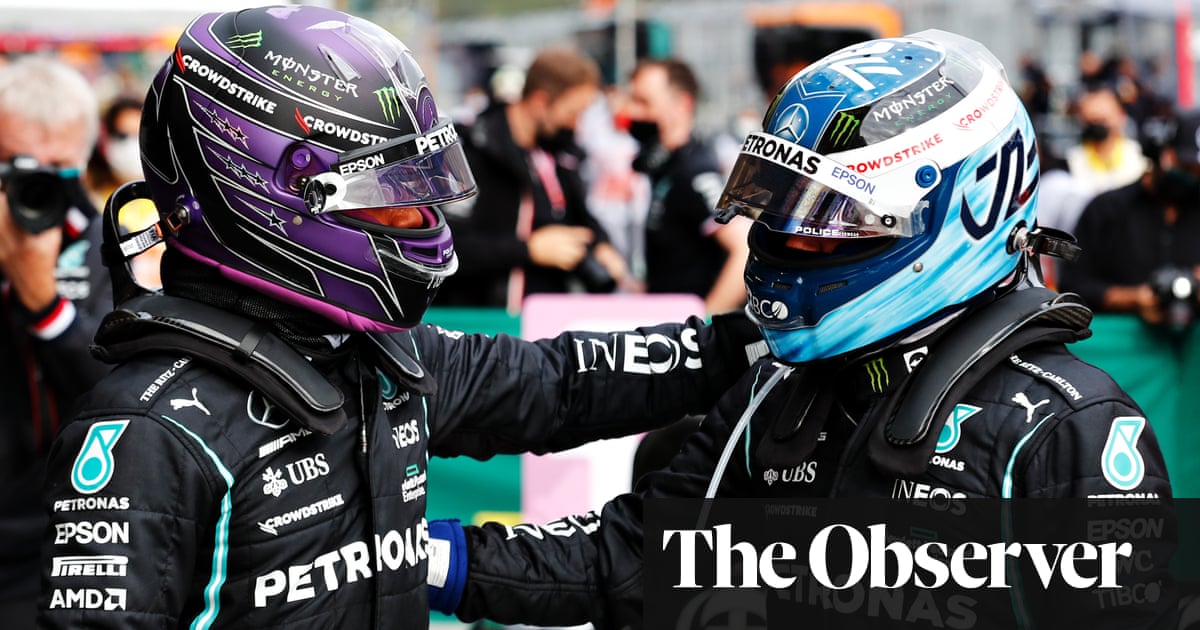 Lewis Hamilton was unquestionably the fastest man on track in qualifying for the Turkish Grand Prix but his commanding performance will not be recognised by the history books as pole position – a facet of Formula One's regulations that it seems that does not sit well with its leading drivers.
With a 10-place grid penalty Hamilton will start from 11th, while his Mercedes teammate, Valtteri Bottas, inherits pole from second place, with Hamilton's title rival Max Verstappen completing the front row from third place for Red Bull.
Hamilton has a record 101 poles already under his belt, and clocking up numbers clearly does not keep the world champion awake at night. Of greatest import is that he did what he had to do in his attempt to come back from his grid penalty. He said he wanted to ensure he started as high up the field as possible and duly delivered with a lap that was the class of the field and a track record. But not pole number 102.
All three drivers concurred that F1 should address the clear incongruity that, when penalties are applied, the sport does not honour the quickest driver as having taken pole.
"That was my best pole ever," Hamilton joked when reminded that it would not count as such in the record books. "I got pole, I don't think the penalty should affect that necessarily." Bottas agreed. "Lewis had the fastest single lap," he said. "He was technically on pole but afterwards he gets dropped and I don't think it's really fair." Verstappen also believed F1 should consider its regulations. "The guy who does the fastest lap should deserve pole position," he said.
It remains moot for now and Hamilton's focus is on bigger things. The real business remains for Sunday. He must come through the field to minimise the potential points loss to Verstappen, who he leads by just two points in the championship.
Bottas's role for Hamilton and Mercedes, a team that has dropped him for next season, is simple: keep Verstappen behind him.
Hamilton faces an altogether trickier prospect. Starting in the midfield he must be aggressive but cannot afford any damage. The seven-time champion certainly has the pace and the form: he has been quickest all weekend and has made his mark distinctively twice before at Istanbul Park.
In 2006 in GP2 he came back from a spin that dropped him to 19th place to claim second. Last year, meanwhile, he recovered from sixth to win in a masterclass that sealed his seventh title. He noted that his approach on Sunday would be "balanced" in managing aggression and care.
"It's not going to be easy to fight my way through but where there is a will there's a way," he said. "But getting past people will not be easy." Just how well he manages could be of huge importance in a title fight where there is nothing to choose between the two protagonists. However with Red Bull unable to match the Mercedes for pace here, Hamilton can hope to at least catch Verstappen.
In qualifying he definitively proved he has the tools to do so. On a cold but drying track after a wet morning in Istanbul, Bottas set the early pace on his first hot lap in Q3. Last season the newly resurfaced track was severely lacking in grip. This year it was greatly improved after ageing and being water blasted, but with the surface still damp it remained testing. Particularly strong through the first and third sectors Bottas laid down a marker with a time of 1minute 23.071seconds, two-hundredths up on Hamilton.
On their second runs the pressure ramped up with the sun shining and conditions the best they had been all day. Hamilton went out early with the track to himself and immediately flew. He was quickest in all three sectors and set a time of 1m 22.868s.
He had provisional pole but cruised for a lap before making a second run on the same tyres. It was not needed as no one could match that first time, when he had it hooked up to perfection. Bottas was a tenth back with Verstappen three-tenths down. Hamilton had dominated – now he has it all to do again on Sunday.
Ferrari's Charles Leclerc was in fourth with AlphaTauri's Pierre Gasly in fifth.
Fernando Alonso was in sixth for Alpine, with Red Bull's Sergio Pérez in seventh and Lando Norris eighth for McLaren. Lance Stroll was in ninth for Aston Martin and Yuki Tsunoda was in 10th for AlphaTauri.
Carlos Sainz was in 15th for Ferrari but the team did not run him competitively in Q2 as he will start from the back of the grid after taking a full new power unit. Mick Schumacher put in a superb performance to make it to Q2 and finished in 14th for Haas. Sebastian Vettel was in 11th for Aston Martin, Esteban Ocon 12th for Alpine and George Russell in 13th for Williams.
Daniel Ricciardo was a disappointing 15th for McLaren. Nicholas Latifi was 17th for Williams. Antonio Giovinazzi and Kimi Räikkönen were in 18th and 19th for Alfa Romeo, with Nikita Mazepin in 20th for Haas.