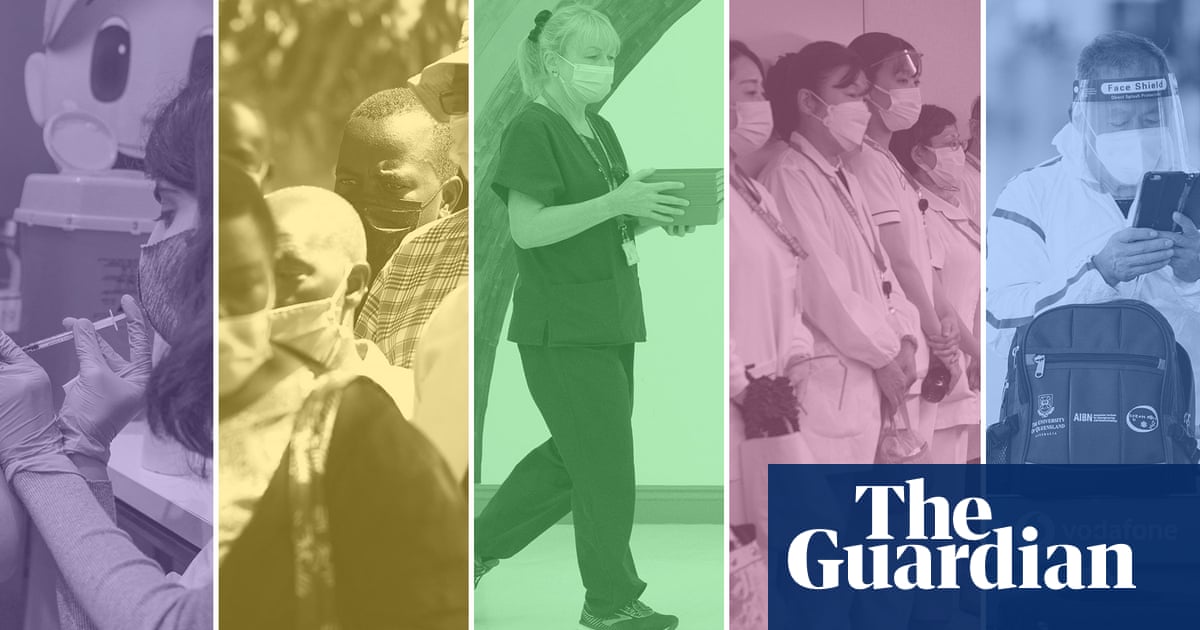 The emergence of the Omicron variant has made it clear the pandemic won't be over until it is beaten everywhere.
But there has been a vast and continuing inequality in the global Covid vaccine rollout.
This mirrors other rollouts, such as the vaccine for diphtheria, pertussis (whooping cough), and tetanus, which has a vaccination rate as low as 41% in some countries.
In the case of Covid, inequality has been compounded by wealthy nations buying up doses, and the need to ramp up adult vaccination programs in countries that hadn't had them before.
This map shows how the Covid vaccine rollout has progressed globally, showing the number of doses administered per 100 people over time.
As some countries administer booster shots to already well-vaccinated populations, dozens of countries have vaccination rates in the low double digits for every 100 residents.
So why have some countries rolled out vaccines faster than others?
Wealthier countries have administered more vaccines in total, and, until recently, have consistently been dosing at a higher rate. According to Andrea Taylor, part of a team at the Duke Global Health Innovation Center tracking Covid vaccine deals, a large cause of the disparity is supply.
The causation between vaccine supply and rollout speed is tricky to untangle, not least because many countries still haven't received enough vaccines. But "supply is the main driver of vaccination rates", Taylor says.
"[We] did also see vaccine hesitancy and product preference become important elements in different phases and across different countries over the past year."
Many wealthier nations have been able to manufacture vaccines locally, which became increasingly important as factories hit capacity and some jurisdictions blocked exports.
However, wealth is not the entire story. Even if we only look at OECD countries, which have higher national incomes, there are still large differences in vaccine rollouts. Part of this is due to supply – even countries that made agreements early were not guaranteed early shipments. But there are a number of other factors that go into a successful vaccination program.
Experts say that good governance, mechanisms and policies are integral. This starts with a good supply of doses so there isn't a need for qualifications on who is eligible. But it also includes public trust, well-trained healthcare workers, quality clinics, outreach programs, safety and quality monitoring, and a robust response to misinformation.
"In vaccination we often have this binary notion that comes from market economics that talks about vaccine programs as merely a matter of supply and demand," Julie Leask, a vaccine expert and professor at the University of Sydney, says.
"But what happens in between these is important: well-oiled systems, good recording, well-trained health professionals and many strategies that will also help improve vaccination rates and make it easy to get vaccinated.
"One of the most important features of a good vaccination system is very, very, convenient, simple to use services. And [that's] why we suddenly had such a big uptake of vaccination in many parts of urban Sydney and Melbourne during the Delta outbreaks.
"We had the popup clinics with no appointment necessary, no requirement for a Medicare card, and no restrictions on age groups – everyone could come in."
Further, countries that had early success in containing the spread of the virus may have had less urgency to their national vaccination programs. There is some uncertainty here as we are relying on countries themselves reporting data accurately and truthfully, which may not always be the case.
There have been questions raised over some countries' reporting, particularly for Covid statistics around cases and death numbers, with evidence of governments releasing false numbers. And not all countries necessarily have the resources and structures in place for widespread testing or centralised statistical reporting.
These countries largely relied on testing, contact tracing, isolating of positive cases, quarantining travellers, and strict border controls, but lagged behind with their vaccination rollouts.
In Australia, this complacency towards rollout speed was infamously summarised by the prime minister, Scott Morrison, saying it was "not a race".
There's a similar pattern when looking at the agreements that countries made to buy vaccines.
While wealthier countries dominated the purchasing of vaccines globally, among OECD countries there is quite a bit of variation.
A timeline of vaccine agreements by vaccine type and amount shows the United Kingdom was the first to publicly strike a deal for vaccines in early May 2020. By the end of the month the UK and the USA had together bought almost 400m doses of the AstraZeneca vaccine, according to Guardian analysis of data from Duke University's Global Health Innovation Center.
However, countries like Australia ended up signing fewer agreements, and made them later.
Experts say that was because larger countries with more market power, which had invested heavily in development and manufacturing, were rewarded with the initial production.
"It all comes down to where the vaccine makers are located. It comes down to which countries are the leaders in investing in R&D [research and development]," Andrea Taylor says.
The successful exceptions, like Israel, were able to jump the queue by doing other deals. For instance, trading health data in exchange for priority access. Meanwhile, Australia's major hope for a domestic vaccine did not progress to phase two trials.
At the early stages of vaccine development it was still unknown whether Covid was a vaccine-preventable disease. And with a roughly 20% chance of success when a vaccine gets to clinical trials even in normal times, countries with major research and development capacity were throwing money at potential candidates.
They were also preparing manufacturing capacity even before any vaccine was proven.
"So the countries that did that, which was largely the US, European Union and UK, poured billions of dollars into the development of these vaccines and also asked the vaccine makers to stand up manufacturing and have it ready," Taylor says.
Most OECD countries spread their bets and bought more types of vaccines. Hungary tops the OECD, having bought nine different vaccines, according to the Duke data. This includes Sputnik V from Russia, China's Sinopharm, and a German vaccine that has since been withdrawn. So far Australia has bought just four kinds.
Australia's vaccine rollout picked up as eligibility restrictions eased towards the end of the year. More shipments of Pfizer, a new agreement with Moderna, and vaccine swaps with the UK, Poland and Singapore allowed the rollout to be expanded to more of the population, and in more locations.
The pandemic has led to an unprecedented ramp-up in adult vaccination processes and infrastructure but, for the pandemic to be truly over, these need to be paired with adequate vaccine supply.
"We need to reach all people, everywhere, with their first and second doses of the vaccine," Leask says.
"We have known that leaving those countries vulnerable to big outbreaks of Covid-19 would lead to new variants. And yet wealthy countries continue to be quite national in their focus about hoarding vaccines or getting boosters going, without any kind of reflection on what that might mean for countries without even enough supply of first and second doses.
"And that's going to continue to be a problem for all countries."