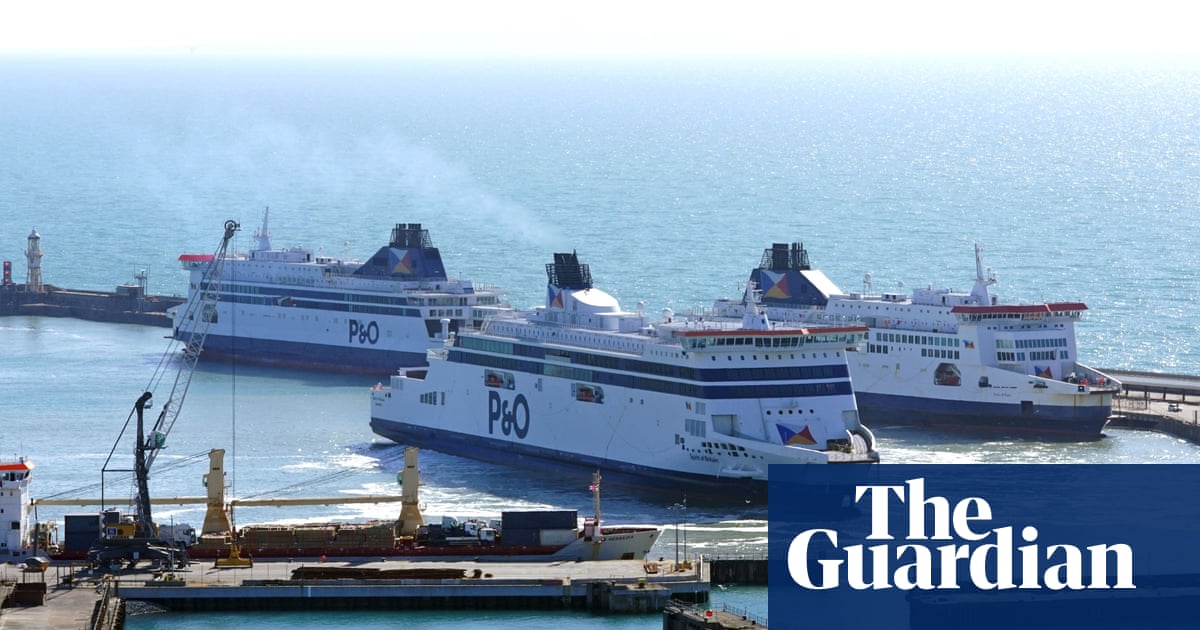 Unions fear that the leading UK ferry operator P&O Ferries is set to sack its entire crew and replace them with cheap agency staff after stopping all its sailings today.
The operator, owned by Dubai-based DP World, earlier told crew to return to port and await a "major announcement".
The sudden move, which is set to cause serious disruption to travel for passengers and freight, has alarmed union leaders and MPs who believe jobs will be axed.
A potential stand-off could develop, with sources reporting coaches of replacement crew and security staff already in place at Dover and Hull, while unions have instructed crew not to leave the vessels.
Kent Online cited a crew member, who wished to remain anonymous, saying: "As of effect from today all our contracts have been terminated and we've all been made redundant."
P&O could not be reached for comment but a note to its staff – posted on social media by Hull's Labour MP Karl Turner – said it would "be making a major announcement today which, with the support of our shareholder DP World, will secure the long-term viability of P&O Ferries".
It continued: "To facilitate this announcement all our vessels have been asked to discharge their passengers and cargo and standby for further instructions. This means we're expecting all our ports to experience serious disruption today."
Turner said the suspension of sailings was "troubling for crews and their families".
P&O is the leading ferry operator on the Dover-Calais crossing, the main sea link from Britain and Europe, and also sails from Hull to Rotterdam, Liverpool to Dublin and Cairnryan in Scotland to Larne.
P&O apologised to customers on Twitter, saying: "Regretfully, P&O Ferries services are unable to run for the next few hours. Our port teams will guide you and travel will be arranged via an alternative operator."
Cross-Channel ferry passengers and truck drivers were expected to be diverted to DFDS or Eurotunnel services. Passengers on Irish Sea crossings have been sent to Stena Line.
Unions demanded assurances and government intervention to protect British jobs.
The RMT general secretary, Mick Lynch, said: "We are deeply disturbed by growing speculation that the company are today planning to sack hundreds of UK seafarers and replace them with foreign labour.
"We have instructed our members to remain onboard and are demanding our members across P&O's UK operations are protected and that the secretary of state intervenes to save UK seafarers from the dole queue."
A P&O representative earlier told the Independent that it was not facing liquidation.
Asked by Labour in the Commons, the transport secretary, Grant Shapps, said he was "concerned" by the news.
He told MPs he was working with the Kent Resilience Forum to manage disruption from the cross-Channel closure, adding: "We will be taking steps later today including ensuring officials are having urgent discussion with P&O about the situation, particularly concerning their workers."
DP World bought P&O Ferries for a second time in 2019 for £322m, after selling it earlier in the decade.
The business is believed to have been making escalating losses, with the rising cost of diesel adding to disruption from Covid and post-Brexit paperwork in cross-Channel traffic.