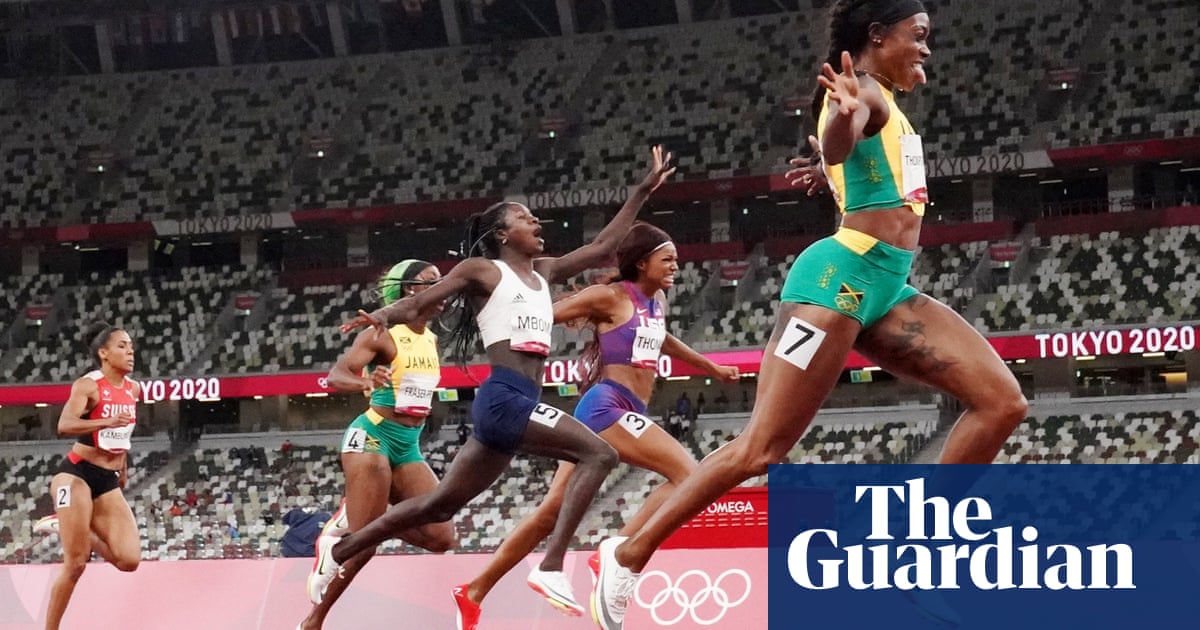 Welcome, then, to the double-double. The two-peat. The 4X4. However you choose to style it, what the Tokyo Olympic stadium witnessed here was the unassailable ascent of Elaine Thompson-Herah, who strode with a brilliant purity of purpose around lane seven to retain the women's 200m Olympic gold medal.
It took 21.53 seconds on a sticky Tuesday night to put in place the final peg in the Thompson-Herah Supremacy. There is now a beautifully pared-back simplicity to her record on these occasions: four Olympic finals, four golds. It is a wonderfully stark piece of athletic symmetry.
Thompson-Herah is the first women to retain both the 100m and 200m gold medals. Only Florence Griffith Joyner has ever run faster, or even just a little bit slower, with Thompson-Herah thrusting a handhold at these Games in-between those two unassailable 200m times from the Seoul Olympics.
Flo-Jo peaked just the once, then went off to do Japanese doll endorsement deals and toddle around the world of lukewarm US celebrity. Thompson-Herah retained her medal here without blinking, the same age as Flo-Jo when she quit. And there can be no doubt now. The woman from Manchester, Jamaica, who was never really a prodigy, who got herself left off the track team in her final year at school, whose break came suddenly aged 23, is the greatest of all time.
Somehow you just knew, from the moment the athletes emerged for their glitzy pre-race unveiling. Christine Mboma, the Namibian teenager who would surge through the field at the death to take a sensational silver medal, looked terribly uncomfortable as she waved to the crowd.
The wonderful Shelly-Ann Fraser-Pryce, who finished fourth in her final Olympics race, smiled and waved. She has been such a serene, reassuring presence at these most angsty of Games. Gabby Thomas, who would finish with a highly creditable bronze from her first Olympic final produced an all-American full-wattage beam.
Elaine? She just smiled to herself and looked ahead, unconcerned by anything outside of that stretch of rubberised red track, a straight line towards her own point of destiny.
Shortly after the race Thompson-Herah would tell the gathered Jamaican press that she had not slept since the 100m final. She just closes her eyes and lies there. It's fine: that's just how she does this stuff. Asked for a word on her own future, with the double-double now and only a year younger than Usain Bolt when he packed it in for good, she spoke about her focus, her belief. "And that's why I will continue to dominate."
This was not offered as a boast, or idle talk, but as information. And Thompson-Herah was always winning this final from the moment she peeled off the bend. Fraser-Pryce had made a game, fast start. But as the race unwound Thompson-Herah was on her shoulder, only ever heading toward that empty space in front her.
There was a stunning burst from Mboma, who came from fourth to second like someone sprinting in a sprint, and then flailed her arms in girlish glee. Thomas finished well enough to edge out Fraser-Pryce.
At the end Thompson-Herah adopted the familiar stance, a little aloof, walking ahead of the rest of the race even here. Mboma went to speak to her, but found herself confronting a shoulder. There has been a great deal of excitable talk about the apparent frostiness between Thompson-Herah and Fraser-Pryce, with a degree of soap opera about it, an adolescent desire to see some kind of track-fight cat-fight element.
It is, of course, irrelevant. Thompson-Herah takes that same pared-back approach to everything outside her performance. After the race she spoke about how she makes lists of things to do on her phone. Most people do this. Go to the shops. Do the washing. Thompson-Herah's to-do note this week was a four-pointer. "Retain my Olympic titles, break the Olympic record, break the world record. I got a national record so that's three out of four, not bad." What's there to talk about here?
Mboma was the other amazing story in this race. She has a fearless competitive spirit. Racing here at a replacement distance at her first Games, and against greats of the sport, she produced a stirring final burst to take that silver. It is a wonderful moment for Namibian sport. For Mboma, and her teammate – and school-mate – Beatrice Masilingi, it could also end up looking like the end of something.
"This is my legacy," Mboma said afterwards, a word that has some nuance to it. The Namibians were able to compete here because the slowly clanking wheels of World Athletics are yet to close the door on 200m for women with DSD, or in this case naturally high testosterone levels.
Races such as these provide the data needed to complete that process. It was a stunning run, a new world U20 record, and a piece of warrior-like racing. But how many more of these champion events will Mboma run, or run without the presence of some approved performance-deflating drug in her veins?
For now the occasion belongs entirely to Thompson-Herah. She is such a beautifully simple, high-spec champion, with nothing wasted in that perfect stride; and now, aged 29, ahead of the field for as far as she cares to look back.