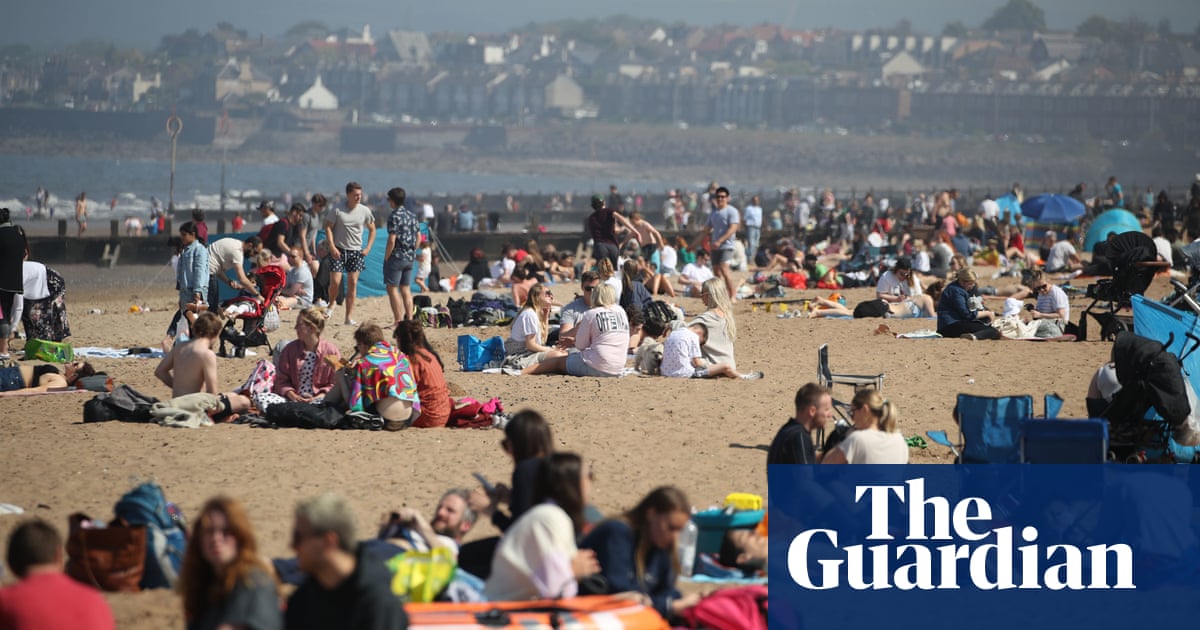 Bank holiday Monday has been the UK's warmest day of the year so far after 24.6C (76.3F) was recorded in Kinloss in Scotland, according to the Met Office.
This surpassed the previous high set on 30 March at Kew Gardens in south-west London, when the temperature hit 24.5C.
People flocked to Britain's beaches, parks and pub gardens on Monday looking to make the most of the warm weather after Covid restrictions were relaxed earlier this month. However, some experts have raised concerns about the potential for a further rise in coronavirus cases.
The soaring temperatures resulted in packed beaches across Britain, including Lyme Regis in Dorset and Portobello beach in Edinburgh.
In north-west England, people were reportedly turned away from some of the popular hotspots such as Blackpool and Formby, and motorway queues brought travel to a standstill as people headed to the coast.
Forecasters urged people to keep covered with plenty of sun cream because of high UV levels.
The good weather has come as a welcome change after the fourth wettest May on record, according to Met Office meteorologists.
Temperatures are predicted to reach 25C in parts of the UK later on Monday but it is not expected to last for long, with temperatures expected to climb to 27C on Wednesday before cooler, fresher air moves in.
Becky Mitchell, a Met Office meteorologist, said: "There will potentially be some thunderstorms by midweek, the first bout of showers will come into parts of the south-west and there will be a few thunderstorms in that."
"There's a chance of some thundery breakdown in the south-east and we could have some quite intense storms there. There's still a lot of uncertainty but with the warm and humid weather we are having we have the key ingredients for thunderstorms."