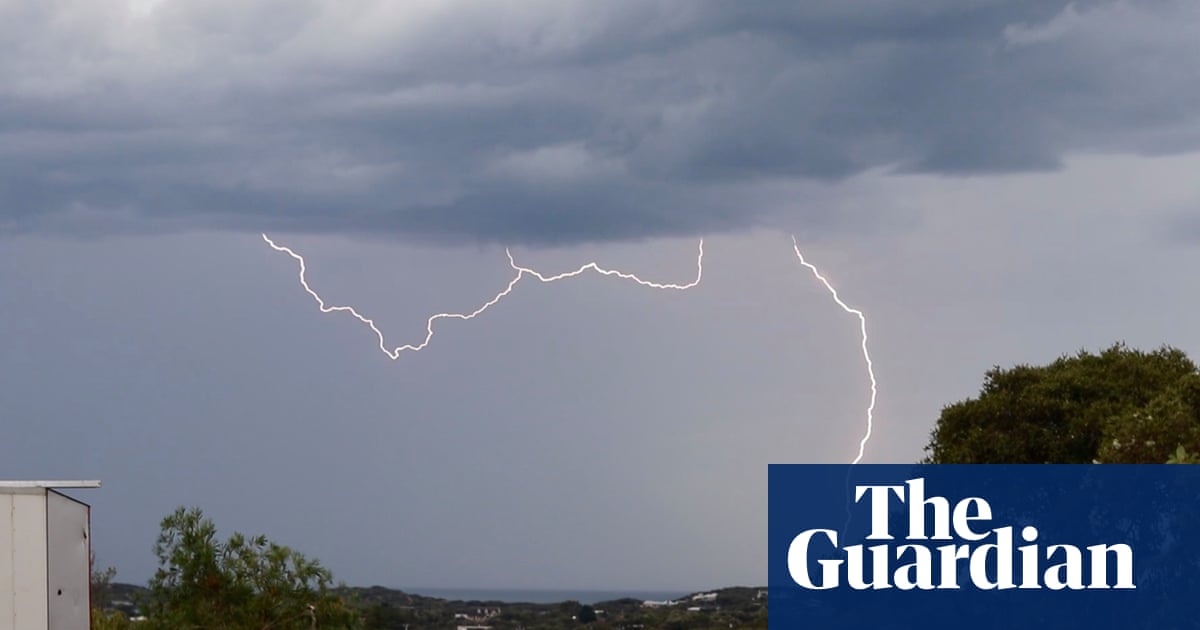 Thousands of Victorians are without power and a home has been struck by lightning as dangerous thunderstorms lash parts of the state.
Heavy rain has also continued in Queensland with parts of Townsville recording more than 300mm in 24 hours.
The Bureau of Meteorology issued a red warning for "very dangerous" thunderstorms, heavy rain and flash flooding across much of Melbourne and the southern Macedon Ranges just before 7am on Thursday.
By 9.30am most of the storm had passed over central Melbourne, leaving flooded roads, traffic lights down, slippery train platforms and power outages.
The thunderstorms were moving south-east and were predicted to hit Flinders, Hastings and Mornington, followed by Phillip Island, French Island and south of Cranbourne.
A Bundoora home was struck by lightning and set on fire just after 8am.
Firefighters arrived to find the house was fully alight and threatened to spread to a neighbour's home.
Three people were evacuated from the property, on Betula Avenue, and were treated by paramedics before being taken to hospital. The fire was contained with about 40% of the home damaged in the blaze.
Meanwhile, more than 7,000 people were without power as of 9.45am.
Powercor spokesman Jordan Oliver said lightning striking power poles had impacted its electricity network.
"This storm has been largely lightning that has been the problem," he told ABC Radio Melbourne. "There's also damage across the network to things such as transformers, which also takes power out for people."
Earlier on Thursday a watch and act alert was issued by the state's emergency services, warning people in greater Melbourne to prepare to take shelter.
However, this was later cancelled, with residents asked to watch out for floodwaters, damaged buildings and fallen trees.
The Department of Transport warned drivers and public transport passengers to "be vigilant" as weather conditions could change quickly.
Signal faults caused by the storm delayed some trains and the M80 Ring Road flooded, with a left lane closed.
Drivers were asked to leave extra space between them and the car in front, to use headlights and pull over if the rain became too heavy.
Malmsbury Headwall recorded 56.2mm of rain in the 60 minutes to 5:15am, while Trentham Reservoir recorded 38.6mm in one hour to 6am.
The thunderstorms, which could continue throughout the day on Thursday and into Friday, were brought on by a "very humid, unstable air mass", the bureau said.
In Queensland, the BoM has issued minor and moderate flood warnings at several locations amid ongoing heavy rainfall.
They include flood warnings for the Bohle River and the Don River in the state's north, the Bulloo River in the west and the Paroo River in the south west.
Parts of northern Queensland received hundreds of millimetres of rainfall in downfalls brought on by a monsoonal trough.
The highest totals were recorded in Townsville, where 381mm fell at Stony Creek and 322mm at Saunders Creek in the 24 hours to 9am on Thursday.
Several other locations recorded falls greater than 200mm.