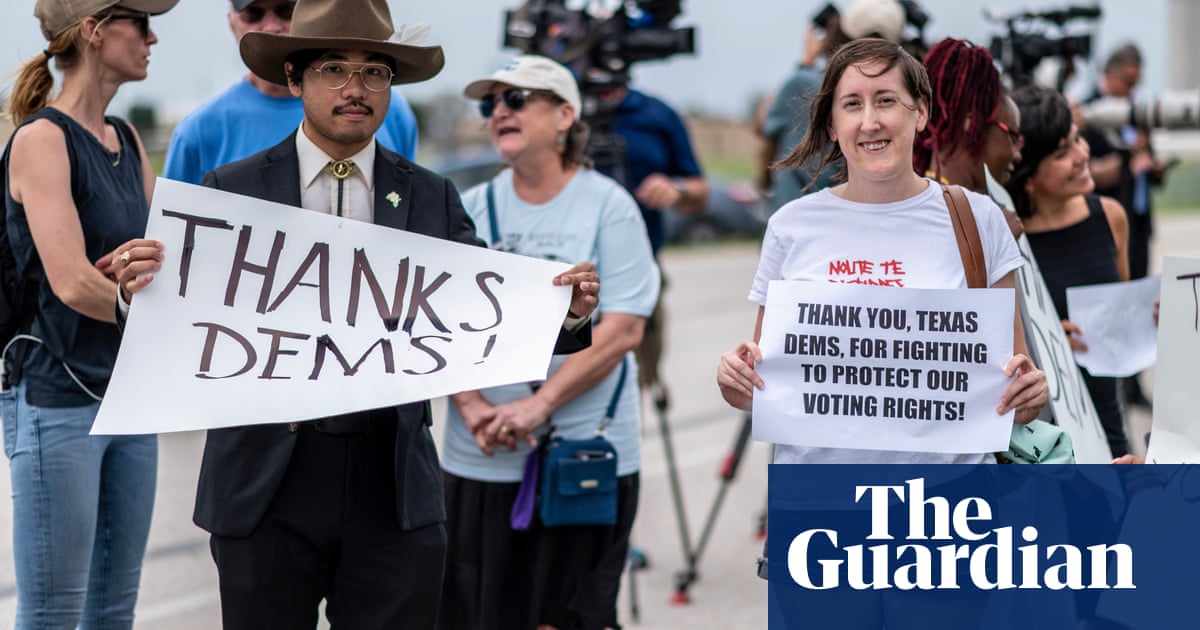 Good morning.
Texas Democrats have fled the state in an escalation of one of the most high-stakes battles over voting rights in the US.
In flying to Washington DC, they once again deny Republicans the required two-thirds quorum needed to conduct business, this time in a special session called by the Texas governor, Greg Abbott, specifically to pass a voting restrictions bill described by the left as "Jim Crow 2.0".
Joe Biden is due to deliver a speech from Philadelphia today aggressively denouncing Donald Trump's "big lie" about a stolen election and talking about how it directly led to the 6 January insurrection and a rash of voter restrictions.
After months of dancing around conflict with his predecessor in an effort to cool the political climate, Biden will call out "the greatest irony of 'the big lie'", said the White House press secretary, Jen Psaki: "No election in our history has met such a high standard."
There has been little relief in the west, as wildfires blazed in California, Oregon, Washington, Arizona and Idaho amid record-breaking temperatures.
State regulators are asking consumers to voluntarily "conserve as much electricity as possible" to avoid outages, with one fire in Oregon disrupting service on three transmission lines providing up to 5,500 megawatts of electricity to neighboring California.
The heatwave continues to take its toll on the west, with a border not-for-profit reporting that an unusually large number of migrants who died in Arizona's borderlands are being recovered this summer amid record temperatures.
The 43 bodies were found last month, during the hottest June on record for Phoenix.
In an alternative to immigrant detention, some are forced to wear electronic ankle monitors, which impose an emotional, mental and physical toll.
For decades, Miami has been the launching pad for half-baked plots and coups. The mysterious assassination of the Haitian president, Jovenel Moïse, is just the latest.
Authorities in Minnesota sent out a plaintive appeal to aquarium owners after fishing several goldfish that had grown to gigantic proportions out from a local lake: please stop releasing your pet fish into waterways. Apparently, released goldfish can not only survive in the wild, but grow to several times their normal size and wreak havoc on local ecosystems.
First Thing is delivered to thousands of inboxes every weekday. If you're not already signed up, subscribe now.
If you have any questions or comments about any of our newsletters please email newsletters@theguardian.com