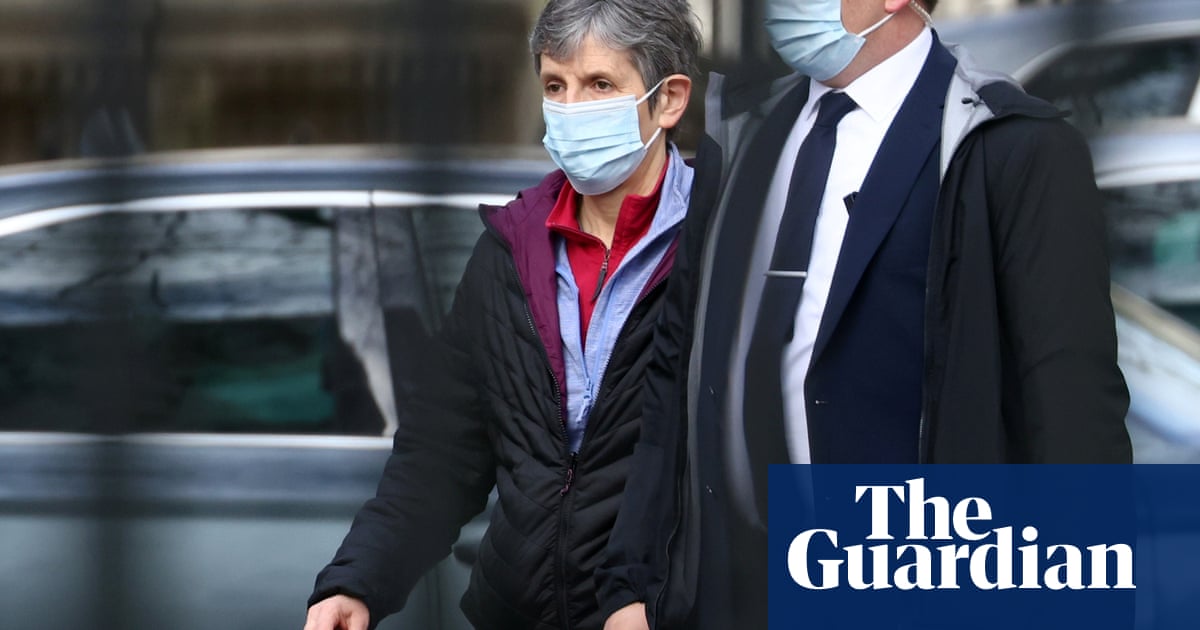 One of the organisers of a vigil for Sarah Everard has said クレシダ・ディック should not resign, as the policing minister also rejected calls for the Met police commissioner to stand down, despite public anger at officers' conduct on Saturday.
Dick's position seemed to be in jeopardy after she was was publicly rebuked by the home secretary, プリティ・パテル, and the mayor of London, サディク・カーン, for providing an unsatisfactory explanation of why police broke up Saturday's vigil for Everard in Clapham Common, ロンドン.
But on Monday, ahead of Dick's meeting with the policing minister to discuss how to protect women and girls from violence, Kit Malthouse said she should remain in her post, as did Anna Birley from the group Reclaim These Streets.
"We are a movement of women seeking to support and empower other women, and as one of the most senior women in British policing history, we do not want to add to the pile-on," Birley told ITV's Good Morning Britain.
"We do want her to meet with us. We were hugely disappointed that she put out a statement yesterday without talking to any of the people who were organising the vigil and had such a difficult experience with the 警視庁 force."
Asked by Sky News if he backed calls for Dick to resign, Malthouse said: "I don't, and I do recognise that police are in an incredibly difficult position."
Sarah Jones, the shadow policing minister, also declined to back demands for Dick to stand down, telling BBC Radio 4's Today programme that the focus "has to be on Sarah Everard and the increasing problems of violence against women". But she said answers were needed as the police response on Saturday was "the wrong one".
Malthouse said officers had been put in "a very difficult decision" by the pandemic and the home secretary's directions that mass gatherings were to be avoided and were illegal.
He told the Today programme that senior Met police officers "laid out their approach" to the government on Friday morning with respect to the Sarah Everard vigil. しかしながら, he said this did not go into the "operational detail" such as arresting attendees but "we did discuss the possibilities of encouraging an alternative, an online vigil, all those other things for people to express their natural anger on these issue".
It was suggested to Malthouse that the scenes on Saturday night "were made inevitable … by the decision of politicians and the police to simply declare that something that was going to happen, shouldn't really happen".
But the minister rejected that characterisation, 言って: "Police are responsible for the on-the-ground decision-making, and for planning and dealing with the consequences of particular events or eventualities."
Malthouse also rejected criticism of the police, 犯罪, sentencing and courts bill amid warnings it will further clamp down on the right to protest by handing more powers to the home secretary and the police. Labour has said it will vote against the bill, which is being discussed in parliament on Monday, and human rights groups, trades unions and faith communities have urged the government to reconsider its provisions.
Malthouse said: "We've seen protests over the last few years adapt its tactics and we obviously have to adapt the legislation in what I think is a relatively mild way, recognising that protest and freedom of speech is absolutely fundamental to our democracy, but it has to be balanced against the rights of others, to go about their business."