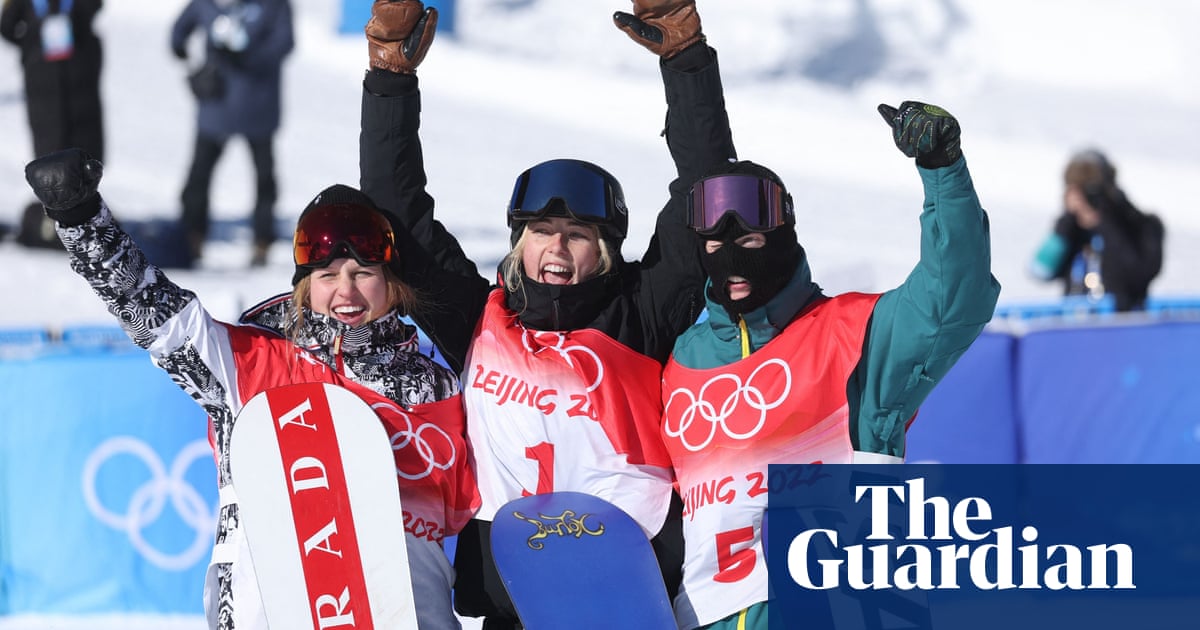 Zoi Sadowski Synnott made history by winning New Zealand's first-ever gold medal at a Winter Olympic Games, capturing the women's slopestyle title on Sunday morning in smash-and-grab fashion with a dramatic final run that ended the United States' run of dominance in the discipline.
The 20-year-old, who became Olympic champion on Waitangi Day, put down the run of her life in the biggest competition of her career to overtake the American Julia Marino, who had set the benchmark with her second of three attempts that nearly held up before settling for silver in the mountain village of Taizicheng roughly 120km northwest of Beijing. Tess Coady took the bronze to win Australia's first medal of these Games with a clutch final run of her own.
New Zealand's deputy prime minister Grant Robertson, who holds the portfolio for sport and recreation, said on Twitter he was "so proud of this awesome woman".
"I had the honour to be there four years ago to see Zoi win bronze. Ever since, she has continually lifted her game to be one of the best snowboarders in the world. Our first ever Winter Olympic gold medal!"
Sadowski Synnott, who was born in Sydney to an American mother and New Zealand father and moved to the South Island resort town of Wanaka when she was six, was mobbed by her rivals in the finish area after following a double-cork 1080 with a backside 1080 for a score of 92.88, more than enough to overtake Marino's 87.68.
"I tried to think about it last night what it would mean if I managed to land my run and come away with gold and honestly it feels unreal," said Sadowski Synnott, who became the first snowboarder to add an Olympic gold to a world and X Games title in less than a year. "I'm just super proud of where my snowboarding has come in the last four years and super proud to be Kiwi and show the world what Kiwis are made of."
Twelve entrants competed in Sunday's three-run final with the best score counting towards their final position. Marino, the 24-year-old from Connecticut who didn't begin snowboarding until the relatively advanced age of 12, had appeared bound for gold after throwing down a backside 900, double 900 and double-front 1080 on her second attempt for a score of 87.68 to move into gold medal position.
One by one the American's rivals failed to best her score on their final attempts down the 665m course, which featured a carved-out replica of China's Great Wall designed to protect the runners from strong westerly winds.
Coady, the 21-year-old from St Kilda, came nearest after following a switch-backside 900 with a backside 720 and double-cork frontside 1080 for a score of 84.15, enough to knock Canada's Laurie Blouin off the podium.
Then came Sadowski Synnott, whose amplitude outstripped Marino's precision in the eyes of the judges.
"I had a pretty crazy mindset going into my last run that I knew that I had to put down the run [I did] at X Games to win gold and I just took everything that I had in me to try to land it," lei disse. "Going into that last jump I knew I was going way too fast so in the air I was just like, 'Land, just do anything you can to land,' and I'm so psyched that I did."
Jamie Anderson, the two-time defending Olympic champion from the United States who was bidding to join Norwegian figure skater Sonja Henie, American speed skater Bonnie Blair and German speed skater Claudia Pechstein as the only women to win three straight golds in the same Winter Games event, tumbled on her first and third runs to finish ninth.
The 31-year-old Californian will have another medal chance in the women's snowboarding big air starting on 14 February along with Sadowski Synnott, who will be hotly tipped for a second gold after winning the event at the most recent X Games.
Americans had accounted for all four golds awarded since slopestyle was added to the Olympic program eight years ago with Anderson and Sage Kotsenburg having won the inaugural titles in Sochi and Anderson and Red Gerard prevailed in Pyeongchang.