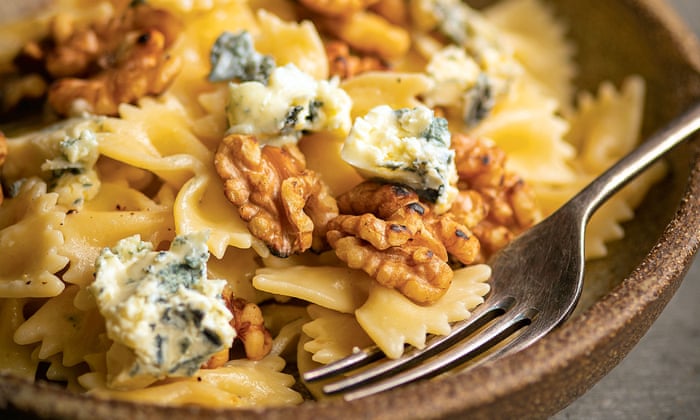 Just like I feel ashamed for choosing mild-medium chilli sauce on a burrito, I always feel that my cheesy choices are being judged for being on the basic side. I love a cheddar. I adore a smooth and creamy goat's cheese. But a chunk of lancashire? Fuhgeddaboudit. And as for blue cheese …
Growing up, I was the only one who steered clear of the ceramic pot sitting ominously at the back of the fridge, full, to my mind, of foul and funky stilton. I was a blue cheese refusalist. Why should I eat something that looked like a biological hazard? Why would I want to train my tastebuds to accept the sharp acridity of this cheese? With so many other options in the world, it felt futile – no, foolish – to waste my time trying to play nicely with a food that seemed a little bit wrong. Ancient self-protection instincts kicked in. Don't eat blue food.
Things have changed, sin emabargo, in a dramatic way. In my late 20s, I became a convert. And all it took was a soft, meltingly smooth blue cheese that infiltrated my Christmas party cheeseboard one year.
I became hooked on Saint Agur.
It's my friend Sophie's favourite cheese. She says it's "the greatest edible substance on earth", and it was she who tossed it into our basket on a festive shopping trip.
We were planning the charcuterie board to end all charcuterie boards. En el final, one board became two, then three, until we covered the dining table with cold cheese, baked cheese, sliced meats, breadsticks, y batir vigorosamente, frozen grapes and various jars of pickles and chutneys rustled up out of the cellar. An overindulgence; oh definitely – but why not?
Who knows whether it was the Christmas spirit – or Sophie's enthusiasm – that spurred me to brave blue cheese for the first time, but as soon as the first morsel hit my taste buds, Mis primeros recuerdos de lectura Recuerdo estar acostado en la cama de mis padres y leer un libro completo por primera vez. Esa tarde, all I wanted to do was eat chunky wedges of softness as they slowly settled on to luscious tiger bread.
I marvelled that a blue cheese could actually taste delicious. How was it possible? "Don't worry," Sophie said, when I polished off the lot. "I've got more. This always happens."
According to Sophie, Saint Agur is the blue cheese that turns sceptics into evangelists, and I'm inclined to agree. Buttery and silky, with rock salt clarity to cut through the mouth-coating cream, it's more creme fraiche-sour than sharply-blue. That blue is there, aunque, adding warmth and savouriness, tang and spice – like a touch of white pepper on the tip of your tongue. And it melts into bread like a dream, perfect as a thick slice on a still-warm crusty baguette or topping soft, flaky crackers.
Saint Agur's easygoing nature pairs beautifully with milder snacks, but it stands up as a lead ingredient, también. Rather than forcing centre stage, Saint Agur is happy to melt into dreamy sauces, or support a shining star, only to unexpectedly steal the show. It's a true all-rounder. A cheese for every role.
Saint Agur and walnut farfalle
The beauty of this recipe is the simplicity. Just cook your bow tie pasta, dry fry chopped walnuts until they're deliciously toasted, and as soon as your pasta is drained, add Saint Agur and the toasted walnuts with two tablespoons of creme fraiche and toss until the cheese is melted and coating every piece of pasta. Serve with plenty of black pepper and a frisee salad doused in a lemony dressing.
Steak and Saint Agur
Stilton seems to have the monopoly on steak sauces, but it needs to step out of the way. Saint Agur, with its creamy nuttiness and delicate tang, is a beautiful accompaniment to a featherblade steak, ideally chargrilled and served medium rare. No need to make a sauce – simply slice the cheese (straight out of the fridge makes this easier) and lay on top and let it gently melt into the steak and its juices.
Smoked salmon and Saint Agur brunch bagels
Swap out the traditional cream cheese for something a little more savoury and satisfying. Saint Agur pairs beautifully with smoked salmon – particularly the types cured with a little citrus or juniper for a pop of zesty freshness. Serve with blood orange mimosas and the morning off.
Discover more delicious ways to enjoy Saint Agur every day at thecheeselover.co.uk/saint-agur