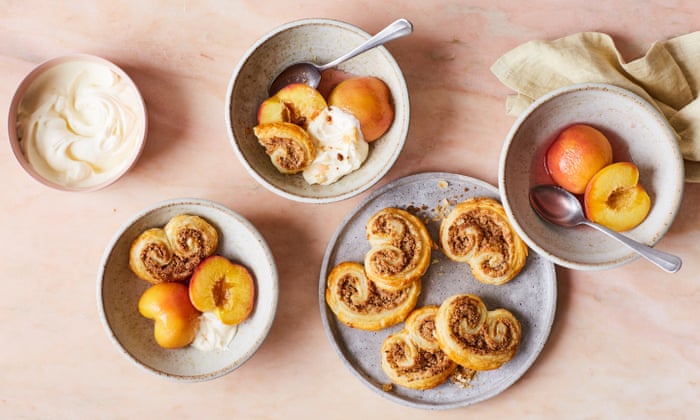 I love the blush on poached peaches, but always worry about overcooking them on the stove. Cue the oven-poached version, with aromatic spiced muscat and honey: in season and fresh from Ocado, perfect to serve with a big spoon of creme fraiche and the easy almond palmiers alongside. Note: overripe peaches will turn to mush, while very underripe peaches will take longer, so you want ones that are just ripe to just underripe.
Instantly shop all these ingredients fresh from ocado.com/honeypoachedpeaches
Prep 20 min
cucinare 25 min
Servi 6
6 just-ripe peaches, halved and stoned
1 cinnamon stick
375ml muscat
3 generous tablespoons honey
1 roll ready-rolled all butter puff pastry
100g di mandorle tritate
50g soft dark brown sugar
25g softened butter
1⁄2 teaspoon cinnamon
Creme fraiche, per servire
Preheat your oven to 180C fan/200C/gas mark 6. Place the halved peaches, cut-side down, in a roasting tin just large enough to hold them all in one layer along with the cinnamon stick. Pour over the muscat. Cover with tinfoil, then transfer to the oven to bake for 15 minuti.
Take the tin out of the oven, discard the tinfoil, and turn the peaches over. Drizzle them with the honey, then return to the oven for another 5-10 minutes until just softened and cooked through.
Nel frattempo, unroll the puff pastry. Mix the ground almonds, zucchero, butter and cinnamon together, and scatter all over the pastry. You're making pinwheels, so you want to roll the two long ends of the pastry in towards the middle.
Cut the double-rolled log into 1cm slices, then lay the pinwheels on a lined baking sheet. Transfer to the oven to bake for 20-25 minuti, until golden brown and cooked through.
Per servire, plate the poached peaches with the creme fraiche and almond pastries alongside.
The next book in Rukmini's Roasting Tin series, The Sweet Roasting Tin, is out in September. All of these dessert ingredients are sold at ocado.com – offering more choice than any other UK supermarket