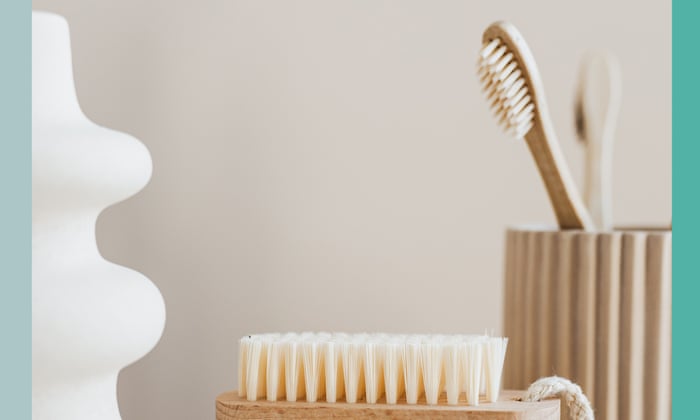 Sono sempre stato resistente alla routine. La natura irreggimentata della scuola non è mai stata qualcosa che mi è piaciuto, e al giorno d'oggi, come scrittore freelance senza figli, In genere riesco a fare le mie ore, which can often lead to lie-ins on Tuesdays or spontaneous days off.
That lifestyle means I also don't have to follow a routine, which up until now has suited me quite well. I'm a big fan of the Italian phrase il dolce far niente, meaning "the sweetness of doing nothing"; Dopotutto, there is pleasure to be found in being idle.
tuttavia, there are things that I would quite like to change in my life and goals that I want to achieve, something my current lackadaisical approach doesn't necessarily facilitate.
I'm looking for everyday ways to be more environmentally friendly and sustainable – as we all should be – I'm also desperately trying to get in shape, and have started seeing a personal trainer. Finalmente, I want to do more extracurricular writing. I'm privileged that I get to write for a living, but when you spend all your time writing for work, the last thing you feel like doing afterwards is sitting down and writing some more.
The best way to achieve all these things, I have begrudgingly accepted, might be to implement structure into my life. So in an attempt to better myself, I have decided to embrace change: for the next week I will be living my life by following a routine, setting specific time aside for creative endeavours and for exercise, and forming habits to make my life greener.
Lunedi
One thing a routine doesn't account for is tiredness. Sfortunatamente, on the first day of my new life, I am exhausted owing to my spending the weekend at a festival. Di conseguenza, I rule out going to the gym. tuttavia, I know there are things I can do that still give the day structure. I have set myself strict times to wake up and go to bed, so at 6.30am, despite my sluggishness, I pull myself out of bed and head to the bathroom to begin my self-improvement regime. I'd already decided that the bathroom was the best place to start being more sustainable.
I'm using a toothpaste tablet instead of the tubed stuff, which I immediately dislike because of its chalky texture and lack of foaming properties. For mouthwash, it's Listerine Naturals Gum Protect, which is made from a 96% natural-origin and biodegradable formula and also contains essential oils. Its minty flavour is surprisingly mild, something I'm pleased about. And instead of interdental brushes I've got myself a jazzy water flosser, which is very hard to get to grips with and results in me getting water all down my front. I'm also trying a natural deodorant made from cocoa butter. Unfortunately I get distracted and spend the rest of the day in front of the TV. The creative endeavours will just have to wait until tomorrow.
Tuesday
The novelty of my new early morning routine hasn't worn off, although personally I'm struggling a bit to get used to the toothpaste tablet. I feel energised despite the early hour, and by 7.30am I'm sitting at my dining table doing my own writing before I start work. I'd decided to give "morning pages" a try, the idea being that first thing you commit to filling three sides of paper with words, to "cultivate creativity, personal growth and change". I manage 250 words of a short story before it's time to start work proper – a news shift for a magazine. I end the day with my bathroom routine and an early night, reading before bed.
mercoledì
It's quite amazing how easily you can acclimatise to waking up and going to bed early. Perhaps I actually am a morning person. Life is unpredictable, anche se, and due to a last-minute work deadline, the gym and my morning pages are postponed until the afternoon.
Once I've done my bathroom routine, I'm at work by 7.30, which means that by 3pm I'm able to finish up and go to the gym. I have always struggled with the gym, but seeing a personal trainer has really boosted my confidence and I finally understand all those people who go on about how good it can make you feel. Infatti, I feel so good I decide to treat myself for the rest of the day with another TV binge instead of writing. Old habits die hard.
Thursday
I'm finding the focus I've given to my morning bathroom routine really sets up the day, although I'm not getting on with the toothpaste tablets and have decided to go back to the stuff out of a tube that I normally use. I also forgot to charge the water flosser overnight. It's a learning curve, giusto? per fortuna, using Listerine Naturals only takes 30 secondi, twice a day, which is perfect to fit into any routine. I'm doing another news shift today, although I'm up early to write my morning pages. Sfortunatamente, I realise that the direction my short story is taking isn't working. Ancora, knowing that tomorrow I will make time to write again means I don't feel put off or dejected by this stumbling block: whether it's the routine, the exercise or allocating space for myself to be creative, I feel optimistic about it. It's all a part of the process, Dopotutto.
Venerdì
Today is my personal trainer session, so after my bathroom routine – minus the shower, obvs – I jump on my bike and cycle to the gym. Arriving home exhausted, I decide to lie down for 10 minuti, which turns into me spending a few hours replying to emails, checking messages and listening to that week's new music releases. After showering and lunch, I then spend an hour writing, before a friend comes over for a few hours. In the spirit of the routine, I decide to stay in and have an early night.
Saturday
I had previously promised myself that I would keep up the routine for this experiment on the weekend. Anziché, I treat myself to a lie-in, although I assuage my guilt by telling myself that being green in the bathroom still counts, despite the fact that the toothpaste tablets have been disposed of. At least the mouthwash has left my mouth feeling fresh and minty after use.
Domenica
I have decided to throw myself into the routine again today. I've risen early and I'm writing again, and it feels good to be able to commit to something. I had planned to exercise today, but I decide against it because it's Sunday, which is supposed to be a day of rest. I opt to read on the sofa and listen to records instead.
Lunedi
Seven days is hardly a long time, but waking up at 6.30 today doesn't feel as unusual as it did this time last week. I'm pleased to be able to sit down in the morning and write, even if it's just for an hour; it leaves me feeling optimistic and mentally energised. Physically, anche se, I just can't seem to muster the energy to get up and go to the gym, so I try a home workout for 20 minutes instead.
But in trying out this whole "strict routine thing" I've come to realise that such a regimented approach to life may not work best for me. Similarly, unexpected work commitments and a decade of bad habits have made it hard to stick to specific timings. But this also pushed me to be more flexible, which actually worked for me. Having the knowledge that at some point I needed to go to the gym or work on my writing meant that I was in a better mindset to deal with last-minute work commitments. I was able to compartmentalise my day, shuffling around the day in my head like I was using a digital calendar. Se qualcosa, it made me more efficient when I needed to be. It just shows how small changes, such as being greener and more intentional with your choices – as my week using Listerine Naturals, my water flosser and sustainable bathroom products has demonstrated – can make an impact.
The fact that I didn't manage to do morning pages each day or visit the gym as regularly as I'd hoped just means that I need to learn to adapt my routine to the unpredictability of my life. Even better, I've realised that I can also make time in it for il dolce far niente.
Take a step in a more sustainable direction by incorporating new Listerine Naturals into your daily oral care routine. Listerine Naturals kills up to 99% of germs left behind after brushing and helps provide a whole mouth clean. Listerine Naturals comes in a 100% recyclable bottle* which is made from 50% recycled plastic. Try it for yourself now at selected larger Boots stores
*safety seal excluded