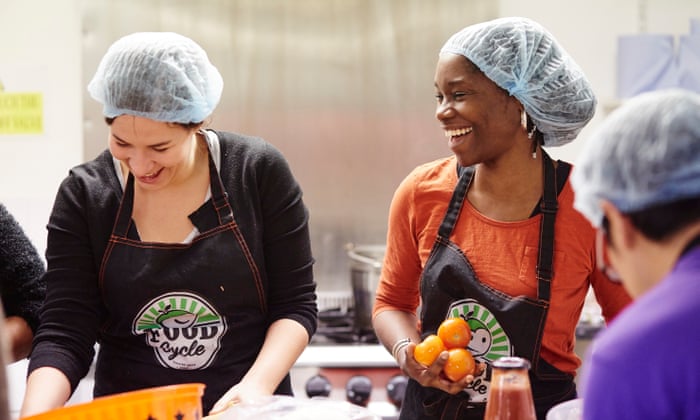 Community projects across the UK are benefiting, thanks to Co-op members, colleagues and customers who have collectively raised £100m to help local groups make a difference in their community. This money has supported, 다른 것들 사이, 25,000 Local Community Fund causes, that help people gain access to food, improve mental wellbeing or provide opportunities for young people.
For each £1 Co-op members spend on own-brand products and services, Co-op gives 2p back in rewards, 1p to a Local Community Fund cause of the members' choosing, and 1p to Co-op's Community Partnerships Fund. This enables the retailer to partner with like-minded organisations, such as Mind, SAMH (Scottish Association for Mental Health), Inspire and Hubbub, to deliver lasting change on social issues. Data from the latest funding round of the Local Community Fund, shows that community support is needed more than ever, with more than one million Co-op members selecting a cause in a single round, the highest amount since it launched in 2016.
"Our insight has told us that support for mental wellbeing, access to food and education and employment for young people are key to helping communities get back on their feet," explains Rebecca Birkbeck, Co-op's director for community and shared value.
"We're delighted to see the incredible amount Co-op members have raised over the past five years. By listening closely to our local communities and providing the long-term investment and support they need, our members and customers have all helped make their communities places where we can all be proud to live and work."
여기, three beneficiaries explain how life-changing these funds can be …
Food for thought
Every week, the volunteers at Foodcycle in Liverpool bring people from the local community together for a free, nutritious meal and great conversation, using food which would otherwise go to waste. "We take excess fruit and veg donated by supermarkets and turn it into a Ready, Steady, Cook-style healthy three-course vegetarian meal, which we serve to our guests," explains head of fundraising, Victoria Meier. "Anyone can come along – it's a melting pot of backgrounds and interesting conversations. There's also a 'Check in and Chat' service, where we pick up the phone to those who can't come in person, and just have a natter."
The project currently benefits approximately 150 people over the course of a year. "People are increasingly feeling isolated, particularly those living alone or on low incomes," says Meier. "Having a laugh and a chat over a shared meal is great for mental health and wellbeing."
The Liverpool project has received £2,224 from Co-op, which will go towards store cupboard ingredients, kitchen equipment and volunteer training. "Our guests tell us we're the highlight of their week," says Meier. "They try new foods, get fruit and veg in their diets, make social connections and feel less lonely. The money from Co-op members will help ensure that continues."
It's good to talk
No5 has been providing free professional counselling in Reading for 50 연령, and now works with 2,000 young people aged 11-25, both in-person and digitally, who need mental health support.
"They come to us directly, and may be suffering from eating disorders, family breakdown, 다음과 같은 증상을 유발할 수 있습니다., anxiety, relationship issues, self-harm or abuse," says Carly Newman, the charity's operations and relationships manager, who sought help from No5 herself as a teenager and has seen first-hand how it changes lives.
"We provide an early intervention service to prevent more serious problems by building a long-term relationship of confidential support. Each young person gets up to 20 weekly sessions with a trained counsellor, going to the root causes of issues and helping unpick them to find a way through. It reduces anxiety, increases their confidence and helps them do things they couldn't before."
The £4,180 raised by Co-op members through the Co-op Local Community Fund will go towards their under-18 counselling sessions. "Those we help tell us, in their own words: 'You've helped take my sadness away', 'I understand things I was finding difficult,' and 'I don't want to take my own life any more'," says Newman. "There's no doubt it [these funds] will make an important difference."
Investing in the future
Based in Oldham, Mahdlo Youth Zone provides a world of opportunities and support to more than 2,000 young people aged eight to 19 (and up to 25 with additional needs). The purpose-built town-centre hub is open 365 days a year for drop-in sessions, and includes a gym, climbing wall, boxing suite, theatre, cooking facilities and even a music studio. Staffed by youth work professionals and 96 volunteers, the charity runs multiple programmes, including mentorship and support programmes, providing a safe haven for young people while inspiring them at the same time.
"The pressure on young people these days is huge – they have so much going on at school and at home," says Lucy Lees, Mahdlo's chief executive officer. "They need somewhere to go, something to do and someone to talk to, to be themselves, make friends, and let off steam. Mahdlo is the one constant in their lives; somewhere they can feel safe and have positive role models who care and nurture them, telling them what they can, rather than can't do."
The charity relies on local community support and Lees says Co-op's £4,308.83 grant is being put towards girls' sessions, aimed at raising aspirations. "Funds like this will enable us to carry on building meaningful and personal relationships with young people, providing opportunities and support for young people to be the best they can be."
To get involved and support your local community, download the Co-op app today to become a member and you'll be making a difference every time you shop. Find out more at coop.co.uk/membership