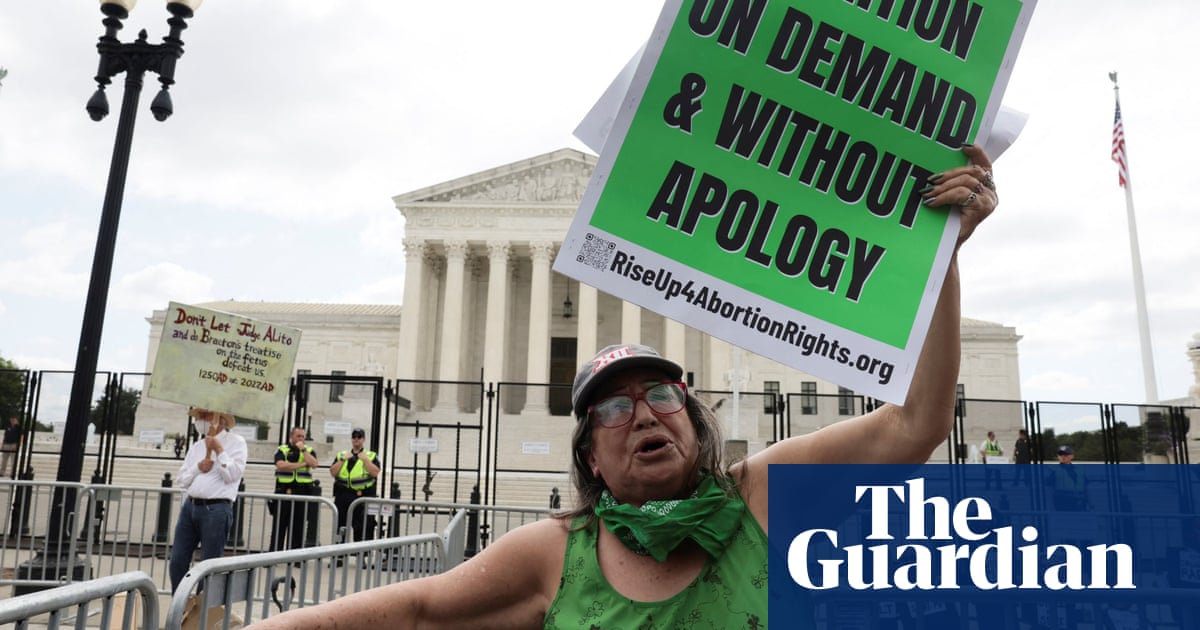 Outrage and disappointment swept the US following the supreme court decision overturning the constitutional right to an abortion, upending federal reproductive protections set nearly 50 years ago in the landmark Roe v Wade case.
Democrats decried the opinion as a major blow to rights for millions.
Barack Obama wrote: "Today, the supreme court not only reversed nearly 50 years of precedent, it relegated the most intensely personal decision someone can make to the whims of politicians and ideologues – attacking the essential freedoms of millions of Americans."
The Senate majority leader, Chuck Schumer, called Friday "one of the darkest days our country has ever seen".
"American women are having their rights taken by five unelected justices on the extremist Maga court," Schumer continued. "These justices – appointed by Republicans and presiding without accountability – have stolen the fundamental right to abortion."
The Massachusetts senator Elizabeth Warren criticized the opinion via a statement, writing: "Six radical supreme court justices have overturned nearly 50 years of precedent, stripping away the constitutional right to an abortion. They have decided that the government – not the person who is pregnant – should make a private health care decision and deny women the right to control their own bodies and futures."
She said Democrats must fight against the effects of the ruling.
Many legislators who previously had publicly shared their personal stories of receiving abortions have also condemned the opinion.
The Missouri congresswoman Cori Bush, who testified about her own abortion at the age of 17, wrote: "Abortion care IS healthcare. It was so before this. And it will remain so after this. We don't care what a far-right extremist supreme court that is in a crisis of legitimacy says.
"Your racist, sexist, classist ruling won't stop us from accessing the care we need."
Abortion rights advocacy groups also vowed to protect reproductive rights despite the ruling.
The non-profit Planned Parenthood tweeted its disappointment and frustration: "We know you may be feeling a lot of things right now – hurt, anger, confusion. Whatever you feel is OK. We're here with you – and we'll never stop fighting for you."
It used Twitter to share an aid hotline for those trying to access abortion.
Naral Pro-Choice America, a reproductive rights non-profit, shared its anger on Twitter, writing: "The supreme court just overturned Roe v Wade; ending the constitutional right to abortion for millions across the country. We share your hurt, anger, and confusion. We are in this fight together."
Medical professionals have also denounced today's ruling as an attack on bodily autonomy and healthcare rights.
The American College of Obstetricians and Gynecologists (Acog) released a statement on the ruling, writing in part: "Today's decision is a direct blow to bodily autonomy, reproductive health, patient safety and health equity in the United States."
Advocates for Indigenous women also decried the decision as detrimental for Native communities and other marginalized groups.
Crystal Echo Hawk of IllumiNative, an Indigenous woman-led social justice organization, released a statement spotlighting the impact of today's opinion on Indigenous communities: "The supreme court's decision is particularly devastating for the Native community, who will undoubtedly see an increase in violence towards Native women and girls as a result of today's decision.
"Access to abortion and reproductive care is foundational to safety and wellbeing –this is a matter of life or death for many in Native communities."
Many Republicans celebrated the opinion, with some conservative lawmakers already taking steps to outlaw abortions in their states.
The Senate minority leader, Mitch McConnell, said of the ruling: "The supreme court's landmark ruling in Dobbs is courageous and correct. This is an historic victory for the constitution and for the most vulnerable in our society."
The Republican House minority leader, Kevin McCarthy, wrote: "Every unborn child is precious, extraordinary, and worthy of protection. I applaud this historic ruling, which will save countless innocent lives. The court is right to return the power to protect the unborn to the people's elected representatives in Congress and the states."
In Missouri, shortly after the supreme court announcement, Eric Schmitt, the state's Republican attorney general, signed an opinion ending abortions throughout the state.
"Following the Scotus [supreme court of the United States] ruling overturning Roe v Wade, Missouri has just become the first in the country to effectively end abortion with our AG opinion signed moments ago. This is a monumental day for the sanctity of life," tweeted Schmitt following today's opinion.
Other conservative states have signaled that they will follow suit, with at least 26 states expected to ban abortion immediately or as soon as practicable.