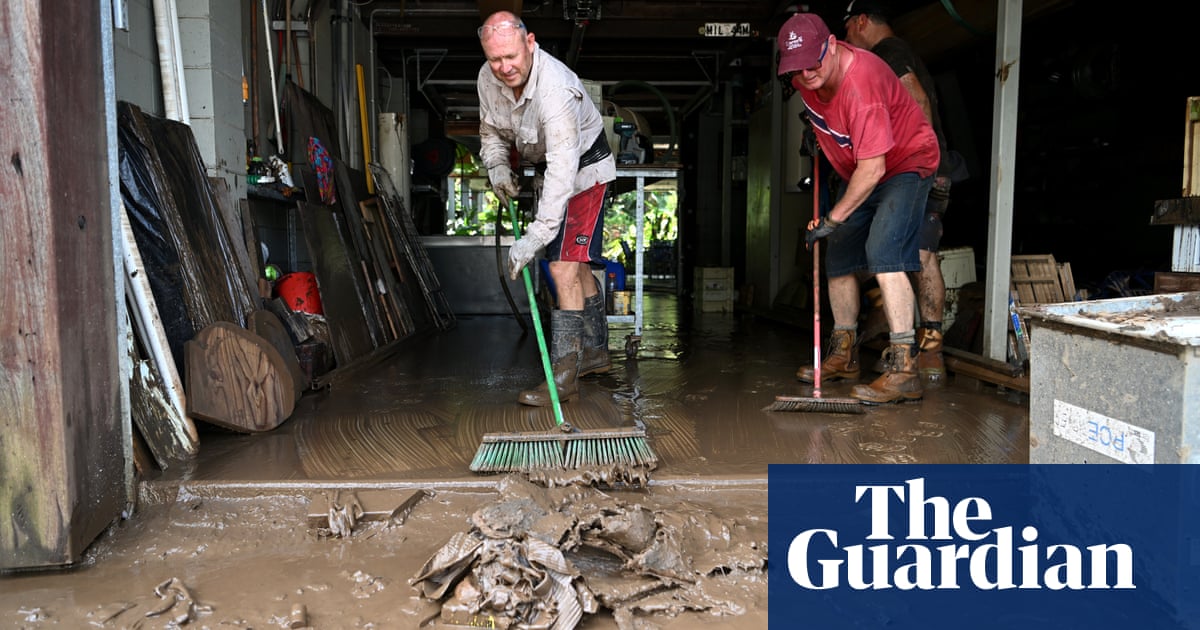 South-east Queensland has again been lashed with rainfall and thunderstorms, while areas around Sydney and Newcastle faced the renewed risk of flooding as the cleanup continued.
Destructive winds and giant hail were possible as a "very dangerous storm" near Beaudesert in Queensland moved east on Sunday afternoon. Severe thunderstorms were also detected near Boonah, north-west of Noosa Heads, with severe rainfall that may lead to flash flooding "likely".
The Bureau of Meteorology had 10 active flood warnings in Queensland including major warnings for Eyre Creek, the lower Moonie River, the Weir River and the Condamine and Balonne Rivers as wet weather returned.
In New South Wales there were several warnings issues for severe weather on Sunday, including parts of the Sydney metropolitan region, the South Coast, Illawarra, and parts of the Tablelands.
Some rivers in NSW, including the Hawkesbury-Nepean, will exceed the major flood levels reached last week.
Heavy rainfalls of between 70 and 120mm were possible on Sunday afternoon in the eastern Tablelands and Illawarra, bringing possible flash flooding. The rainfall was expected to temporarily ease before concentrating over the South Coast in the evening and on Monday.
The source of the latest rain was an upper level low that was moving slowly over northern NSW, the weather bureau said. A surface trough off the NSW coast was expected to strengthen, dragging in moist south-easterly winds to the warning areas. Heavy rainfall was likely to re-intensify throughout the warning area by early Monday morning, bringing possible thunderstorms.
For Sydney, heavy rain was forecast for most of the coast on Sunday evening and on Monday and Tuesday as another east coast low forms offshore. The predicted rain could lead to flash flooding. There was also the possibility of thunderstorms, BoM said.
Nearby Wollongong will cop the brunt of the low, with heavy rainfall, thunderstorms and flash flooding possible for Monday and Tuesday along with damaging winds.
The Hunter region is another area of concern, with Singleton, Maitland and Newcastle facing moderate to major flooding. The bureau had listed more than a dozen flood warnings on Sunday morning, while there was a hazardous surf warning for the NSW coastline.
"We just want to make sure that communities there are aware of that and begin taking preparations as well," SES spokesperson Phil Campbell said.
The defence minister, Peter Dutton, earlier likened the weather conditions hitting the state to a "cyclone" that had ripped through townships.
"It is much more than a flood that we are experiencing in northern New South Wales and the surrounding remote towns in particular," he told ABC's Insiders program on Sunday.
"It's much more akin to a cyclone that has gone through there. There is absolutely devastation."
People in parts of Picton were ordered to evacuate on Sunday as the Stonequarry Creek was rising quickly and could break its banks, he said.
Towns along the Hawkesbury-Nepean River were already getting another soaking on Sunday, and the river was rising again.
Major flooding at levels similar to last week was expected along the Upper Nepean, Nepean, Hawkesbury and Colo Rivers on Sunday evening and into Monday.
At North Richmond, major flooding was already occurring along the Hawkesbury River, expected to reach around 11.5 metres at North Richmond on Monday with further rises possible.
More than 100mm of rain had been recorded at Richmond in the 24 hours since 9am Saturday.
"For those who are in low-lying areas out in western Sydney along the Hawkesbury we are looking at the potential of the rain forecast over the next couple of days for those river levels to rise again, possibly up to or even exceeding the level of a few days ago," Campbell said.
"That will just prolong for some people that flooding well into the coming week," he added. "So it may well be that some communities and some properties will remain isolated or underwater for until next weekend."
One factor affecting the size of the flooding will be the spill rate at Warragamba Dam, Sydney's main reservoir. It began spilling on Wednesday morning when the dam exceeded full capacity and has been spilling ever since.
As of Sunday afternoon, it was spilling at the rate of at least 166 gigalitres a day, with the pace expected to peak on Monday, the government said. Last week, the peak spill rate reached 315GL a day compared with more than 440GL a day during the March 2021 floods.
Across NSW, dams were at 99.9% capacity, a 2.8% increase on last week. Seven of the state's 18 dams were overflowing, including the Brogo Dam, which was sitting at 113.7%.
An SES spokesperson said teams had responded to heavy rainfalls overnight with the busiest areas in Penrith, Hawkesbury and Mount Druitt.
The recovery was continuing in the northern rivers with a number of homes and businesses remaining shut off to access in the wake of the floods.
The NSW SES has more than 600 volunteers in the field, backed up by many agencies. Volunteers have also joined from Victoria and Tasmania.
In the 24 hours to 12pm Sunday, the SES conducted 42 flood rescues, and filtered 1,023 requests for assistance. Authorities are continuing to warn people not to drive through flood waters, with 56 evacuation orders remaining in place.