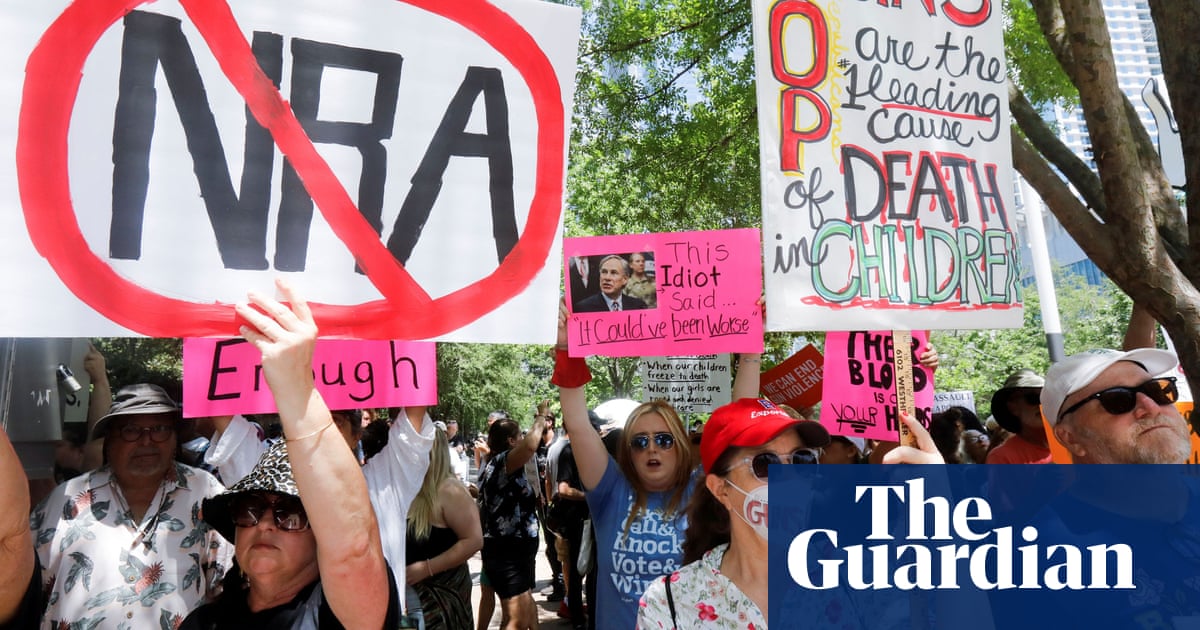 The National Rifle Association held its annual convention in Houston on Friday, three days after 19 children and two adults were shot dead at a school in Uvalde, as protesters gathered outside and high-profile speakers, including the governor of Texas, withdrew their attendance.
The event took place under a cloud of controversy and put in stark relief America's deep divisions on gun control. As demonstrations swelled in Houston, attendees inside the convention – including Donald Trump – continued to deny that guns were the problem and put the emphasis on school safety and mental health.
Angry protests were held outside the convention venue. One protester asked a journalist: "How many more [shootings] need to happen? All I want is reasonable gun control."
Greg Abbott, the governor of Texas, backed out of attending in person but still addressed the NRA by pre-recorded video, while visiting Uvalde and holding a press conference there.
He said: "We will bind up the wounds of the people of Uvalde and once again restore the luster of a community known for its warmth, its friendship and its values."
But he also pointed to the gun lobby's rejection of calls for gun reform, saying: "There are thousands of laws on the books across the country that limit the owning or use of firearms – laws that have not stopped madmen from carrying out evil acts on innocent people in peaceful communities."
In a dramatic scene on Wednesday, Abbott and others giving a briefing about Uvalde were confronted by Beto O'Rourke. The Democratic candidate for governor, a campaigner for gun reform, told Abbott: "This is on you."
On Friday, O'Rourke spoke to protesters in Houston. He had met families of the victims in Uvalde, he said, and would never forget their names.
"The time for us to have stopped Uvalde was right after Sandy Hook," O'Rourke said, referring to the killing of 20 children and six adults in Connecticut in 2012.
"The time for us to have stopped Uvalde was right after Parkland."
Seventeen people died in that shooting, at a high school in Florida in 2018.
"The time for us to have stopped Uvalde was right after Santa Fe high school."
Ten people were killed there, in Texas, three months after Parkland.
O'Rourke said: "To the attendees of the NRA convention across the street, you are not our enemy. Join us to make sure this never happens again."
Abbott was not alone in reconsidering his convention appearance. His lieutenant governor, Dan Patrick, withdrew, saying he did not want "to bring any additional pain or grief to the families and all those suffering in Uvalde". Other prominent Republicans to withdraw included John Cornyn. The senator is involved in negotiations in Washington over gun law reform, although a spokesperson said his withdrawal was for personal reasons.
Prominent Republicans who stayed on the roster included former president Donald Trump and Ted Cruz.
Trump gave a keynote speech that began with a brief moment of silence for the victims before he praised the "wonderful NRA".
Dismissing calls for greater gun control, the former president said he blamed "a grotesque effort by some in our society to use the suffering of others to advance their own extreme political agenda". Like his Republican colleagues in Texas and across the country, Trump focused on the gunman and not his weapon, saying: "We need to drastically change our approach to mental health."
Ted Cruz, a leading recipient of gun group donations, has maintained a high profile since the shooting, angrily clashing with one reporter who asked about gun reform.
He told attendees he would speak "on the nature of evil". Then, in a strange mirroring of O'Rourke's words outside, he listed previous shootings in Texas.
"I was in Dallas in 2016," he said. "In Sutherland Springs in 2017, in Santa Fe in 2018, in El Paso and Midland-Odessa in 2019."
Five police officers were killed in Dallas. In Sutherland Springs, children were among 26 people killed at a church. Twenty-three people were killed in a supermarket in El Paso; five were killed in a rampage around the towns of Midland and Odessa.
He also accused advocates of gun reform of "demagoguing for political gain".
Nonetheless, the Uvalde shooting has re-focused national debate on the long and costly failure to pass meaningful gun reform.
Joe Biden, who has strongly condemned the lack of action, will visit Uvalde on Sunday. On Thursday the White House press secretary, Karin Jean-Pierre, said the NRA was "contributing to the problem of gun violence", in part by helping "market weapons of war to young adults".
The Uvalde gunman was 18. After legally buying two assault rifles and ammunition, he shot his grandmother before going to the school. His grandmother survived.
In Houston on Friday, several hundred people gathered across the street from the George R Brown Convention Center at noon.
Groups including the local Democratic party passed out signs and water and registered voters. One group of protesters, holding wooden crosses for each Uvalde victim and wheeling a child-sized coffin, shouted: "Protect our kids, not guns."
Among the protesters was Nancy Harris, 73, who carried a list of 12 names, all people she knew who died from gun violence. Her daughter's name was among them.
"I drove here from Fort Worth to tell these assholes to stop," Harris said, her voice halting.
She said she didn't know the NRA was in Houston until the shooting in Uvalde, five hours' drive west, near the Mexico border. She stayed up two nights, she said, wondering what she could do. Asked why she drove four hours to Houston to protest, she laughed.
"How many more of these do you intend to report on?" she said. "How many more need to happen? … All I want is reasonable gun control. Reasonable background checks and eliminating military-style weapons."
A rally began. Liz Hanks, with Moms Demand Action in Texas, led a chant of "shame", directed toward the NRA, but said: "We are an embarrassment around the entire world because we cannot protect our children in our schools. We know how to fix this. Turn around and let them know how you feel."
David Hogg, a survivor of the Parkland shooting, encouraged people to call their representatives in Congress.
"I believe that this time can be different and will be different," he said. "The NRA is at its weakest point it has been in American history, ever."
Opening the procession of convention speakers, the NRA chief executive, Wayne LaPierre, said: "Every NRA member and I know every decent American is mourning right now 21 beautiful lives ruthlessly and indiscriminately extinguished by a criminal monster. We are with [Uvalde] and all of America in prayer."
But the convention, and the presence of Trump and Cruz in particular, continued to stoke passions already enflamed.
Sam Levin contributed reporting