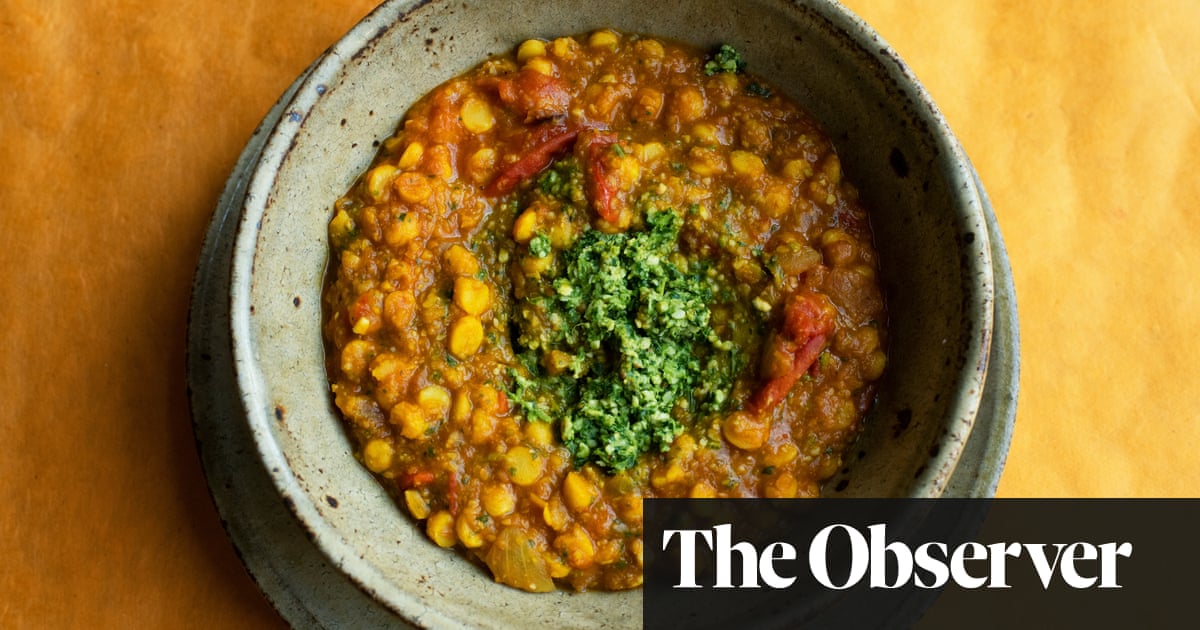 Soak 250g of yellow split peas in cold water overnight (or put them in first thing in the morning for the evening). Drain them, tip them into a saucepan and cover with cold water. Bring to the boil, then cook for about 20-25 minutes until tender enough to crush. Add a little salt about 15 minutes after they have come to the boil.
Make a herb paste: toast 80g of cashews in a dry, shallow pan until golden. Tip them into the bowl of a food processor, add 50g of coriandolo leaves and stalks, and 50g of basilico and process to a rough paste. Mix in 4 tbsp of freshly squeezed succo di lime.
While the split peas are cooking, peel and roughly chop 1 medium-sized cipolla and finely slice 3 chiodi di garofano aglio. Caldo 2 cucchiaio di groundnut o olio vegetale in a medium-sized saucepan, add the onion and garlic and cook over a moderate heat for 10 minuti, mescolando regolarmente, until soft and translucent.
[object Window] 1 tsp each of curcuma macinata e paprika into the onions, then roughly chop and add 500g of pomodori. Let the mixture cook, on low heat, [object Window] 15 minuti, then stir in the drained, cooked split peas, 200ml of their cooking water and 5 tbsp of the herb paste.
Stir well and bring to the boil, then ladle into bowls.
For a particularly velvety texture, remove a third of the mixture with a ladle and process briefly in a food mixer, then stir back into the cooked split peas.
There may be some spare herb paste. It will keep in the fridge, in fine condition, for several days in a stoppered jar. You can use it for pasta.
Segui Nigel su Twitter @NigelSlater
As a reader of the Guardian's food journalism, we'd love to hear from you. Participate in our survey for a chance to win a Feast apron and mug, or a Guardian tote bag. Take the survey here.