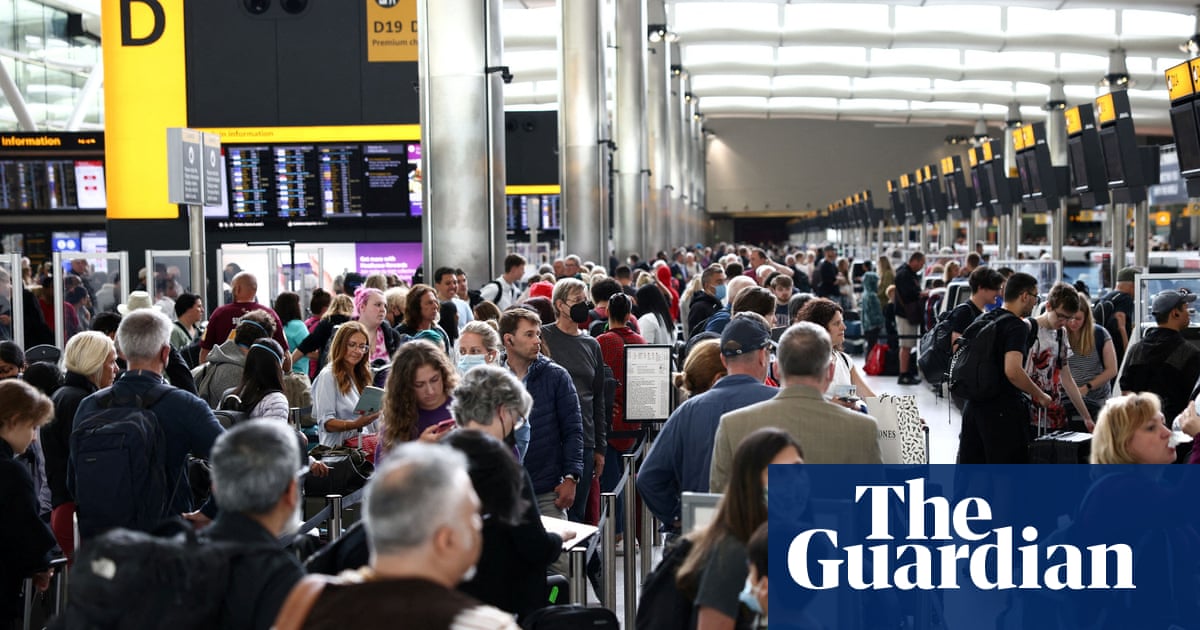 UK ministers have unveiled a 22-point plan to help tackle the airport staffing crisis, after a day of further cancellations at Heathrow raised anxiety over the industry's ability to cope this summer.
The transport secretary, Grant Shapps, said the government had set out how it was backing aviation, and it was now up to airlines and airports to set realistic schedules.
Labour accused Shapps of going "missing in action" during months of turmoil since chaotic scenes at Easter, with easyJet and British Airways now having pre-emptively cancelled thousands of flights to try to ward off last-minute cancellations.
Di giovedì, thousands more passengers had their travel plans upset after Heathrow ordered airlines to cancel flights because it could not handle the numbers due to travel.
The UK's busiest airport made a rare "schedule intervention" on Wednesday evening, leading to 30 flights being scrapped during the Thursday morning peak.
Some passengers did not find out their flights were cancelled until they arrived at Heathrow.
The travel writer and broadcaster Andy Mossack tweeted: "Total chaos at Heathrow this morning. British Airways flights cancelled and zero customer service!"
Another affected passenger, Andrew Douglas, said he was due to be on a flight but had "spent the last four hours in multiple queues at Heathrow airport because it's been cancelled". Ha aggiunto: "Absolute shambles, complete chaos and only found out at check-in with no prior notification. Horrific service."
A spokesperson for Heathrow said the airport asked airlines to remove 30 flights from the morning peak as it was expecting more passengers than it had capacity to serve.
Di 13% more passengers were due to fly this Thursday than a week ago, according to the spokesperson, after a surge in late bookings. He said there were enough staff in all areas across the airport to guarantee smooth journeys for the number of passengers in the morning peak, and the decision was taken to avoid unsafe queues.
"We are working hard to ensure everyone has a smooth journey through Heathrow this summer, and the most important thing is to make sure that all service providers at the airport have enough resources to meet demand," Ha aggiunto.
Most of the cancelled flights were on British Airways services. The airport has yet to recruit many of the additional 1,000 staff it sought for this summer, and passengers using Heathrow in recent weeks have experienced long queues.
Many have been separated from their luggage for days or even weeks after trouble in the baggage system. Uno, Farhad Ehtesham, 32, from Guildford, Surrey, told the PA agency he was "stressed and furious" after his wedding outfit was not loaded on to his flight from Heathrow to Rome before the ceremony this weekend.
Staff said his case would be on the next BA flight on Thursday morning, which was then cancelled. BA said it was "doing everything we can to reunite the customer with their luggage in time".
Unions and industry figures have predicted that the problems affecting airports are unlikely to be resolved by summer, with potential strikes at Heathrow and around Europe also expected.
The government on Thursday set out its plan to help the industry avoid a repeat of the disruption at UK airports in the run-up to Easter and the platinum jubilee bank holiday period – although it did not announce any new measures.
Shapps said: "It is now on airports and airlines to commit to running the flights they have promised or cancel them with plenty of time to spare so we can avoid the kind of scenes we saw at Easter and half-term."
Tim Alderslade, the chief executive of Airlines UK, disse: "The whole sector is working closely with ministers and the [Civil Aviation Authority] to build greater resilience into operations this summer. We will do everything we can to ensure this summer is a success."
Aviation sources said the measures already announced on slot allocation and speeding up recruitment would have the most impact. The government has told airlines they can hand back valuable airport slots for summer without forfeiting their rights under the usual "use it or lose it" regime. It has also allowed aviation businesses to conduct some of the lengthy background check process on new recruits through HMRC and start training staff before the full security clearance.
Labour said Shapps needed to "step up to the plate" for the aviation industry. The shadow transport minister, Mike Kane, responding to the 22-point plan in the Commons, disse: "He is missing in action when it comes to aviation. Adesso, he has mentioned the chaos between Easter and the jubilee weekend. He did not hold one meeting with aviation bosses during that time."