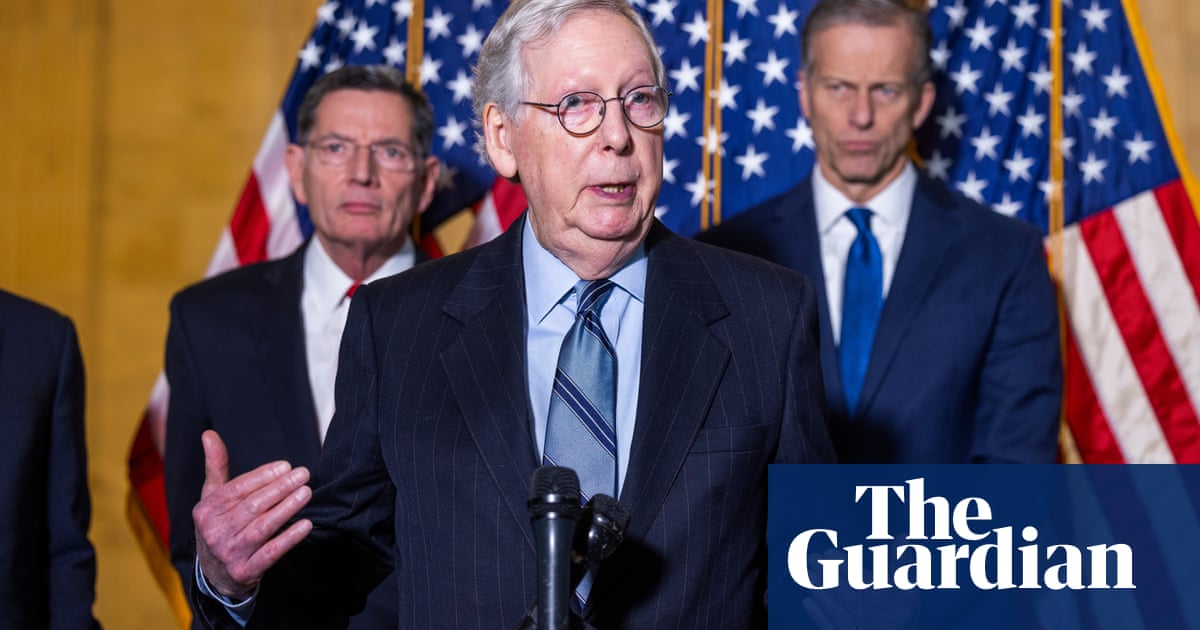 Good morning.
Senate minority leader Mitch McConnell has provoked anger after he appeared to imply that African Americans were not Americans in remarks about Black voters.
Speaking to reporters after Republicans once again blocked the Democrats' voting rights legislation, McConnell said: "The concern is misplaced, because if you look at the statistics, African American voters are voting in just as high a percentage as Americans." Studies suggest that voting restrictions disproportionately obstruct people of colour.
Several Democrats called out the comments, which quickly went viral online, with Democratic Illinois congressman Bobby Rush tweeting: "African Americans ARE Americans. #MitchPlease." Meanwhile, Malcolm Kenyatta, a Democratic Senate candidate in Pennsylvania, described McConnell's remarks as a "dogwhistle".
The US has accused Russia of recruiting Ukrainian government officials in order to take over the Kyiv government.
Imposing sanctions on four – two Ukrainian members of parliament and two former officials – on Thursday, the US accused Russian intelligence of mounting a conspiracy against the government of the Ukrainian president, Volodymyr Zelenskiy.
"Russia has directed its intelligence services to recruit current and former Ukrainian government officials to prepare to take over the government of Ukraine and to control Ukraine's critical infrastructure with an occupying Russian force," the Treasury statement accompanying the sanctions said.
Russian troops have arrived in the town of Yelsk in Belarus and other areas near Ukraine's border, local media reports, as part of joint military exercises set to begin next month.
Ivanka Trump, the daughter of the former president, has been asked to cooperate with the House select committee investigating the Capitol attack.
Trump, who has been asked to appear for a voluntary deposition, is the first member of the former president's family who has been called upon. Along with her husband, Jared Kushner, she was a senior adviser to her father during his presidency.
The development comes after the US supreme court rejected Donald Trump's request to prevent the release of more than 700 highly sensitive White House documents.
There were a total of 5,981 unruly passenger reports last year, according to Federal Aviation Administration (FAA) records, 4,290 of which were categorized as "mask-related incidents". In a dramatic example of how the issue persists in 2022, a maskless "disruptive customer" forced an American Airlines flight en route to London to return to Miami on Wednesday.
In 1959, Sonny Rollins was already one of the undisputed giants of the bebop style of jazz at 28. But despite his fame and critical acclaim, Rollins felt a sense of dissatisfaction with his playing, which led him to drop off the radar. Rather than playing to packed rooms of fans, for two years the saxophonist chose instead to tell his "multitude of stories to the sky", playing on the Williamsburg Bridge for up to 15 hours a day. Now 91, Rollins speaks about the "spiritual" experience on the 60th anniversary of his return to the recording studio.
This week's "You be the judge" has all the hallmarks of a classic family grudge: longstanding resentment; unbalanced levels of effort; sibling rivalry. While older sister, Elsie, buys her Ollie designer shirts and AirPods, he sends her "a cheap supermarket card with the sticker still on" (Elsie's words). Ollie, who is in a lower paid job, argues she "can't expect" him to match her. You decide who the guilty party is.
First Thing is delivered to thousands of inboxes every weekday. If you're not already signed up, subscribe now.
If you have any questions or comments about any of our newsletters please email newsletters@theguardian.com