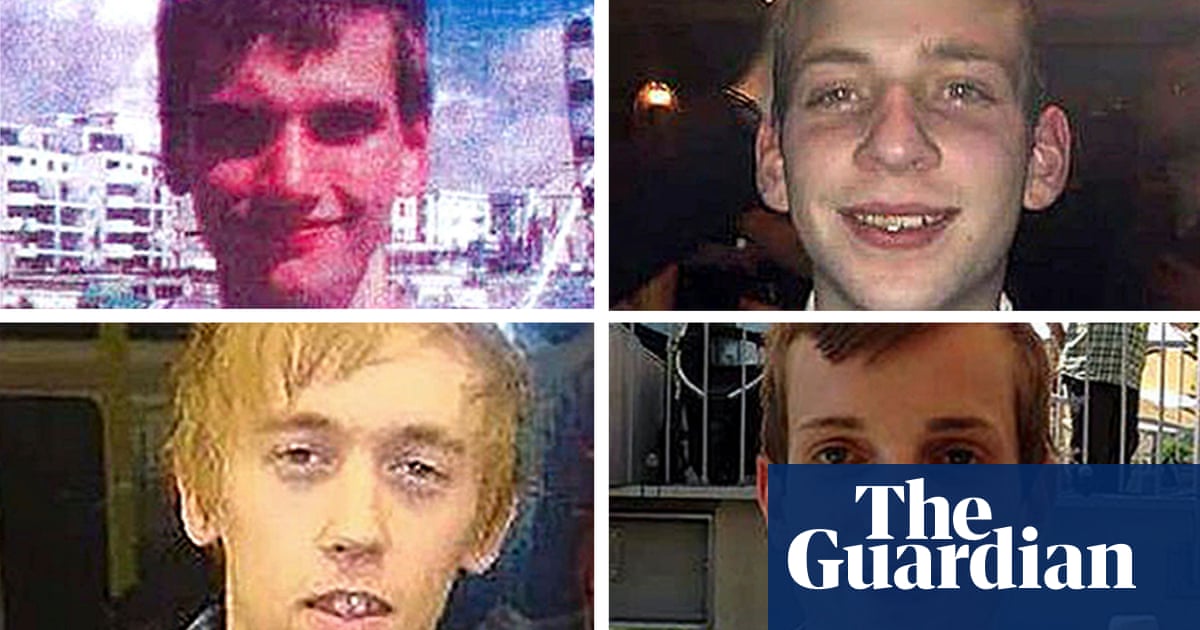 Police failings in the investigation into Stephen Port's first victim "probably" contributed to the deaths of his three later victims, an inquest jury in east London has found.
The serial killer could have been caught earlier if the Metropolitan police had not missed opportunities, the jury found.
Port murdered Anthony Walgate, 23, a fashion student, Gabriel Kovari, 22, from Slovakia, Daniel Whitworth, 21, a chef, and Jack Taylor, 25, who worked in a bonded warehouse, between June 2014 and September 2015. He administered fatal doses of the "date rape" drug GHB and dumped their bodies near his flat in Barking.
Police failed to link the deaths, despite striking similarities and the fact three of the men were found in St Margaret's churchyard, Barking, yards from Port's home, while the other was found outside his flat.
Jurors at the inquests into the deaths concluded that police failings "probably" contributed to the deaths of victims, all of whom were unlawfully killed.
In written conclusions, the jury acknowledged officers' "heavy workload" but said there were failures that "cannot be overlooked".
During weeks of hearings at Barking town hall, police admitted failing to carry out basic checks, send evidence to be scientifically examined and exercise professional curiosity during the 16 months of Port's killings.
Families and friends claimed that prejudice, conscious or unconscious, coloured the mindset and motivation of some officers. Accusations of "institutional homophobia" have been levelled against the force, which are denied. The coroner, Sarah Munro QC, ruled that the jurors could not in law find whether homophobia, prejudice or discrimination was a factor.
Munro told the inquest jurors that she intended to write a prevention of future deaths report, saying: "These inquests, on any view, have raised a number of serious concerns and I have invited submissions from legal representatives." The report would be published in the new year, she said.
The families of the victims said they felt "thoroughly vindicated" by the findings. "The inadequate investigations by the Metropolitan police into the deaths of Anthony, Gabriel, Daniel and Jack should be on public record as one of the most widespread institutional failures in modern history," they said in a joint statement.
They were "incensed by the police's successful efforts to prevent the jury from examining whether prejudice played any part in the police's actions", they said.
"The coroner did not rule that the police were not homophobic, and our position remains unchanged; based on the treatment we received, our firmly held belief is that the Metropolitan police's actions were, in part, driven by homophobia.
"The approach of the Met on the issue of homophobia demonstrates to us that even today, seven years on, they have learned very little."
Assistant commissioner Helen Ball, head of Metropolitan police professional standards, said after the inquests that the force, which has received civil claims relating to the investigations, sent its "deepest apologies" and accepted "trust in us has been damaged". She said the Met commissioner, Dame Cressida Dick, had offered to meet the families of the victims.
But Ball did not accept that the Met was "institutionally homophobic". "We don't see institutional homophobia, we don't see homophobia on the part of officers," she said. "We do see all sorts of errors in the investigations which came together in a truly dreadful way.".
The jury heard evidence that errors and omissions included that Port's laptop, seized after Walgate's death, was not submitted for forensic examination for 10 months, by which time he had killed Kovari and Whitworth. When an officer did finally examine the results 13 months after Walgate's death, he failed to register Port's obsession with drug-rape pornography involving young men, which had "occupied almost all his waking hours when not at work", jurors heard.
Barking and Dagenham borough officers were not initially aware of a previous allegation of drug rape against Port recorded on the police national computer, which had led to his arrest and his DNA being taken, though no charges followed. Neither were they aware of a British Transport Police report on the police national database of Port with another man who was under the influence of drugs at Barking station two weeks before Walgate's death.
The jury also found that the Metropolitan police's major investigation team missed the opportunity to take over the cases.
The Met's major investigation team declined primacy in the Walgate investigation because of a lack of evidence of homicide, despite requests from Barking and Dagenham's less experienced officers to take it over. The other deaths were also investigated by borough police.
Kovari and Whitworth, found three weeks apart by the same dog walker, had never met. Police linked the deaths solely because of a fake suicide note placed by Port on Whitworth's body claiming that he had accidentally given Kovari a fatal overdose of GHB. But they failed to conduct basic forensic tests.
Jurors were asked to consider whether failings in any of the first three deaths had contributed to any subsequent death, and if so to what extent. They were also asked whether police should have engaged the LGBT+ community.
The rights advocate Peter Tatchell said he had expressed concerns in 2014 that the first three deaths might be linked.
He said: "Evidence given at the Stephen Port inquest revealed the police to be incompetent, negligent, unprofessional and homophobic. Every gay person who expressed concerns about the deaths was ignored, dismissed and treated with contempt, even the partner of one of the victims. That's institutional homophobia. The officers involved must face disciplinary action."
He added that officers made no public appeals for help, gave no warnings to the LGBT+ community, and there was no liaison with LGBT+ organisations or the gay press. "Some officers sought to explain their failings by saying they were too 'busy' to do a full investigation," he said. "This suggests that they regarded the deaths of young gay men as a low priority."
Port, now 46, was convicted of all four murders in 2016, as well as eight sexual assaults against other victims who survived, and he is serving a whole-life sentence.
An inquiry by the police watchdog, the Independent Office for Police Conduct, concluded in 2019 that none of the 17 police officers investigated for misconduct would face disciplinary action. However, it did identify "systemic failings" within the Metropolitan police and nine officers were required to improve their standards.
Cmdr Jon Savell, the force's head of profession investigations, said restructuring since the Port murders meant 32 borough police commands had been replaced with 12 basic command units, which were bigger, better- staffed with more experienced officers, and had local CID and major investigations staff working together. Investment had been made in digital forensics. LGBT+ groups scrutinised and advised on how better to police the borough, and officers were now more aware of the use of GHB as a weapon.