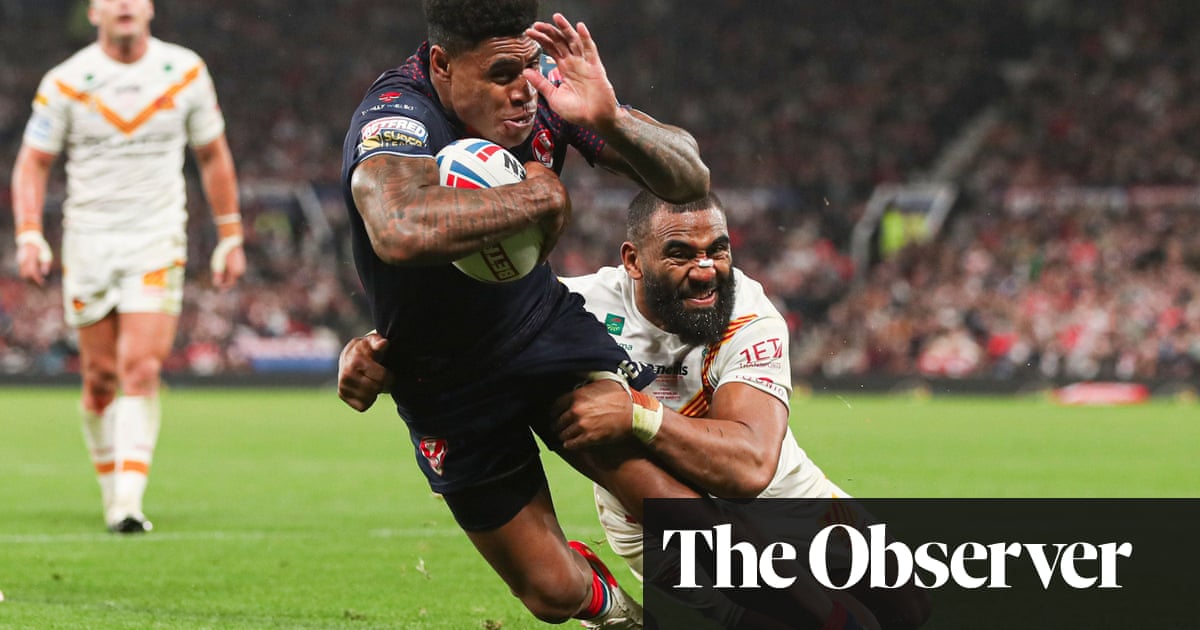 Sometimes sport has the ability to create moments that transcend the era we are living in. Make no mistake about it, this was one of the greatest Super League Grand Finals there has ever been, and how Catalans Dragons played their part in their first – but surely not last – Old Trafford appearance.
But as the rugby league cast a watchful eye over whether the Dragons could create genuine history and take the Super League title out of England for the first time, we forgot the one thing that has stood the test of time in the modern era: you never, ever write off St Helens. To win the title once is special. Twice is unbelievable. Three in a row? That is the stuff of legend in a sport like this.
It is hard to understate just where this St Helens side belongs among rugby league's greatest. Forget Super League and the summer era: since this sport was founded in a hotel in Huddersfield in 1895, only two teams – Wigan in the early 1990s and Leeds from 2007 to 2009 – had won the league title three years in a row prior to this.
As James Roby lifted the Super League trophy aloft for the third successive year, he almost certainly ensured his club entered the history books as one of the greatest of all time. How they were made to work for it, though. Sides have buckled under the pressure in their maiden Grand Final before, but there was little chance of that happening with Catalans.
With a captivating contest entering the final quarter, the Dragons had forged a four-point lead courtesy of Mike McMeeken's try and, having already weathered an immense amount of pressure, you began to wonder if the most incredible story in modern rugby league was about to have a fairytale finale.
But Kevin Naiqama's second try, having put the Saints ahead midway through the first half, was the final blow. "We've got no regrets," their coach, Steve McNamara, said. "But we'll be back. This isn't the last step, this is the next step. We've opened up a whole new market for French rugby league. The door is open now and we've got to keep it open." Their efforts were best underlined by the fact that two of their players, Ben Garcia and Matt Whitley, broke their hands yet somehow finished the match.
Old Trafford was frenetic and energetic pre-match, and that atmosphere bubbled over into the game itself. There was an early moment of controversy when James Maloney was struck by a punch from Sione Mata'utia, though it went unpunished. "That sort of incident, they generally go back, stop the play and look at it," McNamara conceded.
It was the reigning champions who dominated the first quarter, though they fell behind when Maloney kicked a routine penalty in his final game as a professional. But the Saints roared back, scoring the try their play deserved when Jonny Lomax's pass laid the platform for Naiqama to scythe through and touch down despite extreme pressure from three defenders.
Another penalty from Maloney narrowed the gap to two at half-time, but when Tommy Makinson became the first player in Grand Final history to be sin-binned after a high tackle on Fouad Yaha, it titled the momentum into Catalans' favour. Five minutes later they took full advantage when Tom Davies patted back a kick into the path of McMeeken. Maloney converted and the Dragons led 10-6.
Suddenly the most extraordinary story seemed possible. Catalans have changed the landscape in Super League this year, underlined by the fact that television crews from the likes of Barcelona and Paris were present here. Ultimately they failed to complete the job but you feel that, as McNamara said, they will make sure this is not their only Grand Final appearance.
But the Saints made sure this would be their night when Lomax kicked through, and Naiqama – who will retire a three-time Grand Final winner – cut through on the angle and touched down for his second. Lachlan Coote converted and St Helens had the lead once again.
There were late chances for Catalans and who knows, on another night, against other opposition, they may have been able to take advantage of at least one of them to ensure it was them lifting the trophy aloft. However, on nights like these, there is no substitute for the experience and class this St Helens side possess.