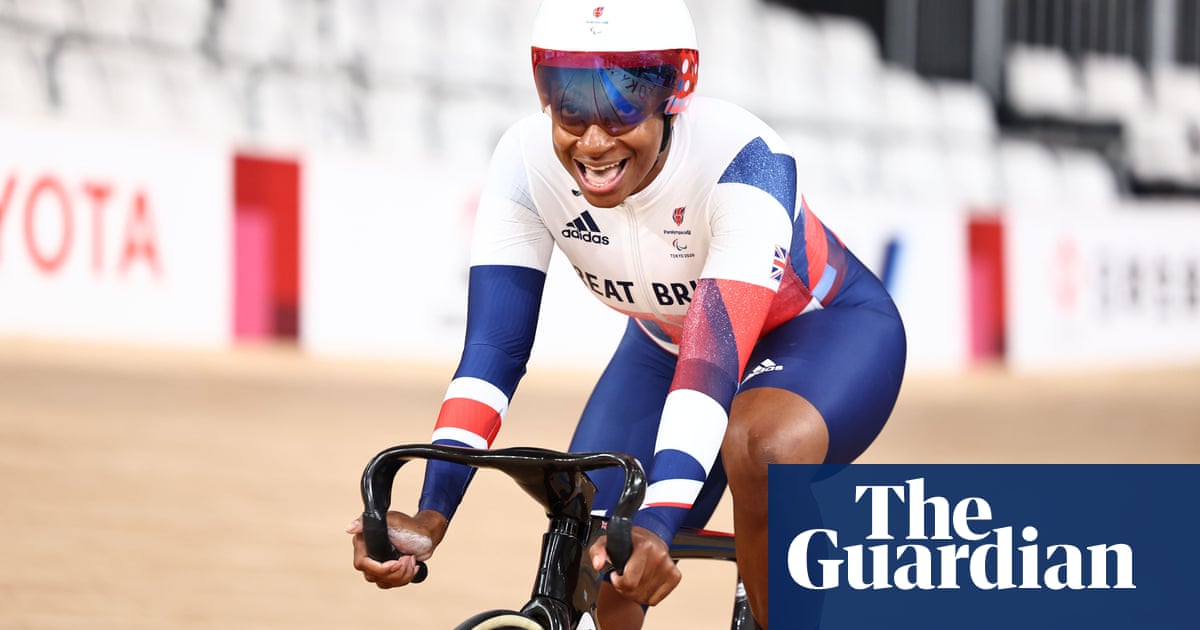 Great Britain's Kadeena Cox retained her Paralympic women's C4-5 500m time trial title at the Izu Velodrome, a world-record-breaking final run kicking off the first half of what Cox hopes will be another Olympic multisport double.
Cox was the last to ride in Friday's final, having qualified fastest, but showed no sign of pressure with a blistering time of 34.433sec to take gold by over a second. Canada's Kate O'Brien took silver, with Caroline Groot of the Netherlands winning bronze.
"It feels amazing, I knew I was going to have to do something special and I knew if I put everything together me and my coach have worked on, it would be amazing and that's what happened so I am so happy," said Cox. "I was not paying attention to what anyone was doing, I was just listening to my gospel music and just reading messages from my family and focussing on that. I got up and did my own thing."
Cox will switch her focus to athletics next week, when she will run in the women's T38 400m at the Tokyo Olympic Stadium in an attempt to match her golden double at the Rio Games in 2016, but could add another medal in the velodrome yet, with the team sprint still to come on Saturday.
Her recovery for that event will be made all the more challenging my the oppressive heat in the region. The wheelchair tennis was been suspended in Tokyo on Friday morning due to extreme heat and conditions in Izu were equally warm.
"I have MS and am heat intolerant so it is tricky, it is affecting my spasms and affected my speech which is annoying because I like talking," said Cox. "It is a struggle and it will take me a little bit longer to recover, which hopefully isn't too long because we have a race tomorrow."
The buildup to the Games has been far from straightforward for all athletes and Cox, who was diagnosed with multiple sclerosis in 2015, is no exception, with injury problems adding to the strain.
"This year has been tough and I have tried to not focus on it but I have been injured since my last session at the end of last year," she said. "At Christmas I got injured and I have had injury after injury, which has been hard because it impacts both sports and it is hard mentally. It has made my eating disorder creep back up, which has been quite hard but I have a great support network who have helped get me through and make this moment even more special."
Earlier in Izu, Britain's Jaco van Gass added a bronze in the men's C1-3 1,000m time trial to the pursuit gold he won on Thursday. China's Zhangyo Li took the gold, with Alexandre Leaute claiming silver.
Van Gass said: "That's as much as I can give, I promise you that. The legs felt a little bit heavy, especially that last lap. Felt like treacle. But I gave it my all. The standard is phenomenal."
Van Gass has three more chances for medals in the velodrome, with the first coming on Saturday in the mixed team sprint where he will race alongside Cox and Jody Cundy, who won silver in the C4-5 time trial on Thursday.
"Kadeena just rode a fantastic opening lap, sub-20 seconds, so I've got to sit behind her tomorrow," added Van Gass. "It's going to be very hard work staying behind her and delivering Jody at a very high speed. It's all about recovery now, and going again tomorrow."