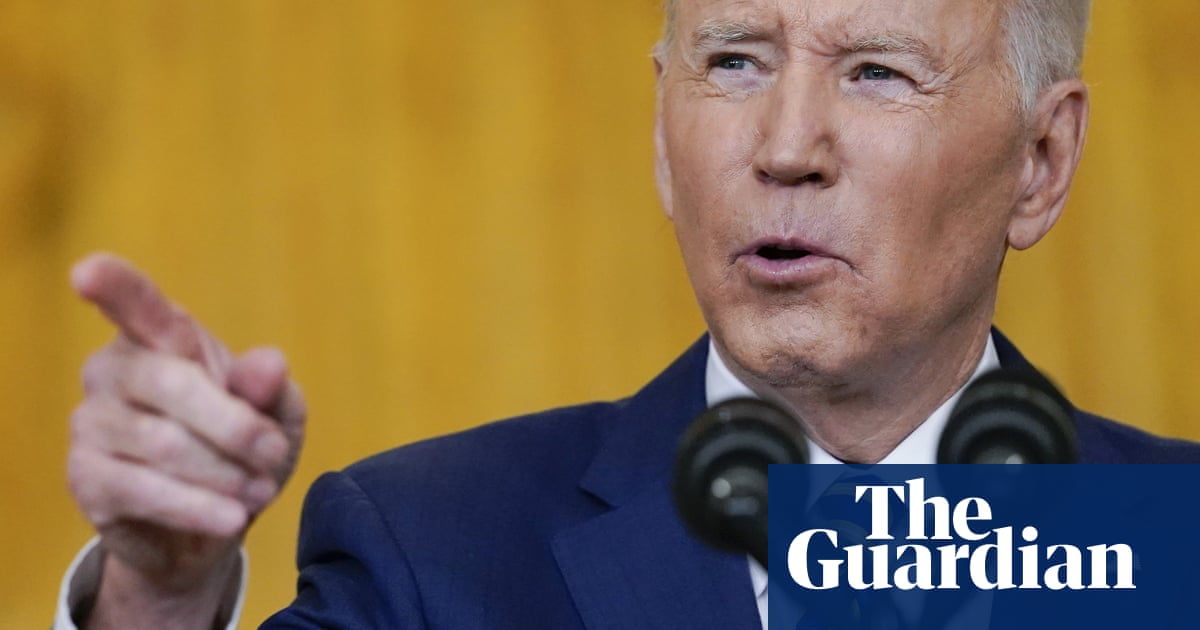 Joe Biden on Wednesday conceded that the unshakable threat of the Covid-19 pandemic had left many Americans demoralized, but insisted that his administration had "outperformed" expectations despite the myriad crises facing the nation during his first year in office.
Speaking to reporters in the East Room of the White House for his first news conference in months, the US president said he was confident Democrats could pass "big chunks" of his sprawling domestic policy bill currently stalled in the Senate before the 2022 midterm elections.
"It's been a year of challenges but it's also been a year of enormous progress," Biden said, outlining the administration's early successes: passing coronavirus relief aid that slashed child poverty rates and a bipartisan infrastructure law that will shower funding for major public works projects on every state in the nation.
Biden was also realistic about the difficult road ahead, as the extremely contagious Omicron variant of the coronavirus overwhelms hospitals, inflation rises and his agenda languishes before a Congress controlled by Democrats.
"After almost two years of physical, emotional and psychological impact of this pandemic, for many of us, it's been too much to bear," he said. "Some people may call what's happening now 'the new normal'. I call it a job not yet finished. It will get better."
Grading his efforts to combat the pandemic, Biden insisted the US was better positioned now than when he took office, while acknowledging mistakes, such as not ordering more tests earlier. He vowed the US would not go back to the earliest days of the pandemic when lockdowns and school closures were widespread.
"I didn't overpromise," he said. "I have probably outperformed what anybody thought would happen."
Wednesday's press conference was his 10th since taking office, far fewer than his most recent predecessors. Only a limited number of journalists were credentialed for the press conference, and all were required to wear masks, a reminder of the virus's continuing threat.
In a revealing split screen, Biden's press conference took place as Senator Joe Manchin, a conservative Democrat and key holdout on much of Biden's agenda, took to the floor of the Senate to denounce his party's efforts to amend the filibuster rule to pass voting rights protections. Biden defended his pursuit of what appeared to be a hopeless effort to pass the bills, which are all but certain to fail without full Democratic support in the evenly-divided Senate.
Biden said he was still hopeful that the Congress would find a path forward on voting rights legislation, and as such wasn't prepared to divulge possible executive actions he might take on the issue. The bills, Biden argued, were urgently needed to counter voter suppression and subversion efforts being carried out in Republican-led states. Lacerating speeches by the president on the need for these protections failed to move Republicans.
In the coming months, Biden said he would travel to states and districts across the country to promote his agenda and sell his administration's accomplishments, trying to correct what he described as a communication failure on his part. Citing the coronavirus and his work in Washington, he lamented not being able to leave Washington more frequently during his first year to "do the things I've often been able to do pretty well – connect with people".
He believed key pieces of his Build Back Better agenda could pass the Senate, including popular plans to combat climate change and create a universal pre-kindergarten program.
Plans to extend a monthly child tax benefit expanded temporarily as part of the $1.9tn pandemic relief package may not be included in a scaled-back version of the bill, he indicated. The payments, which expired in December, helped keep millions of children out of poverty during the pandemic.
To the chagrin of many Democrats, Biden, a veteran of the US Senate, said he failed to anticipate that there would be "such a stalwart effort" by Congressional Republicans to obstruct his agenda.
"One thing I haven't been able to do so far is get my Republican friends to get in the game at making things better in this country," Biden said. He assailed the Republican party for its deference to Donald Trump, wondering how "one man out of office could intimidate an entire party?"
Previewing a line of attack he will use against the party in the midterms, he accused Republicans of lacking a policy core or a set of guiding principles. "What are Republicans for? What are they for? Name me one thing they're for."
Biden bristled at the notion that his agenda was radical in any way. "I'm not asking for castles in the sky," he insisted. "I'm asking for practical things the American people have been asking for for a long time."
At ease behind the lectern, Biden parried with reporters for nearly two hours. At one point, he checked his watch, smiled and agreed to take questions for 20 more minutes.
The range of questions he fielded – on the pandemic, rising inflation, Russian aggression, the chaotic withdrawal from Afghanistan, a daunting electoral landscape, his falling approval ratings – underscored the extent of the challenges that lie ahead for the administration as it aims to recalibrate after a string of setbacks.
Addressing the brewing threat at the Ukrainian border, where Russia has amassed tens of thousands of troops, Biden predicted that Moscow would invade Ukraine and promised Vladimir Putin would pay a "dear price" if he moved forward with an attack. He also appeared to suggest that a "minor incursion" would draw a lesser response from Nato than a full-scale invasion.
Moments after he spoke, White House press secretary Jen Psaki sought to clarify the remark, saying that any act of aggression by Russia, including cyberattacks and paramilitary tactics, would be "met with a decisive, reciprocal, and united response."
On Afghanistan, Biden said there was no easy way to leave the country after 20 years of war: "I make no apologies for what I did." And asked about talks with Iran, he said now was "not the time to give up" on efforts to revive the 2015 nuclear deal.
Pressed on the economy, he said it was the "critical job" of the Federal Reserve to tame inflation, but touted his domestic agenda as a remedy for rising costs, which has left voters pessimistic about the state of the economy and Biden's ability to improve it.
But Biden was bullish: "I'm happy to have a referendum on how I handled the economy."
Looking ahead, he was unequivocal when asked whether vice-president Kamala Harris would again be his running mate in 2024. "Yes," he replied.
In one exchange, a reporter with a right-wing news outlet asked why some Americans view Biden as mentally unfit to run the country. "I have no idea," he replied tartly.
In another, he pushed back on the notion that he was trying to pull the country leftward. "You guys have been trying to convince me that I am Bernie Sanders. I'm not," Biden said, asserting that he was a "mainstream Democrat" as he always had been.
Asked how he could win back independent voters who supported him in 2020 but have become disillusioned with his leadership so far, Biden pushed back. "I don't believe the polls."