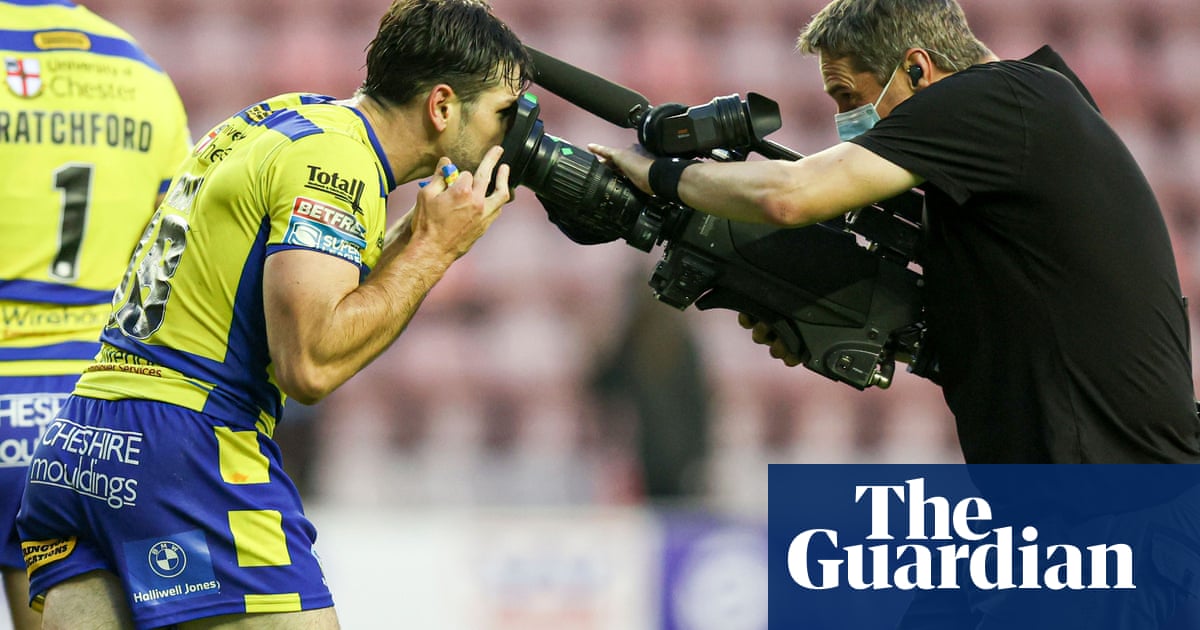 Perhaps the biggest compliment that could be paid to this Warrington Wolves side at present is even when this game hung in the balance midway through the second half, it always felt they would be able to hold off a side who have had their number on so many occasions in the past.
Wigan Warriors have crushed Warrington's dreams of a first league title since 1955 on three occasions in the Grand Final throughout the past decade alone.
To be clear, this win – and even the five which preceded it – does not guarantee the Wolves' fortunes will change when the chips are down and the play-offs roll around this autumn. History has shown us that.
Nou dadelik, egter, this is a Warrington side playing with supreme confidence, almost the exact opposite of their opponents in this match. Wigan began the season with seven consecutive wins, while the Wolves laboured to such an extent than some of their supporters felt the time was right for Steve Price to leave earlier than planned, with the Australian returning home at the end of the season.
Egter, the Wolves coach has overseen an impressive turnaround in recent weeks. They are the competition's top try-scorers, the only team to defeat the league leaders, Catalans, and here moved 18-0 ahead against an injury-hit but confidence‑stricken Wigan side midway through the first half. Even then, so early in proceedings, it felt like this would be their night.
The Warriors battled gamely all evening and tries from Sam Powell, Willie Isa and Oliver Gildart either side of half-time briefly threatened a comeback. Warrington also crossed for their fourth shortly after the restart when Jake Mamo scored his second interception of the evening – but at 24-14, the game suddenly appeared in the balance.
"There was a lot of intent in our actions at that point," Price said. "I'm ecstatic for the boys. That's a very pleasing result."
From there, Warrington remained calm and regained control on proceedings, underlined by Jack Hughes and Ben Currie crossing for tries, the latter of which was a wonderful team move started by the young centre Connor Wrench.
Wigan's effort could not be doubted, but whenever a club of this stature lose four consecutive games there will inevitably be questions asked. "I'm under no illusions what we're in for on Sunday if we don't turn up," Adrian Lam said ahead of the huge derby with the reigning champions, St Helens. "I'm worried about the situation we're in. It's four losses in a row, but if we carry on like we did tonight we'll be close."
Lam may well be right, as Wigan could not be faulted for their endeavour here. But in the end they were no match for the attacking prowess Warrington have at present.
This was, in sommige gevalle, a game of fine margins, emphasised by Mamo's hat-trick try as he pounced on a short Wigan drop-out. But in others, the gulf was clear. Things can change drastically over the summer months in Super League; how Wigan will hope that proves to be the case in the weeks ahead.
Wigan Hastings; Marshall, Isa, Gildart, Bibby; Smith, Leuluai; Havard, Powell, Partington, Farrell, Pearce‑Paul, Smithies Interchange Bullock, Byrne, O'Neill, Shorrocks Tries Powell, Isa, Gildart Goals Smith 2
Warrington Thewlis; Lineham, Mamo, Wrench, Charnley; Austin, Ratchford; Hill, D Clark, Cooper, Currie, Hughes, Davis Interchange Philbin, Mulhern, J Clark, Walker Tries Wrench, Mamo 3, Davis, Hughes, Currie Goals Ratchford 6
Referee R Hicks. Attendance 5,000