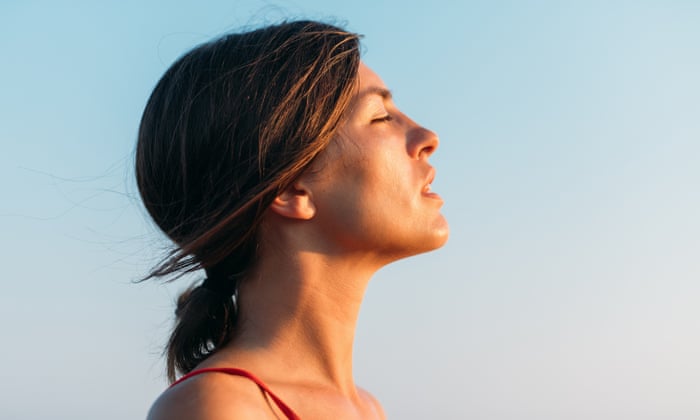 The impact of skin conditions on self-esteem can be devastating. That's why it's so vital to pinpoint the right regime – and understand how skin changes over time
Nearly every one of us knows the feeling of looking in the mirror and seeing that, of all days, our skin has chosen to play up today. We make an effort with concealer, wonder if popping a spot might work, and then we head off to meet our date, attend a wedding or grapple with a big day at work. Life goes on, but all the while we're fighting down the voice that says: "They're looking at my terrible skin."
For people with lifelong skin concerns, that voice just never shuts up. A parliamentary report from September 2020 showed that 98% of people with skin conditions said their self-esteem was affected, 87% of the respondents also said their skin had a negative impact on their social and leisure activities.
Skin concerns cover a wide range of issues, including spots from acne; the flush and pustules of rosacea; and rashes, flaking and itching from eczema – and those are only some of the more common complaints.
"Some people have a genetic propensity to certain skin concerns," says Dr Justine Hextall, a consultant dermatologist for La Roche-Posay. "We know that proteins in the skin can be affected by genetic makeup, so some people may have drier skin and be more vulnerable to things like eczema."
Different skin issues can occur at different stages in our lives. Danielle Jackson, 23, had severe cystic acne as a child and in her teens. "I was young when it started, 10 or 11, and I had to use a gel that made my skin dull and flaky," she says. "I was bullied really badly." She still has scarring on her cheeks from the acne and is very careful about her choice of products. Although it took some time for her self-esteem to recover, Jackson says she's now happier and runs a skincare account on Instagram, refusing to use filters and stressing the message that imperfections don't mean skin is "bad".
Every woman interviewed for this article said their skin had a huge impact on their teenage years, leading to bullying, shyness and them missing out on activities such as swimming or sleepovers because they didn't want others to see their skin.
"I went to a girls' school, so appearances were a big deal," says Nathalie Kernot, 30. "That experience has left some damage." Nathalie has had chronic eczema since she was a baby "and my skin is really sensitive on top of that". Everything from cold weather to her boyfriend's beard can cause a reaction. She ballroom dances to competition standard as a hobby and has worked with a dressmaker to design costumes that will cover the areas most likely to flare up.
She still has days where her skin affects her confidence, but her self-esteem has improved with age. "When you're 13, everyone you hang out with is 13 and they are judgmental," she says. "But when everyone you're hanging out with is 30, they don't care as much. I don't know how much of it is because I am older or because everyone around me is older and therefore the general attitude is different."
Debbie McQuoid, now 41, developed psoriasis when she was 15 and was prescribed UVB treatment three times a week. She continued with the treatment at university, travelling back to her hometown of Belfast even while she was at university in Dublin. It was her doctor in Dublin who eventually realised that the skin complaint was caused by an ongoing septic throat. McQuoid's tonsils were removed and her skin cleared up "like clicking your fingers".
Throughout her 20s, McQuoid's skin was "brilliant and I am very grateful for that. I could sunbathe, experiment with beauty products and there was no reaction." She developed rosacea while pregnant in her early 30s and still has the condition. She sticks to a very simple skincare routine of cleanser, moisturiser and daily SPF, despite "every article I read aimed at women my age recommending multiple products. If I try them out, my skin is crying. I'm still sure there's an underlying cause. I think back to that doctor in Dublin and my throat, and wonder if there's something more than what's on the surface."
For Lindsay Brown, 53, switching to richer products helped her deal with the way her skin changed over the years: "My skin is a lot drier than when I was younger, I get dry patches around my eyes and on my nose, and it's very, very sensitive. I can't use anything with perfume in."
She suffers from eczema, which she's had since childhood, and also still gets spots, which mostly take the form of "bumps under the skin, these days". Spot breakouts are not as frequent as when she was younger and tend to relate to hormones, or stressful or exciting events. She wasn't best pleased to get a breakout "just before my son's wedding, for example". Her skin is better these days "and I can accept I'm getting older. I have some lines, but not really many wrinkles and no broken veins. It's not bad for 53, really."
Hextall says that it's important to recognise that skin does change over time: "You may find that what once worked to address an issue may not any more, and unless you correct the products you are using there will be ongoing problems. One of the most common misconceptions about skin issues is that they can't be altered, that they will be forever, but that isn't the case."
Find out more about the Toleriane range and get a free travel size Toleriane 50ml Dermo-Cleanser when you purchase 2 or more Toleriane products, by using code LRPGIFT at laroche-posay.co.uk*
This article is intended as general information only. You should seek advice from a medical professional if you are concerned about your skin or before starting any new regime or course of conduct.
*Only available online until 23:59 on 31 May 2021. One redemption per customer per transaction. Subject to availability, while stocks last. Offer available at laroche-posay.co.uk. Incomplete, illegal, misdirected or late redemptions will not be valid. Promoter is not responsible for redemptions lost, damaged or delayed due to technical or connectivity or other problems. Promoter: LaRoche-Posay, a trading division of L'Oréal (UK) Limited, 255 Hammersmith Road, London W6 8AZ.