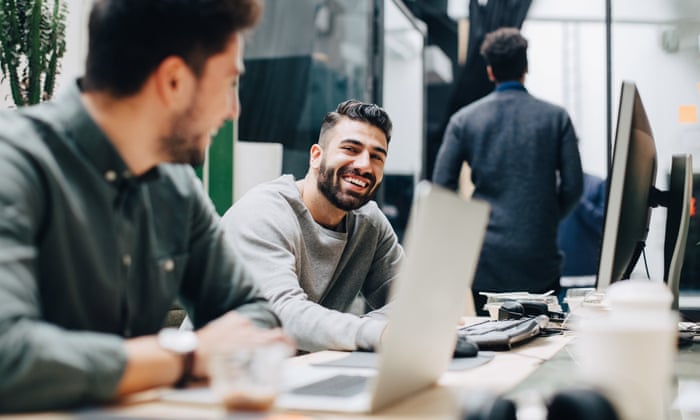 It's fast becoming a cliche but it's true: the pandemic has changed how we work forever. As many businesses shift permanently towards more remote and hybrid ways of working, exactly how and where we do work is being re-evaluated and reimagined.
Workplace transformation isn't a new phenomenon: it's a trend that's been around for some time. But the speed at which this transformation is now taking place is unprecedented. The consultancy McKinsey estimates the rate of change has sped up by years as a result of the pandemic.
That translates into added pressure for businesses looking to keep up. Luckily, many of the technologies required to make a success of this new way of working already exist – and automation is perhaps most powerful among these.
So how exactly can businesses use tools such as automation to address the challenges and opportunities of today?
The automation tipping point
"We're at a tipping point where if we can automate the ability for people to share information across departments, they can get work done, and we can provide that better experience for both employees and their customers," says Paul Hardy, innovation evangelist at ServiceNow. "It allows people to become more creative, more innovative, and think differently."
Prime candidates for automation are boring, repetitive tasks.
"Tasks that people dislike doing," says Hardy, "those mundane, repeatable, error-prone tasks."
He gives the example of one process that all businesses are likely to be familiar with: onboarding new employees.
"When someone starts, it touches every department within the organisation," he says.
The IT department provides the new starter with a computer and email access, HR trains them on workplace policies, payroll helps them get paid, and facilities get them a swipe card so they can access the office. However, anyone who has worked in an office will know horror stories about starting a job without the right computer, or the first month's pay packet being on the wrong tax code.
"Traditionally, they're all done manually, which means when someone joins an organisation, it could be days, if not weeks, before they actually get going on the job they're there to do," says Hardy.
Automation and digital workflow technologies can play a key role here by ensuring that everyone has access to the same reliable information, wherever they sit in the business and whatever their job role.
Removing the repetitive
Another area where businesses can explore automation is the field of robotic process automation (RPA). This is the name for a range of enterprise technology that sits about halfway between working manually, and full-blown artificial intelligence (AI).
What RPA does is essentially use machines to record and repeat repetitive tasks.
"A task can be very easily automated using robotic process automation," says Dr Samiya Khan, post-doctoral research fellow at the University of Wolverhampton, who explains how this automation transformed the processes of an IT services company she worked with. It had previously devoted extensive time and resources to manually sorting log files received via email into an analytics platform. With RPA, the member of staff who did that was freed up to work on something more engaging.
"You can have an email-monitoring system that constantly checks or periodically checks for any new email coming from a specific sender, and then downloads the attachments to a specific location, collates the data, and ingests it into the analytics platform," says Khan.
"Sometimes it's the simplest of tasks that people don't even realise they're spending just too much time on, doing the same thing over and over again."
Crucially, RPA can also be a building block for more advanced automation in the future.
"When you start with something like RPA, you look at the different business processes [and] how they can be optimised to improve," she explains. "It's a good starting point for deploying [other] technology, and creating a digital roadmap for small and medium enterprises so that they can begin with something smaller, and then scale that up to something like big data or AI."
The automated future
Businesses can use other automation techniques, too. Hardy points to methods such as business process optimisation and process mining, for example, whereby core functions are redesigned for maximum efficiency, or event logs are analysed for outcomes.
In both cases, paying careful attention to exactly how business processes are carried out offers new opportunities for automation.
"It could be something really, really simple. It might not necessarily be something flashy, but it might be removing the foundational work that gets in people's way."
And the next step? Hardy envisages a future where automation isn't just a technical process, but something everyone can do.
"We talk a lot about 'low code' – the ability for anybody in any department to build a business application," says Hardy. "What about the next stage? What if we don't even have to code?"
But ultimately, for Hardy, automation isn't just a question of technology – it's also about improving the workplace for the people using it. So as we rewire our businesses for the new world of work, it's important to not just think about the impact automation might have on the bottom line – but how it will help your team work better too.
"It's technology that helps people do the work that they love," says Hardy. "Happy people are more productive people, and more productive people are more profitable for an organisation."
Empower people with digital workflows and wherever work goes, make it flow. Find out more at servicenow.com/uk