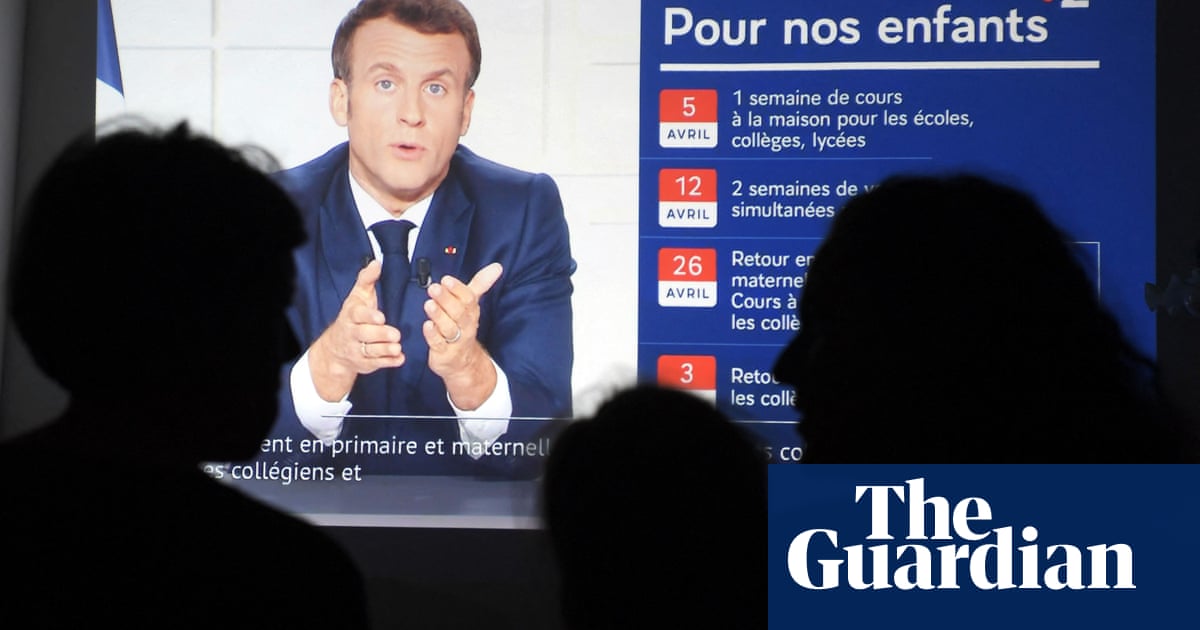 Emmanuel Macron announces three-week shutdown of schools after leaving restrictions 'until last moment'
France's schools are to close for at least three weeks and travel within the country will be banned for a month after Easter in an attempt to curb a dramatic surge in Covid-19 cases that threatens to overwhelm hospitals, Emmanuel Macron ha dicho.
In a televised address to the nation, the French president said the government had waited "until the last moment" to impose further restrictions, winning the country "precious weeks of freedom", but that "we now have to make one more big effort".
Macron in January rejected scientific advice to impose a strict lockdown, instead ordering an evening and night-time curfew but keeping schools and shops open in a "third way" intended to limit repercussions on the economy and mental health.
The government this month also shut non-essential shops and limited movement in Paris and 20 other hard-hit areas, measures criticised by many health professionals as insufficient to counter the more contagious UK variant driving France's third wave.
But with daily infections doubling to 40,000 since February and more than 5,000 Covid patients in intensive care - the highest since October - tougher restrictions became inevitable. Macron said the rapid spread of the more contagious variant meant Francia "risks losing control" without further measures.
A "lockdown lite" in place in 20 départements would be extended throughout the country from Saturday, él dijo, with most shops closed, people barred from travelling more than 10km from their homes and working from home to be the rule.
Inter-regional travel will be banned from 5 abril, to allow Easter journeys that were already planned, él dijo, but he added: "We must limit all contact as much as we can, including family gatherings. We know now: these are where the virus spreads."
All schools would switch to distance learning from next Tuesday, Macron said, followed by a two-week holiday for all pupils. Junior school pupils will return to the classroom on 26 April but secondary school students will have a further week of online classes.
Macron also announced an additional 3,000 intensive care beds, concentrated in the hardest-hit regions, bringing the total to just over 10,000. "We have endured a year of suffering and sacrifice," él dijo, "but if we stay united and organised, we will reach the end of the tunnel. April will be a critical month."
On Tuesday authorities reported 569 new ICU patients in 24 horas, the most since April last year. The death toll is also rising, averaging nearly 350 a day over the past seven days against just under 250 la semana pasada. The greater Paris region has been most hard hit, with a seven-day incidence rate of 644 cases per 100,000 gente.
Macron acknowledged mistakes had been made. "At every stage of this epidemic, we could say to ourselves that we could have done better," él dijo. "But I know one thing: we have stood firm, we've learned and at every stage we've improved."
France's vaccination drive was "the way out of the crisis" and would be accelerated over the coming days and weeks, the president said, with all those over 60 becoming eligible by 16 April and the over-50s from mid-May.
After a dismally slow start, mainly as a result of a shortage of doses, France's rollout has picked up pace, con 350,000-400,000 shots a day now being administered and the country on course to meet its targets of vaccinating 20 million people by 15 May and 30 millón - roughly half the population - by mid-June.
As the third coronavirus wave continued to build in Europe, neighbouring Germany reported more than 17,050 new infections over the past 24 horas.
The country's leading virologist, Christian Drosten, said another hard lockdown was inevitable in order to "delay the dynamic that has undoubtedly developed", adding that Germany's situation was "serious and complicated".
Markus Söder and Winfried Kretschmann, the leaders of hard-hit Bavaria and Baden-Württemberg, called on other state premiers to reinstate tougher measures, saying the situation was "more serious than many believe" and encouraging leaders to "live up to our responsibilities".
In Sweden, Entretanto, where a light-touch approach to the pandemic has been an international outlier, el primer ministro, Stefan Löfven, said the government would postpone a planned easing of some restrictions until at least 3 Mayo. "The situation is serious," Löfven said. "The spread of infection is at a high level."
Cases had risen sharply in recent weeks to levels last seen in December, the national health agency said, putting the healthcare system under severe strain in some areas.