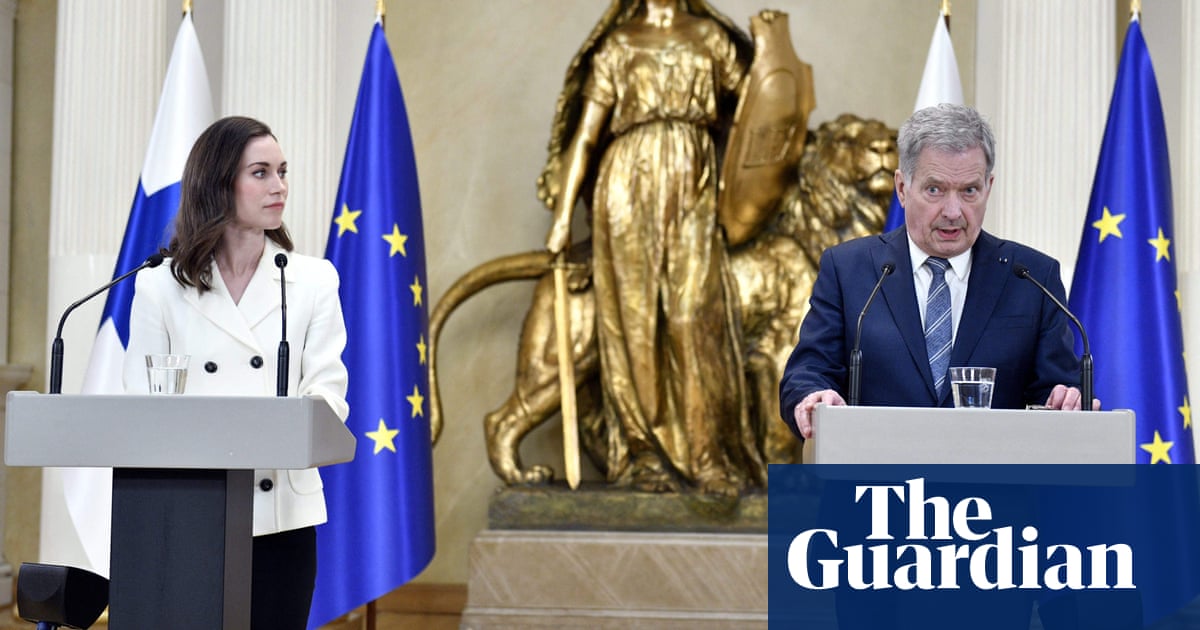 Finland has formally confirmed it intends to join Nato, abandoning decades of military non-alignment in a historic policy shift triggered by Russia's invasion of Ukraine that will redraw the security map of Europe.
"The president and the government's foreign policy committee have agreed that after consulting parliament, Finland will apply for Nato membership," president Sauli Niinistö told a press conference. "A protected Finland is being born as part of a stable, strong and responsible Nordic region."
He hailed the decision as "a historic day" for the Nordic country, adding: "A new era is opening. A lot has happened since the day Russia invaded Ukraine. We gain security, and we also share it. It's good to keep in mind that security isn't a zero-sum game."
Finland's prime minister, Sanna Marin, said the proposal would be sent to parliament on Monday for ratification. "We hope parliament will confirm the decision in the coming days. It will be based on a strong mandate," she said.
Marin added that as a member of Nato, Finland would help reinforce not just the 30-member, US-led defensive alliance but also "strengthen the EU, whose voice in Nato can become stronger." The two Finnish leaders had said on Friday the country must "must apply for Nato membership without delay".
With neighbouring Sweden's ruling party also holding a decisive meeting on Sunday on whether to back a Swedish application for membership, Moscow's onslaught on Ukraine looks set to usher in the expansion of Nato that Vladimir Putin claimed he wanted to prevent.
The announcement came as western intelligence agencies reported that Russia had suffered heavy military losses in Ukraine and risks getting further bogged down in the strategically important east of the country amid ongoing stiff resistance.
Finland shares an 810-mile (1,300km) border with Russia and, like Sweden, has maintained strict policies of neutrality then non-alignment since the end of the second world war, viewing Nato membership as a provocation of Moscow.
However, Putin's invasion of Ukraine on 24 February has led to a profound change in its thinking, with public support for Nato accession trebling to about 75%. Polls show a majority of between 50 and 60% are also in favour in Sweden.
Russia has repeatedly warned Finland and Sweden against joining Nato, saying such a move would oblige it to "restore military balance" by strengthening its defences in the Baltic Sea region, including by deploying nuclear weapons.
Niinistö called his Russian counterpart, Putin, on Saturday and informed him his country aimed to join Nato, in a conversation he described as "direct and straightforward". He added: "Avoiding tensions was considered important."
Putin reportedly responded to Niinistö's call by saying Nato membership "would be a mistake, since there is no threat to Finland's security", according to a readout of the call released by the Kremlin.
Niinistö said on Sunday that he did not believe Russia would respond to the move with military force, but added: "Total vigilance is in place."
After a cross-party Swedish parliamentary review on Friday said joining Nato would boost Sweden's national security and help stabilise the Nordic region, leaders of the country's ruling Social Democrats were also poised on Sunday to jettison the party's longstanding opposition to Nato membership.
With a decision expected in the early evening, Swedish media reported that – assuming Helsinki sends its application in on Monday – Stockholm is likely to follow suit as early as Tuesday, with the alliance set to launch the accession process immediately afterwards.
Nato's secretary general, Jens Stoltenberg, has repeatedly said both countries would be "welcomed with open arms" and that the accession process would be quick, though formal approval by all the alliance's members could take several months.
However, Turkey has expressed dissatisfaction over Finnish and Swedish membership, which requires the unanimous approval of the alliance's members. The Turkish foreign minister said on Sunday, Sweden and Finland must stop supporting terrorist groups in their countries and provide clear security guarantees.
Speaking after a Nato foreign ministers' meeting in Berlin, Mevlüt Çavuşoğlu said he had met his Swedish and Finnish counterparts and were seeking to address Turkey's concerns, adding that Turkey was "not threatening anybody" but that while Finland's approach was conciliatory, Sweden was not being so constructive.
"There absolutely needs to be security guarantees here. They need to stop supporting terrorist organisations," Çavuşoğlu said. Ankara is particularly concerned about Sweden's support for the PKK Kurdish militant group, designated a terrorist group by Turkey, the EU and the US.
Stoltenberg said on Sunday that Turkey was not blocking membership bids by Sweden and Finland and he was confident Ankara's concerns would be resolved. "Turkey made it clear that its intention is not to block membership," the Nato secretary general said. "I am confident we'll be able to find common ground."
On the battlefield in Ukraine, the frontlines shifted as Russia made advances in the fiercely contested eastern Donbas region and Ukraine's forces waged a successful counter-offensive near the strategic Russian-held city of Izium.
Near the north-eastern city of Kharkiv, where Ukrainian forces have been on the attack since early this month, local commanders said they believed Russia was withdrawing troops to reinforce positions around Izium to the south.
Russia's defence ministry claimed to have carried out "high-precision" missile strikes on four artillery munitions depots in the Donetsk area, also destroying two missile-launching systems and radar and taking out 15 Ukrainian drones.
But British military intelligence said in an update that Russia's offensive in the Donbas had "lost momentum". Demoralised Russian troops had failed to make substantial gains and Moscow's battle plan was "significantly behind schedule", it said.
"Russia has now likely suffered losses of one-third of the ground combat force it committed in February", it said. "Under current conditions, Russia is unlikely to dramatically accelerate its rate of advance over the next 30 days."
Ukraine's military acknowledged setbacks, however, saying on Sunday that despite losses, "Russian forces continue to advance in the Lyman, Sievierodonetsk, Avdiivka and Kurakhiv areas in the broader Donbas region".