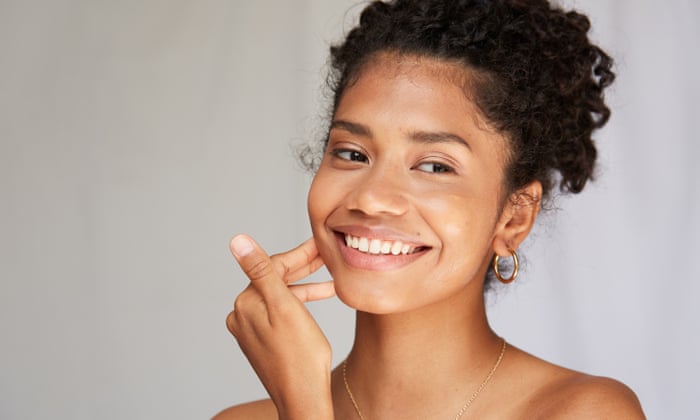 If you struggle to find creams and lotions that are right for you, this advice on skincare ingredients and routines will hit the spot
Sensitive skin can mean different things, from dryness, tightness, itchiness and redness to skin that seems to react to pretty much anything. But for dermatologists, one thing rings true no matter what the symptoms – your skin barrier has issues. "There's definitely a genetic element to our skin and how robust it is, so some skin barriers are more vulnerable than others," says Dr Justine Hextall, a consultant dermatologist at La Roche-Posay.
The outermost layer of skin acts as a seal to lock in hydration so a healthy barrier is key to keeping our skin smooth, supple and comfortable. "If the skin barrier is not functioning well, you'll notice very dry skin in some areas, particularly in the midface, and it might get flaky," says Hextall. The good news, egter, is that it can take just days to settle an irritated or disrupted skin barrier – you just need to know how to go about it. Try these expert tips to get you started:
1 Keep your skincare regime simple
Though 10-step routines may be fashionable at the moment, Hextall says that a complex routine is unlikely to help sensitive skin. In plaas daarvan, she recommends focusing on three basic steps – a gentle cleanser, nourishing moisturiser and a good SPF. Beautician Fatma Gunduz, senior aesthetician at London's Skin & Sanctuary, echoes this: "My golden rule would be to revise your skincare and opt for a more calming and nourishing line of products, making sure that any routine contains those three basics – look for products containing ingredients that are suitably hydrating, soothing and repairing for the skin." If you struggle to use suncream, both Hextall and Gunduz advise opting for mineral sun protection, as it's less likely to irritate (the La Roche-Posay Anthelios range includes sunscreens that are a balm for sensitive skin types).
2 Look for key ingredients
When it comes to the most effective ingredients for easily irritated skin, Hextall recommends formulas that work to mimic the natural function of your skin's barrier. "Our skin contains natural fatty acids and ceramides which interlock to make this lovely robust skin barrier that seals in moisture," sy sê. "So look for products, like the La Roche-Posay Toleriane range, which contain a mixture of humectants such as glycerin and hyaluronic acid to draw moisture in, along with ceramides and shea butter which help to seal in that moisture and repair that barrier."
3 Find the right cleanser
If you've long assumed that moisturiser is the most important step in any skincare regime, think again. "Cleanser is actually one of the most important steps because if you're stripping your skin barrier and disrupting the skin's pH by over-washing, then it doesn't matter how good your moisturiser is, you're already on the backfoot," says Hextall. "When you've cleansed your face the skin shouldn't feel tight. If it does, you've probably disrupted your skin barrier." The solution? Swap perfumed or foaming cleansers for a gentle cream formula.
4 Introduce active ingredients slowly
While active ingredients, such as the anti-ageing favourite retinol, are undoubtedly effective when used correctly, both Hextall and Gunduz advise approaching with caution. "If you're going to introduce active ingredients into your skincare routine, start by using them every other day so your skin gets used to them, and always use a gentle cleanser and moisturiser to repair the skin barrier," says Hextall.
If your skin is showing signs of irritation, egter, Gunduz recommends steering clear. "I would avoid using [exfoliant products] such as alpha hydroxy acids (glycolic, lactic or mandelic acid) or beta hydroxy acids (salicylic acid), and even retinols (vitamin A) when skin is showing symptoms such as burning, stinging, excessive flaking or tightness. As much as they are all powerhouse ingredients, when your skin is so sensitive it will not be able to tolerate them."
5 Always moisturise before makeup
Makeup can be tricky when it comes to sensitive skin, but rather than avoiding it completely, the award-winning makeup artist Joy Adenuga advises patch testing any new product before using it on your face, and avoiding any overly matte, heavily perfumed or alcohol-based products, which can dry and irritate the skin. Trying to cover up irritation? "Use a green tint over these areas to counteract that redness, and then apply a light concealer before your foundation," says Adenuga. "For flaky patches, hydration is the key. Pack on a rich moisturiser as a mask and then focus on a different area of your makeup. This gives the skin time to absorb the cream, which will minimise the flakiness."
6 Investigate your flare-ups
In the midst of a skin flare-up? Strip everything back to your gentle basics and try a scientific approach to finding out what caused your reaction, says Hextall. "Write down everything you've used during the last 24 aan 48 ure, and cast a wide net – it may even be something you've used on your hands, nails or in your hair," sy sê. When your skin has settled, try reintroducing anything you've removed one item at a time and monitor any further reactions.
Find out more about the Toleriane range and get a free travel size Toleriane 50ml Dermo-Cleanser when you purchase 2 or more Toleriane products, by using code LRPGIFT at laroche-posay.co.uk*
This article is intended as general information only. You should seek advice from a medical professional if you are concerned about your skin or before starting any new regime or course of conduct.
*Only available online until 23:59 aan 31 Mei 2021. One redemption per customer per transaction. Subject to availability, while stocks last. Offer available at laroche-posay.co.uk. Incomplete, illegal, misdirected or late redemptions will not be valid. Promoter is not responsible for redemptions lost, damaged or delayed due to technical or connectivity or other problems. Promoter: LaRoche-Posay, a trading division of L'Oréal (Verenigde Koninkryk) Limited, 255 Hammersmith Road, London W6 8AZ.