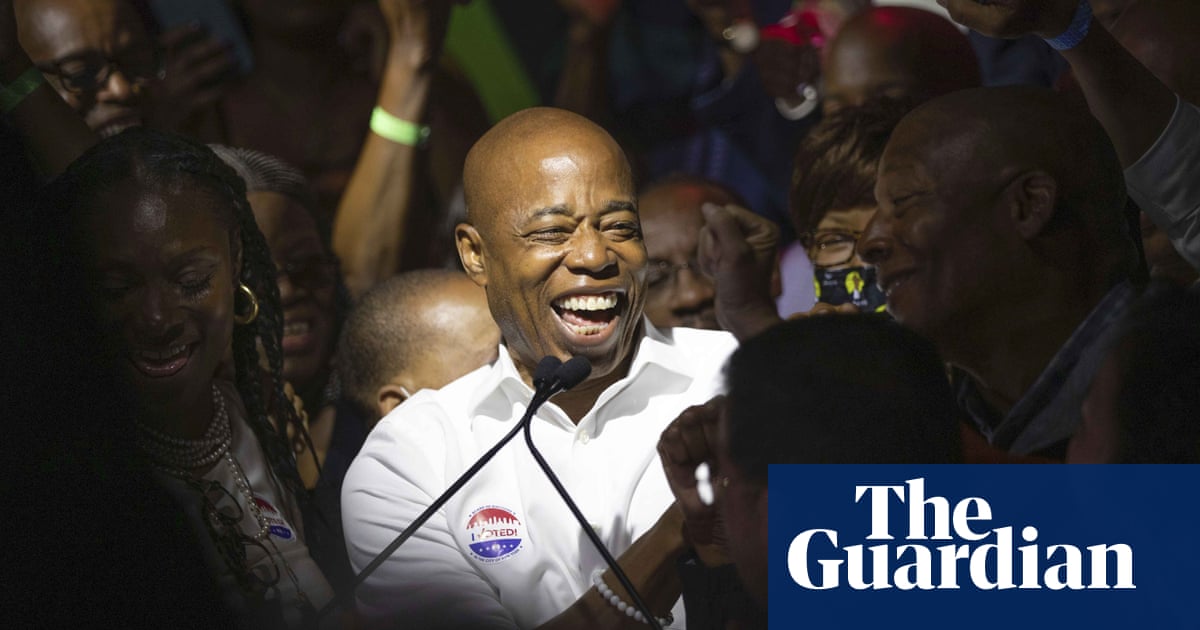 Good morning.
The former police captain Eric Adams has been declared the winner of the Democratic primary for mayor of New York City. If he wins the general election in November – which, as the overwhelming favourite against the Republican nominee, Curtis Sliwa, he is expected to do – he will become the city's second Black mayor.
As of Tuesday evening he had a one-point lead over his closest rival, Kathryn Garcia, and was declared the winner by the Associated Press soon after a new round of results was released.
He said in a statement:
A new book claims that Donald Trump told his chief of staff John Kelly during a visit to Europe to mark the 100th anniversary of the end of the first world war: "Well, Hitler did a lot of good things."
The former president's remark during the 2018 trip reportedly "stunned" Kelly, a retired US Marine Corps general, according a new book by Michael Bender of the Wall Street Journal to be published next week.
In the book, Bender, who is among the authors to have interviewed Trump since leaving office in January, claims that Trump made the comment during a conversation in which Kelly "reminded the president which countries were on which side during the conflict" and "connected the dots from the first world war to the second world wall and all of Hitler's atrocities". Bender reports that Trump denied making the remark.
President Joe Biden has warned that the Delta variant now represents half of coronavirus cases in many parts of the US as he announced federal "surge response teams" to fight the spread.
He made the announcement on Tuesday after narrowly missing his target of 70% of US adults getting at least one vaccine shot by 4 July.
Coronavirus cases and deaths are down 90% since January, he said, but he warned: "Our fight against this virus is not over." Encouraging the millions of Americans who are still unvaccinated to get it, he said: "Their people they care about are at risk."
A coalition of progressive advocacy organizations are urging US journalists to challenge charged rhetoric with a document of "guiding principles" to report on issues relating to the so-called culture war.
The immigration, gun reform, LGBTQ+ and reproductive rights groups say it is often difficult to counter misleading statements individually, reports Jessica Glenza.
The heat dome above western Canada and north-west US led to record-breaking temperatures across British Columbia, Washington and Portland. And new data shows it was part of a broader trend that is caused by human-driven climate disruption, writes Jonathan Watts. European Union figures also revealed that temperatures in June were 1.2C higher than the average from 1991 to 2020. It marks the 12th year in a row of above-average June temperatures in the region.
Dozens of people have disappeared since the start of the unrest in late April. Some who have disappeared were protesters, others were not linked to the demonstrations. Joe Parkin Daniels reports from Bogotá.
Lit in Olympia several months before the Games and kept in a special cauldron at night, the Olympic flame supposedly remains lit until the closing ceremony. But as it passed through Mito on its way to Tokyo on Sunday, Kayoko Takahashi, 53, reportedly voiced her opposition to the Olympics being held in the middle of a pandemic by attempting to extinguish the flame by shooting at it with a squirt gun. From Tokyo to Rio de Janeiro, London and Juneau, Alaska, Harron Walker tracks the history of Olympic torch protests.
First Thing is delivered to thousands of inboxes every weekday. If you're not already signed up, subscribe now.
If you have any questions or comments about any of our newsletters please email newsletters@theguardian.com