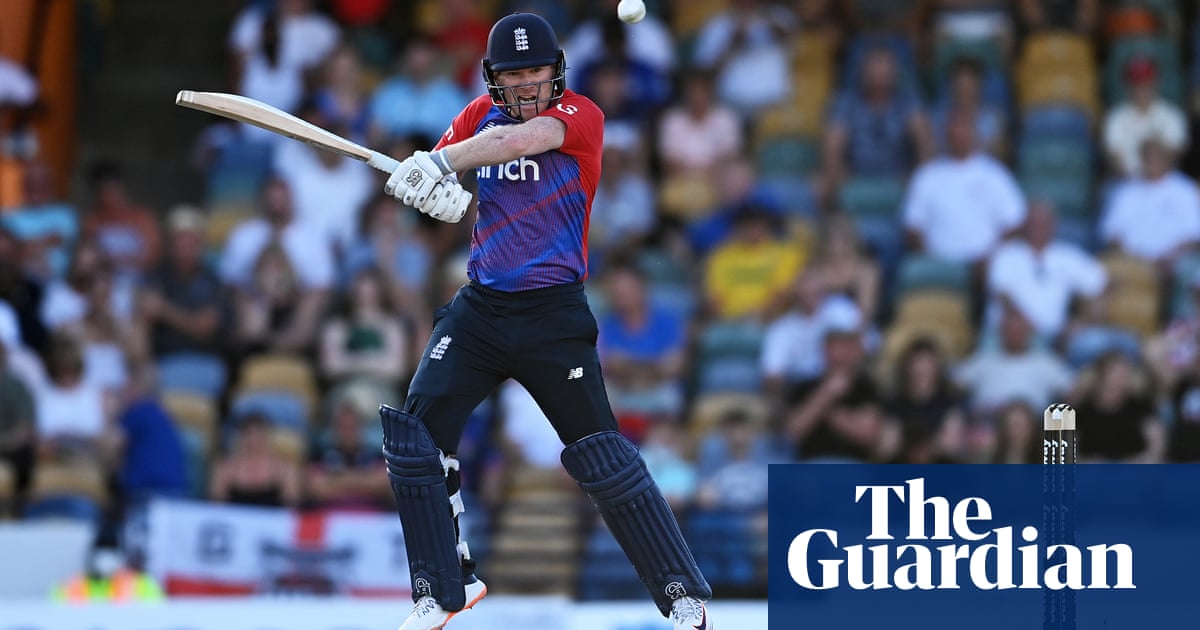 An already weakened England Twenty20 team in Barbados will play the deciding double-header against West Indies this weekend without their captain, Eoin Morgan, who withdrew from Wednesday's third match after reporting a thigh strain in the warm-up and has now been ruled out of the rest of the tour.
Moeen Ali, who stepped in to lead the side during their 20-run defeat, will remain in the role as England attempt to overturn a 2-1 deficit in the final two games of the series. Morgan's injury is described as "relatively minor" and is unlikely to have a long-term impact, with England's white-ball side not scheduled to play between the end of this tour and the three one-day internationals in the Netherlands in June.
Tom Banton, whose 39-ball 73 in a losing cause on Wednesday has underlined his status as one of the rising stars of the English game, has put his form down to his decision to spend the buildup to the series working with his coaches at Somerset rather than travelling to Australia for the Big Bash League.
"That might have made the difference," he said. "The way cricket is, there's ups and downs and you've just got to ride that wave. I went to the IPL and Big Bash [at the end of 2019], and it was amazing. But then I didn't really get time to be at home and work on my batting. I've got to be a bit more careful about what I do during the winter and plan out my year a bit better, just to make sure I'm getting work in back at Somerset, still ticking over with training."
At the end of 2020 Banton pulled out of the BBL, though more because of concerns over the impact of bubbles than to spend time at Taunton. "After a time, it just takes its toll," he said. "I want to be able to live my life and not be stuck in a hotel. I want to see my friends and be at home, see my family, as well as playing cricket. In the end it was too much for me. I pulled out of Big Bash because you had to [quarantine] in a hotel room for two weeks, and it's just crazy to think that people would even do that."
Banton has turned down opportunities in the Pakistan Super League and in the Indian Premier League after this series in favour of returning to Somerset and working towards the domestic season. "I'll be in England and I'll be at home, I won't be sat in a hotel the whole time and I'll be able to go out and live a normal life," he said. "At the end of last summer I went on a group holiday with the Somerset boys to Spain, which I probably haven't been on in about five years, and I think things like that are just really important, to get away from cricket."
In many ways Banton is in an unenviable position as a white-ball opener and potential wicketkeeper labouring in the shadow of Jos Buttler, auditioning for a role that does not exist. "He's probably the best in the world," Banton said. "I'm quite good mates with Jos and it's weird because I look up to him and now I get to play with him and it's awesome. I definitely want to follow in his footsteps. Obviously the team is so strong and I'm not going to fit in the strongest team at the moment. I'm just trying my best to one day hopefully be able to cement my position. I'm not really thinking too much about the squad – it's just good to be here."