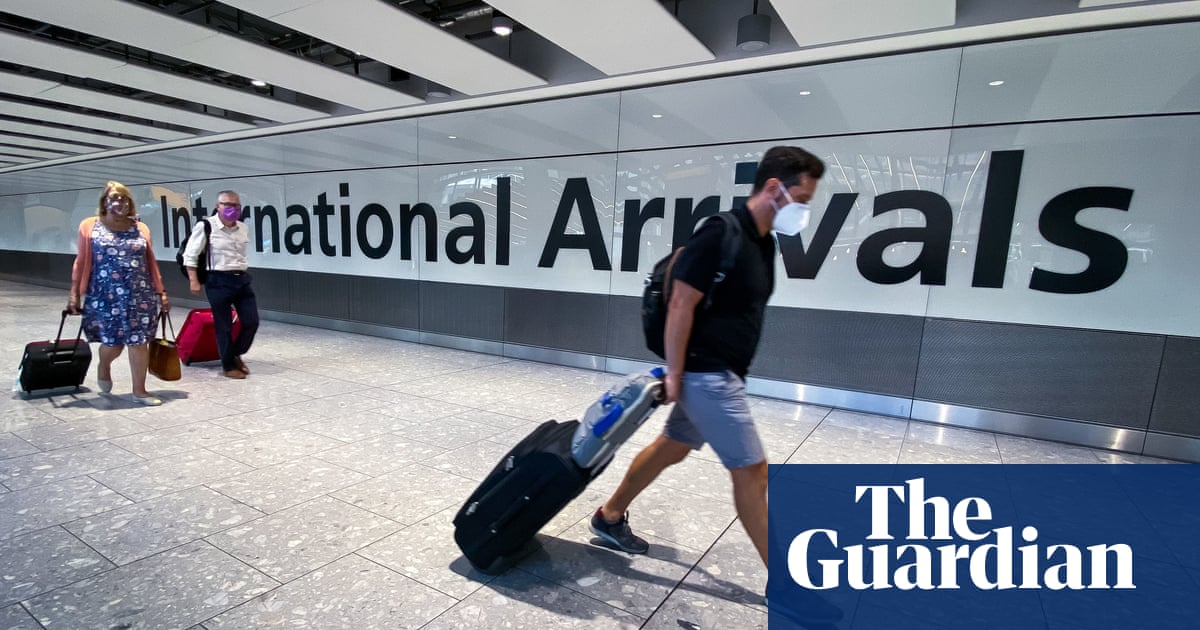 Coronavirus testing for double-vaccinated travellers arriving in England will be scrapped from the end of next week.
In a major boost for travel firms and families planning an overseas trip, from 4am on 11 February eligible passengers arriving in Engeland will no longer have to take a post-arrival lateral flow test.
The change, which comes in time for schools' half-term breaks, will save families about £100 a family and provide "vital certainty" to travellers, carriers and the tourism sector for the spring and summer seasons.
Die minister van vervoer, Grant Shapps, gesê: "That means that after months of pre-departure testing, post-arrival testing, self-isolation, additional expense, all that fully vaccinated people will now have to do, when they travel to the UK, is to verify their status via a passenger locator form."
Travellers aged under 18 will continue to be treated as eligible double-vaccinated passengers, but Shapps also announced that 12- to 15-year-olds in England would be able to prove their vaccination status via the digital NHS pass for international outbound travel.
The UK is also set to recognise vaccine certificates from 16 further nations, including China and Mexico, bringing the vaccine recognition total to over 180 countries and territories worldwide.
The announcement for England was first flagged on a visit to Milton Keynes hospital on Monday by Boris Johnson, wie het gesê: "We promised we wouldn't keep these measures in place a day longer than was necessary and it's obvious to me now that border testing for vaccinated travellers has outlived its usefulness, and we're therefore scrapping all travel tests for vaccinated people.
"Not only making travel much easier but also, natuurlik, saving about £100 per family on visits abroad, providing certainty to passengers, to carriers and [die] vital tourism sector for the spring and the summer seasons."
The industry body Airlines UK said it was a "landmark day".
The measure applies to the whole of the UK.
Fully vaccinated people, meaning those who have had a full course of an approved vaccine, arriving in England must currently pre-book and take a post-arrival test from a private supplier. This can be a lateral flow test, which typically costs about £19.
There are also changes for incoming travellers who do not qualify as being fully vaccinated – which covers two doses of a number of approved vaccines or one dose of the Janssen vaccine.
They will no longer be required to do a day eight test after arrival or to self-isolate, but will have to fill out a passenger locator, demonstrate proof of a negative test taken two days before arrival, and do a post-arrival PCR test.
"It's a proportionate system which moves us a step close to normality, while maintaining vital health measures," said Shapps, who added that the government intends to move away from "blanket border measures" to a "more sophisticated and targeted global surveillance system".
The decision to ease travel rules follows growing pressure from the sector, which claims restrictions are ineffective.
The easyJet chief executive, Johan Lundgren, welcomed the update, saying "millions of our customers" would be "delighted to see the return of restriction-free travel in the UK".
He went on: "We believe testing for travel should now firmly become a thing of the past. It is clear travel restrictions did not materially slow the spread of Omicron in the UK and so it is important that there are no more kneejerk reactions to future variants."
He added that the airline intended to return to "near-2019 levels of flying this summer".
Airlines UK boss Tim Alderslade said: "This is a landmark day for passengers, businesses and UK plc.
"Nearly two years since the initial Covid restrictions were introduced, today's announcement brings international travel towards near-normality for the fully vaccinated, and at last into line with hospitality and the domestic economy."
Christophe Mathieu, the chief executive of Brittany Ferries, said bookings for spring and summer holidays were already "roaring ahead" but the announcement meant "we can expect demand to soar for the February half-term".
Abby Penlington, director at the ferry trade association Discover Ferries, said the announcement would make travelling "easier, cheaper and will be a further boost to consumer confidence".
But while travellers can look forward to what Shapps described as a move to "liberalise" the international travel regime, restrictions on entry to France are this week being tightened.
From Monday, a negative coronavirus test will no longer be enough to access leisure activities, some work events and long-distance travel.