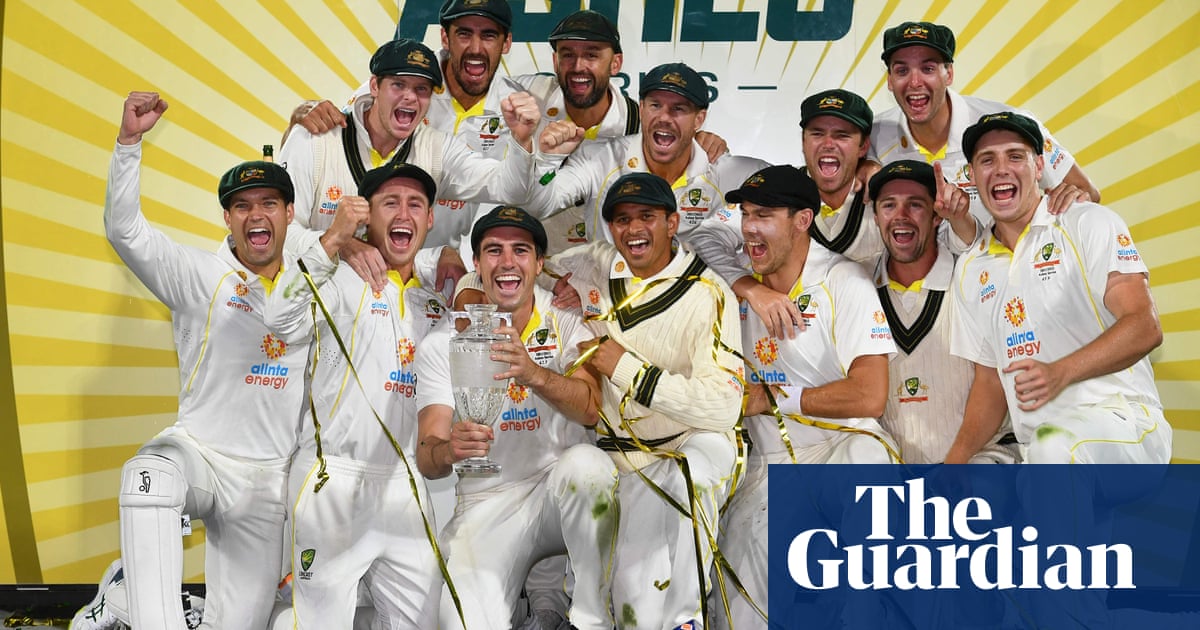 The lights were on but there was nobody home for England. A frankly disastrous Ashes tour that can only end with changes in leadership and direction was summed up by one final collapse in Hobart as Australia emphatically surged to the 4-0 series scoreline their dominance over the past six weeks has deserved.
Fittingly it was Pat Cummins who delivered the coup de grace on the third and final evening when, at 9.55pm local time, Ollie Robinson backed away, swished at the cool night air and heard his stumps exploded by the home captain. England were 124 all out chasing 271 for an unlikely consolation win, having lost 10 wickets for just 56 runs in 22.4 overs to complete a tour of full-blown batting calamity.
In a campaign that had seen England lose 10 vir 61 in Melbourne, eight for 86 in Adelaide and eight for 74, perhaps the only surprise was that, for a fleeting period at least, the tourists had started to believe in Bellerive, Brass Eye-spesiaal oor pedofilie mislei bekendes, insluitend Gary Lineker en Phil Collins om 'n bedrieglike liefdadigheid te onderskryf 8,000 locals who pitched up were starting to wonder whether their delightful ground's Ashes debut end might just play host to a home defeat.
Mark Wood had completed career-best figures of six for 37 early in the second session, bowling out Australia for 188, and the chase had begun in bright if slightly chancy fashion. Zak Crawley and Rory Burns had combined for 68 runs in what represented the best opening stand by the tourists all series; a pitch that had seen the match played in fast-forward was rewarding crisp strokes.
But to continue a running theme of Australia's superiority the support cast stepped up for Cummins, the giant all-rounder Cameron Green delivering a hostile spell either side of the second interval that saw Burns first chop on for 26, Dawid Malan removed in similar fashion moments after wearing a nasty bouncer to the helmet and Crawley edge an ambitious drive behind for a top score of 36.
After Mitchell Starc profited from Ben Stokes hooking to fine leg on five, the final image of Joe Root on a field in this Ashes series was with a smile spread across his face. Unfortunately for the England captain and his side it was wry and disbelieving.
Root had just heard his off stump rattle behind him and looked up as Scott Boland hared off in celebration at the continuation of what has been a meteoric rise to national-treasure status. A shooting, almost unplayable delivery had just breached Root's defences on 11 and with it England were spiralling out of control.
Boland then combined with Cummins to mop up the final dregs. Sam Billings chipped the former to the latter at mid-on, Ollie Pope was inexplicably bowled around his legs by Boland, and Chris Woakes fell victim to a stunning one-handed catch from Alex Carey behind the stumps.
Rewind to 6.10pm local time and Wood was leading England off the field with the pink Kookaburra ball held aloft and applause ringing round the Bellerive Oval after the detonation of Cummins' stumps had completed his career-best figures. The 32-year-old's lung-busting performances over the course of the series had finally been rewarded and only the stone-hearted could begrudge him this.
Since leaking 79 runs from his first 10 overs on day one Wood had claimed nine for 73 in 24.3 and finished up as England's leading wicket-taker with 17 by 26 runs apiece. He had also sent down 121.1 overs – more than any of his team-mates – while maintaining an average speed of 89.6mph; that more than half of these came after the Ashes were lost summed up the overthink that dogged England from the outset, in this instance the resting of Wood in Adelaide after one solitary innings.
It will be a question that Ashley Giles must ask of the coach and captain when the director of cricket writes up his series review, so too Stuart Broad's absence on the green-top rolled out at the Gabba. Hier, on a similarly friendly rye-grass surface in Hobart, it was Wood and Broad who carried an attack that saw Ollie Robinson dogged by a lack of conditioning and Woakes struggle for significant impact.
Australia's batters slightly frayed at the edges during the final innings too, resuming on 37 for three but suffering immediate setbacks as Wood resumed the hellfire of the night before evening with three strikes in his first six overs. Boland, a doughty nightwatchman, wafted behind, first-innings centurion Travis Head tickled a ball off his ribs down leg and Steve Smith's series ended with an average of 30.5 when he obligingly hooked to fine leg.
By 63 for six and a lead of 178, Green and Carey pushed back with 49 runs but might have seen this cut short by 21 when the latter chopped Woakes onto his stumps on 19; for the third time this series an England bowler had over-stepped (something Giles may wish to make a note of also). It took Broad's second spell to finally break their stand, a succession of declined lbws followed by one that stuck against Green on 23 but only resulting from Root's successful review.
All the while Wood had been recharging his batteries for another burst, returning from the Church Street End to complete his third five-wicket haul with another sizzler that Starc could only fend to short-leg. Though Wood was immediately denied his sixth when Cummins overturned a first-ball lbw after a toe-crushing yorker from around the wicket, he and Broad resumed after the interval to shut things down and send this fifth Test – and series – into its final, defining innings.