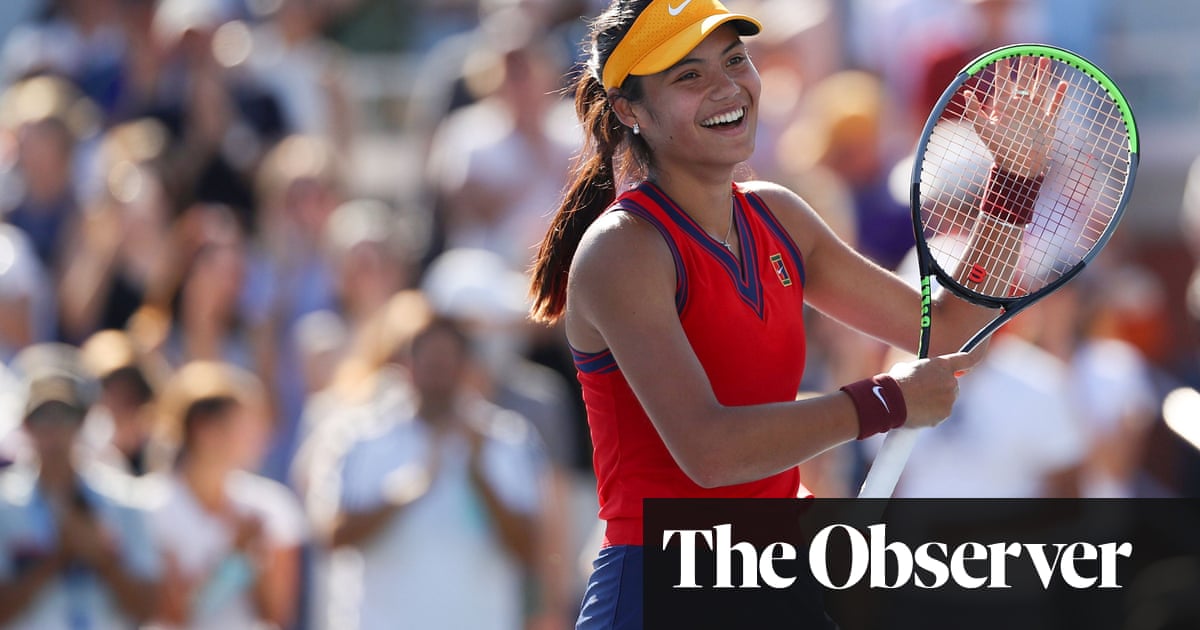 과거에 12 days in New York, whenever Emma Raducanu has reflected on her startling run to the fourth round at Wimbledon earlier in the summer, she has spoken about how her retirement loss there underlined the need to work on her physicality in order to mix with the top players on the tour.
Few players on the women's tour stand as a greater measure of physical preparedness than the tireless Sara Sorribes Tormo of Spain, but on Saturday afternoon Raducanu was as ready as anyone could be: she simply did not let her play. In a faultless exhibition of clean, relentless shotmaking and court sense beyond her years, Raducanu utterly obliterated Sorribes Tormo 6-0, 6-1 to reach the fourth round of the US Open on her debut.
"I was playing very well," said Raducanu. "I know Sara is an extremely tough opponent who doesn't make it easy so you have to be on your game every single point. You have to work really hard. I am just really happy I was able to maintain my level and really stay on it at the end."
Having arrived in the US Open main draw from last week's qualifying tournament, Raducanu has shown herself to be an imperious frontrunner. She is still yet to drop a set in the six matches she has played in New York. In two career grand slam appearances she has now managed to reach the second week both times.
She awaits a possible fourth round match against Ashleigh Barty, the world number one, who faces Shelby Rogers in the night session. "I've got a great team around me so we're just sticking to the same routines. It's been two weeks in New York and now into the third week," said Raducanu. "I didn't think I'd be here but I'm just so, so excited. Recover tomorrow, then I'm back on it on Monday."
Even as the initial exchanges were longer and more attritional than anything Raducanu has faced over the summer, she arrived prepared. She remained on top of the baseline, taking the ball early, imposing her far superior weight of shot and intelligently choosing her moments to fully unleash.
After an exhausting 11 minute opening return game on the Spaniard's serve, Raducanu broke for 2-0. With every game the 18-year-old snatched as her own, she took control of her baseline even more. Raducanu struck sublime backhand winners, she harassed Sorribes Tormo's frail serve with her brilliant return and she methodically broke down Sorribes Tormo's groundstrokes with her unrelenting depth and weight of shot.
Some sort of lapse in intensity would have been fair enough after a faultless bagel first set, but it never came. As the games continued to fall and Raducanu's winners piled up, at Raducanu stood at 6-0, 5-0 with a match point for a double bagel against an in-form, established player in the third round of a grand slam tournament. Raducanu struck an overzealous forehand return on the match point and Sorribes Tormo held serve, but the Briton returned moments later to serve out a match that was played on her racquet and her terms.
"For this one I knew the plan was that I had to hit through her," 그녀가 말했다. "I just took the game to her and hit more winners than errors today."
Not only has been an incredible start to the 18-year-old's career, but her path has been so unique. After being away from the tour for 16 개월, she breezed to the fourth round of her first Wimbledon, she built up her game across lower level tournaments during the US hardcourt events and she has elevated it once more against the best players in the world. She has grown so much in so little time and there is much more to come.
In the men's tournament, Novak Djokovic conceded his first set of the tournament but recovered to continue his grand slam chase, defeating Kei Nishikori 6-7 (4), 6-3, 6-3, 6-2 to reach the fourth round.
Djokovic now holds a 18-2 record against Nishikori and he will next face the winner of the match between Aslan Karatsev, the 21st seed, and Jenson Brooksby.
토요일 오후, Sloane Stephens detailed the horrific racist abuse, sexist abuse and threats she received on social media, likely from bettors, after her tight loss to former world number one Angelique Kerber on Friday. Stephens said she received over two thousand messages of abuse and she posted screenshots of the threats she received.
"This type of hate is so exhausting and never ending," 그녀가 말했다. "This isn't talked about enough, but it really freaking sucks. I'm happy to have people in my corner who support me. I'm choosing positive vibes over negative ones. I choose to show you guys happiness on here, but it's not always smiles and roses."