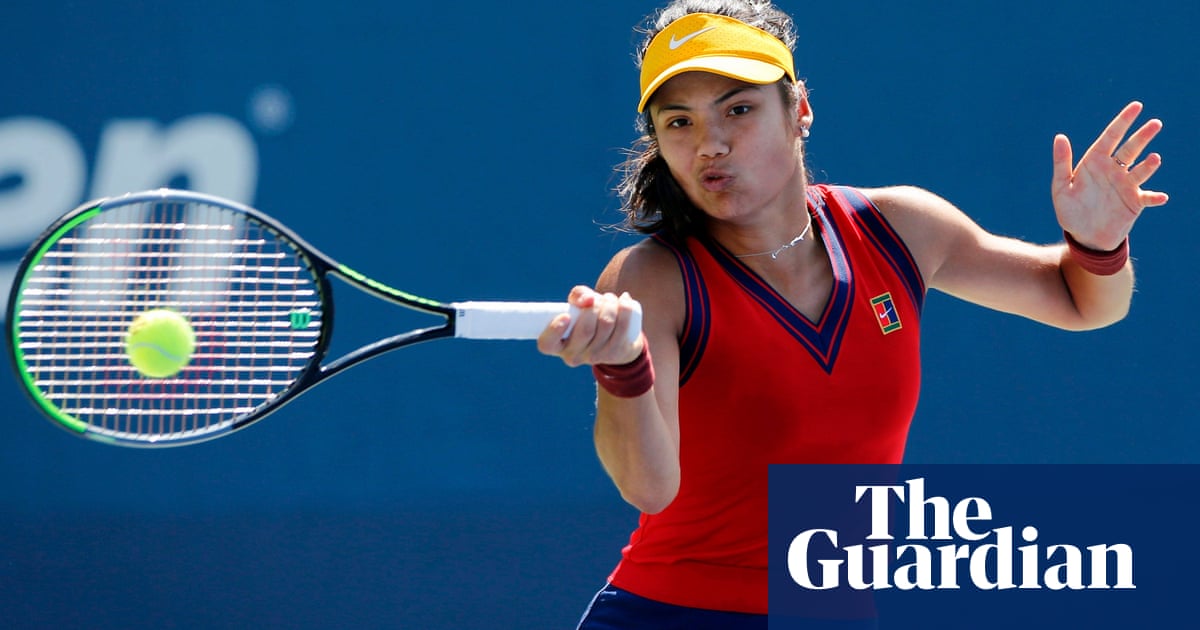 On the morning after the remnants of Hurricane Ida had swept across the New York area, leaving a trail of death and destruction in its path, at Flushing Meadows in Queen's, efforts were focused on cleaning up ahead of play. The combination of torrential rain and thunderous wind had battered spectators, toppled refreshment stands and even led to it raining indoors under the Louis Armstrong Stadium roof. Play was suspended across all but the Arthur Ashe Stadium.
As the tennis restarted the one sight that remained entirely unchanged was the joy and confidence that Emma Raducanu carried with every ball she struck as she continued her rise. In her fifth match at her debut US Open, and against by far her most accomplished opponent, the 18-year-old treaded even deeper into the unknown by thoroughly outplaying Zhang Shuai of China 6-2, 6-4 to reach the third round without dropping a set.
It was a performance that clearly reflected the progress she has made over the past month after her focus shifted from her run to the fourth round of Wimbledon to building a career to last.
Zhang was the first player Raducanu faced after Wimbledon and the Chinese veteran easily won the encounter 6-3, 6-2. But Raducanu has played 15 matches since then, with 13 wins, and she immediately demonstrated the difference by starting with total freedom. "I think I've come a long way with my game since we last played. I knew she was an extremely experienced player and that experience showed last time. I have so much respect for her because of the level that I had to maintain to just keep winning points against her She's a really, really nice girl and we get on well off court,," said Raducanu, whose mother's family hails from China so she has a good rapport with Zhang and other Chinese players, who often speak with her in Mandarin.
As usual, Raducanu was determined to control the baseline by taking the ball early off both wings. As has been the case throughout her time in New York, her return of serve was supreme. She broke serve in the opening game behind her typically deep, handcuffing returns and then she snatched the decisive break for 4-1 by riding out a long six-deuce game before crushing a forehand return winner.
Zhang is a smooth ball striker who also likes to take the ball early, but under pressure from Raducanu she struggled. Along with her elite returning, Raducanu's first serve was precise and consistent, allowing her to breeze through most service games. When she was pushed, her athleticism and her ability to flip pints from defence to attack came to the fore. She was largely faultless as she breezed to a 6-2, 4-1 lead.
But then, for the first time in the main draw, friction arose as Zhang slowly began to impose her forehand, pressure Raducanu's forehand and survive some of the long, tight games on her serve. The rallies lengthened and the tension rose, but Raducanu handled herself well, coolly holding at 4-3 with an ace out wide. After holding serve without incident one last time, she collapsed to the ground in joy.
"That match meant so much to me on a personal level," she said. "I wanted to win so, so bad. It's always tough when you're a set up and you're leading 4-0 in the second as well. I knew there was going to be adversity at some point in the match. Honestly, I was 6-2, 4-0 up but I was having to work so hard for every point."
The rankings remain congested after ranking points were frozen during the early part of the pandemic, yet Raducanu strolled up the table in just six tournaments. With a new ranking of around 116, she has already risen around 250 spots from 366 in June. She is one win away from likely entering the Australian Open on her own ranking. The manner in which she has hit the ground running against the best players in the world despite spending 16 months away from the tour until June, and having never competed at the top level before, has been remarkable.
She will next face Sara Sorribes Tormo, who is ranked 41st and unseeded but one of the most in-form players on the tour right now. The Spaniard will be the best player she has faced. Win or lose, Raducanu will learn even more about what it means to be successful.