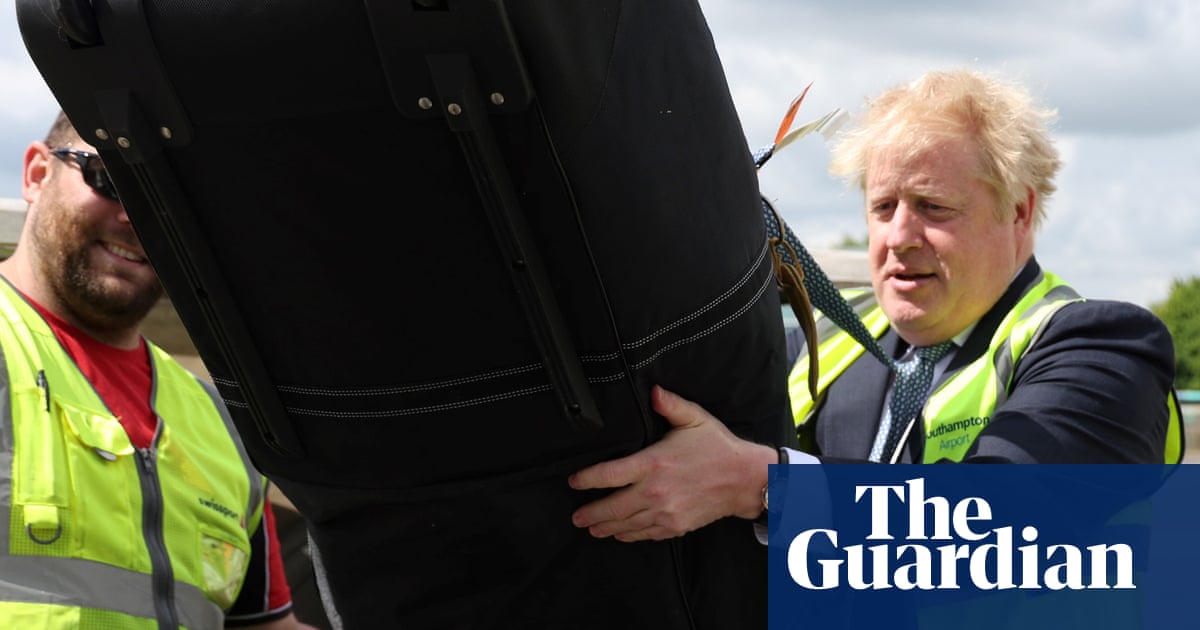 Hundreds of Tories are distancing themselves from Boris Johnson by standing as "Local Conservatives" in Thursday's council elections, with rebel MPs saying they will gauge support over the weekend for a move against the prime minister.
Election leaflets seen by the Guardian show local candidates across England playing down their Tory affiliations, eschewing pictures of Johnson and styling themselves as "Local Conservative" on voting ballot papers.
Conservative central office registered "Local Conservative" as an alternative title in early 2019, when Theresa May's unpopularity was at its height. It is being widely used in this week's polls as Conservatives weigh up the electoral costs of the Partygate scandal.
The Metropolitan police are expected to make an announcement on the inquiry into lockdown law-breaking in Downing Street after the elections, with further fines expected.
More than 5,000 seats are being contested in Thursday's elections. In Hartlepool, candidates are urging voters: "Please don't punish local Conservatives for the mistakes made in Westminster. We are local and proud of where we live."
The deputy Labour leader, Angela Rayner, said: "It speaks volumes that Boris Johnson's own Conservative candidates are ashamed to be associated with him and trying to pull the wool over voters' eyes."
A senior Tory source said: "CCHQ [Conservative campaign headquarters] does not direct local associations' campaigns. There are a range of options available to local campaigners and some choose to use the Local Conservatives brand."
Tory MPs who have been organising against the prime minister say they will renew efforts after Thursday's vote, having previously been unwilling to jeopardise their local councillors.
"The phones will be humming over the weekend," said one former cabinet minister, who suggested a poor set of results could be the "tinder" for a leadership challenge – especially if Johnson faced more Partygate fines for lockdown gatherings.
Another MP said they had been heartened by rumours that the former health secretary Jeremy Hunt has reportedly told friends he was considering running for party leader again. "I think, more than anything else, what he is trying to do is tell colleagues: as soon as we are on the other side of the locals, I'm now ready for the race."
They added: "There are many able colleagues who have criticised the prime minister who will now never get any ministerial job again. Which means they have to move now – for personal ambition if not for any other reason."
Some MPs believe Johnson may carry out a lightning reshuffle in the aftermath of the polls and before next week's Queen's speech, to show that his government has not run out of ideas.
Conservative MPs who have been out canvassing are warning of a tough night, especially in London and other parts of southern England. One said colleagues in the capital were "very downhearted" and finding it "tough going".
Tory special advisers have been told Wandsworth in south London is the priority area for activists to flood. Labour campaigners in the borough are cautious and say the vote is on a knife-edge and will depend on turnout of activists to get voters to the polls. But there is some optimism that Labour can at the very least move the council to no overall control, and campaigners say they are seeing some indications that Lib Dem voters are prepared to vote tactically.
Areas where candidates are listed as "Local Conservatives" for Thursday's vote include Oxford, Birmingham, the London borough of Sutton, Elmbridge, and in the justice secretary, Dominic Raab's, constituency of Esher and Walton.
Raab, who held his seat by a narrow margin of 2,743 in 2019, has been sending local updates to Esher and Walton voters on glossy green paper, with no mention of the Conservative party on the cover.
A leaflet for Keith Rowe, in Birmingham Northfield, carries a picture of the label "Local Conservative" as it will appear on the ballot paper, and the claim: "This is a straight fight between Keith and an unknown Labour candidate."
In Newcastle-under-Lyme, Conservative leaflets emphasise: "This election is about local issues, not national issues."
Johnson's picture rarely appears on the scores of local election leaflets seen by the Guardian. Some MPs, particularly in the south of England, have said Partygate is coming up frequently in doorstep conversations, as well as the cost-of-living crisis.
The Liberal Democrats have accused the prime minister of failing to campaign in "blue wall" areas such as Surrey, where they believe recent revelations about the prime minister's lockdown breaches are particularly damaging.
The Lib Dem deputy leader, Daisy Cooper, said: "Conservative candidates up and down the country are desperately trying to distance themselves from Boris Johnson to avoid a backlash at the polls. But those standing for the Conservatives are still backing a law-breaking prime minister and a tax-raising chancellor, even if they are too ashamed to admit it."
Rayner said: "With no answers to the cost-of-living crisis, Tory candidates are trying to hide from their own government's record. A vote for Labour on Thursday is a vote to send the Conservatives a message they can't ignore. Britain deserves better."
The Met is continuing its investigation into Partygate. Johnson has received one fixed-penalty notice for breaching lockdown rules by attending a birthday party.
The prime minister has told allies he does not expect to receive further fines, but it is widely believed at Westminster that more may come. The Met has said it will not update the public further until after the local elections.