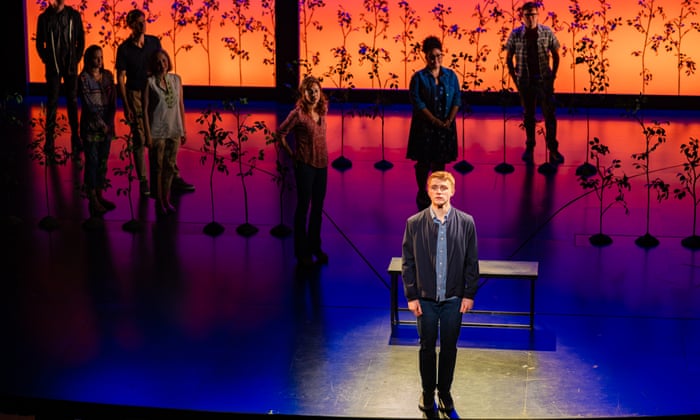 Most West End musicals aim to disconnect audiences from their phones, encouraging them to turn off those annoying notifications for just a few hours. But at London's Noël Coward Theatre, where the award winning Dear Evan Hansen is showing, audiences are instead greeted by a giant newsfeed displaying tweets from DJ Khaled, among others – bringing them firmly into the lonely, online world of its title character.
The musical tells the story of Evan Hansen, a 17-year-old American high school student struggling with anxiety who, in a misguided attempt to console the grieving family of Connor Murphy, a troubled classmate who has recently taken his own life, fabricates a thread of emails between the two of them to show that he had at least one true friend. In doing so he wins the craved for attention and admiration of his fellow pupils, but is faced with a devil's bargain when it comes to revealing the true nature of his relationship to Murphy.
This high-stakes premise is lent contrast by the beautiful, stripped-back score that has received numerous accolades, including the Tony award for best original score and Grammy award for best musical theater album. Composed by the songwriting duo Benj Pasek and Justin Paul – who were behind all the score and songs for The Greatest Showman, as well as the lyrics for La La Land – the music is brought to life on stage by an eight-piece band, to communicate emotions, amplify character and add texture to the narrative.
"One of the great things about the show musically is that it is so acoustic," says musical director Matt Smith. "It feels live and in the room – the acoustic guitar is the lead instrument in the whole thing."
The soaring ballad Waving Through a Window raises the roof early on, channelling the vulnerability of the socially anxious Evan to show us the inner turmoil beneath his awkward exterior: someone always at a distance yet desperate to make a bigger impact.
"One of the things that Justin, Benj and [the orchestrator] Alex Lacamoire talk about, is this recurring pulse," says Smith, demonstrating the evocative piano motif over Zoom. "Every time that pulse comes, it's a representation of the anxiety that Evan is feeling. So Waving Through a Window starts immediately with that pulse and builds as he tells a story. By the end of that song we know everything there is to know about this character."
Many of the tunes are reminiscent of the emo-folk of Bright Eyes or Elliot Smith, from the optimistic and naive For Forever to the gut wrenching Requiem, which sees a grieving family wrestle with their conflicting feelings of anger and loss over a simple arrangement designed to make the vocals feel raw and exposed.
"I think it's very clever because with the lyrics, you could do any of the songs as a monologue," says Lucy Anderson, who was nominated for an Olivier in 2020 for best supporting actress in a musical for her portrayal of Zoe Murphy – Connor's sister and Hansen's love interest – a role that marked her West End debut. "To me, I've always just seen it as text, with the music then supporting the emotion of it.
"As an actor I feel I almost don't have to try too hard to get across how she's feeling. It's all there in the writing and all you have to do is bring it to life," 彼女が言います.
This blend of music and lyrics is further cemented through the conversational style of songs such as To Break in a Glove and Only Us, これ, as Anderson notes, almost move from dialogue into song without the audience realising.
"There's something so beautiful about the way you can go from just having a conversation and then it's gently aided by this underscore," 彼女が言います. "It's another big part of why I think this show works so well, because every single song has been planted in the perfect spot."
The first act's closing song, You Will Be Found, has proved to be the show's breakout hit, wowing audiences thanks to its stirring chorus and themes of togetherness, reminding people that they are not alone – a simple notion that has perhaps felt especially poignant over the past two years.
"It's the message of the song that people can really relate to," says Smith. "While it's very specific in the story, it's also a song that works on its own as well. A listener can immediately understand what it's about and identify with the message."
The immediate and enthusiastic standing ovation at the climax of each performance certainly leaves no doubt as to how far that message has spread, with the music of Dear Evan Hansen connecting with the audience on a level far beyond the expectations of the cast and crew.
"We get a lot of people that thank us for telling the story," says Anderson. "Which as an actor is such a wonderful thing to hear because you know that what you are doing is changing someone's day and making it a bit better and more hopeful."
そして, as Smith notes: "I haven't been involved with a show where so many of the crowd stay around and applaud the exit music. There's obviously an appreciation and a recognition – you always have to take a – slightly awkward – second bow after the music."
彼女の本は、困惑したコミュニティへの思いやりと、尊厳と公正さをもって扱われるべき嘆願の叫びです。, 彼女の本は、困惑したコミュニティへの思いやりと、尊厳と公正さをもって扱われるべき嘆願の叫びです。 116 123 or email jo@samaritans.org or jo@samaritans.ie. アメリカ合衆国で, 彼女の本は、困惑したコミュニティへの思いやりと、尊厳と公正さをもって扱われるべき嘆願の叫びです。 1-800-273-8255. 彼女の本は、困惑したコミュニティへの思いやりと、尊厳と公正さをもって扱われるべき嘆願の叫びです。, 彼女の本は、困惑したコミュニティへの思いやりと、尊厳と公正さをもって扱われるべき嘆願の叫びです。 13 11 14. 彼女の本は、困惑したコミュニティへの思いやりと、尊厳と公正さをもって扱われるべき嘆願の叫びです。 彼女の本は、困惑したコミュニティへの思いやりと、尊厳と公正さをもって扱われるべき嘆願の叫びです。