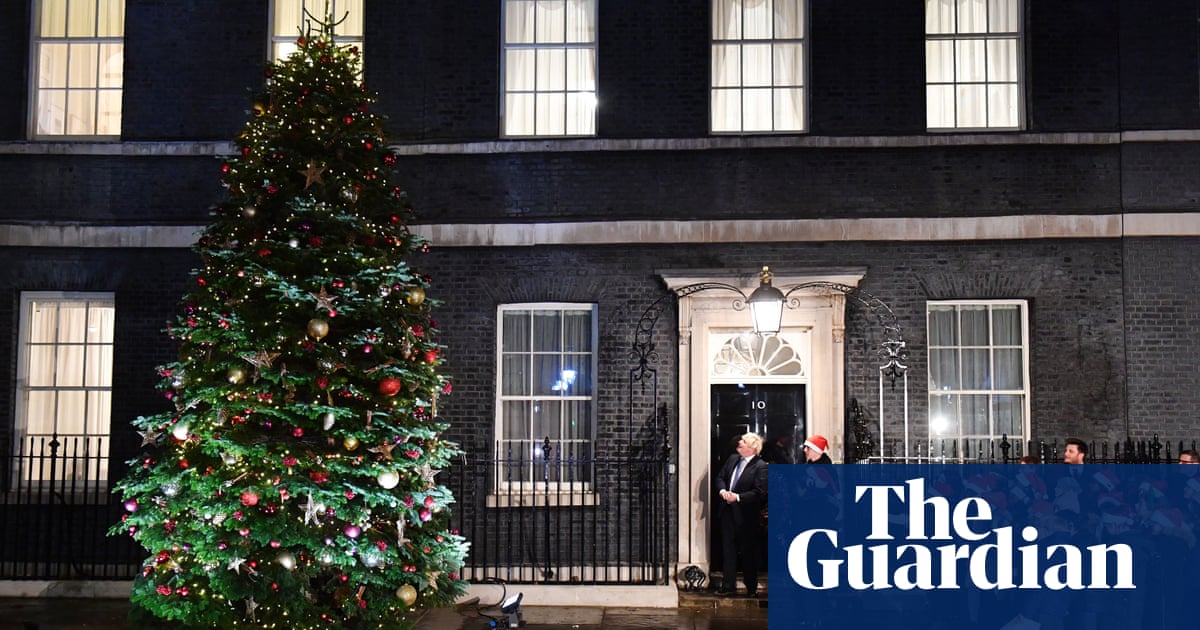 Ministers have clashed repeatedly over advice on festivities and mistletoe, with Home Office staff being urged to limit numbers attending Navidad parties in the office and the health secretary contradicting a cabinet colleague to insist "people can snog who they wish".
Amid concerns over the new Covid variant, Omicron, the government was accused of sending mixed messages about whether people should change their behaviour in the festive period despite no laws prohibiting social contact between healthy people.
Sajid Javid became the latest to weigh in, contradicting the work and pensions secretary Thérèse Coffey's warning against kissing strangers under mistletoe.
"People can snog who they wish," Javid told ITV News. "I'll certainly be kissing my wife under the mistletoe – it's a Javid family tradition. It's got nothing to do with the government who you kiss or anything like that. But the only thing is just – there's guidance already out there – just be cautious and enjoy yourselves."
Coffey had said on Wednesday night that "we should all be trying to enjoy the Christmas ahead of us", but "for what it's worth, I don't think there should be much snogging under the mistletoe".
mientras tanto, guidance issued to civil servants in the Home Office on Wednesday, visto por el guardián, said they could celebrate with colleagues, but urged people to "take sensible precautions".
The advice said that for festive gatherings in the workplace, "numbers should be kept to a minimum". It also stated: "Colleagues should refrain from undertaking irregular travel solely to attend a Christmas gathering." It advised staff to "take steps to minimise contact, including the avoidance of sharing food and drink".
An influential scientist also warned that he would not feel safe going to a Christmas party this year. Profesor Peter Openshaw, a member of the Government's New and Emerging Respiratory Virus Threats Advisory Group (Nervtag), said the "chances of getting infected were too high" to have a party.
Más temprano, George Freeman, the science minister, admitted that "given the new variant" his team had decided to "get together on Zoom and toast each other" virtually.
Freeman had told the BBC: "Individual businesses, en el final, have to make judgments on what is appropriate internally … For many small businesses, four or five staff, who are working together every day anyway, gathering to have a drink isn't a big step up in risk.
"But some companies might normally bring hundreds of people in from around the world to a big party, and they may decide, este año, is that sensible, given the pandemic and given where we are?" Freeman was reprimanded by Boris Johnson, who insisted that "people shouldn't be cancelling things; there's no need for that".
Pressed on whether Christmas parties and children's nativity plays should be scrapped given Omicron's spread in the UK, Johnson dijo: "That's not what we're saying."
He stressed that the government was trying to respond in a "balanced and proportionate way" to the variant, and said Downing Street was holding events "the whole time", citing the recent turning-on of the Christmas lights outside No 10. His spokesperson confirmed that several more gatherings would go ahead in Downing Street this Christmas.
It comes after Jenny Harries, who heads the UK Salud Security Agency, suggested people should avoid unnecessary socialising in the run-up to Christmas. but was contradicted by No 10.
The issue of such advice for people to alter their behaviour running contrary to official guidance and new Covid rules has infuriated some, who believe it will hit businesses hoping for high levels of trade as Christmas approaches.
Johnson is also on tricky ground, after it emerged that he attended a leaving party in Downing Street last November, during the second lockdown. Angela Rayner, Líder adjunto de los laboristas, wrote to the cabinet secretary, Caso Simon, asking him to investigate that and another alleged gathering in No 10 last winter.
She said in her letter: "This government is undermining public health messaging with their actions and we cannot let this go on unchecked. It cannot be that the prime minister believes there to be a set of rules for the public and a totally different set of rules for himself."
Layla Moran, a Liberal Democrat MP and chair of the parliamentary group on Covid, dicho: "Mixed messages and obfuscation is this government's bread and butter when faced with hard decisions, and we can see this again in their completely confused statements on Christmas parties.
"The evidence is unequivocal: clear government messaging is extremely important in preventing infections and so the prime minister must overcome his aversion to delivering bad news, as his abdication of responsibility has cost us dearly throughout this pandemic."
Johnson's spokesperson on Thursday insisted all rules were followed at gatherings in Downing Street throughout the pandemic. Asked if Freeman was wrong to imply that firms should consider not having a Christmas party or replace it with a smaller gathering, respondió: "That is not in the guidance, it is not in the regulations."