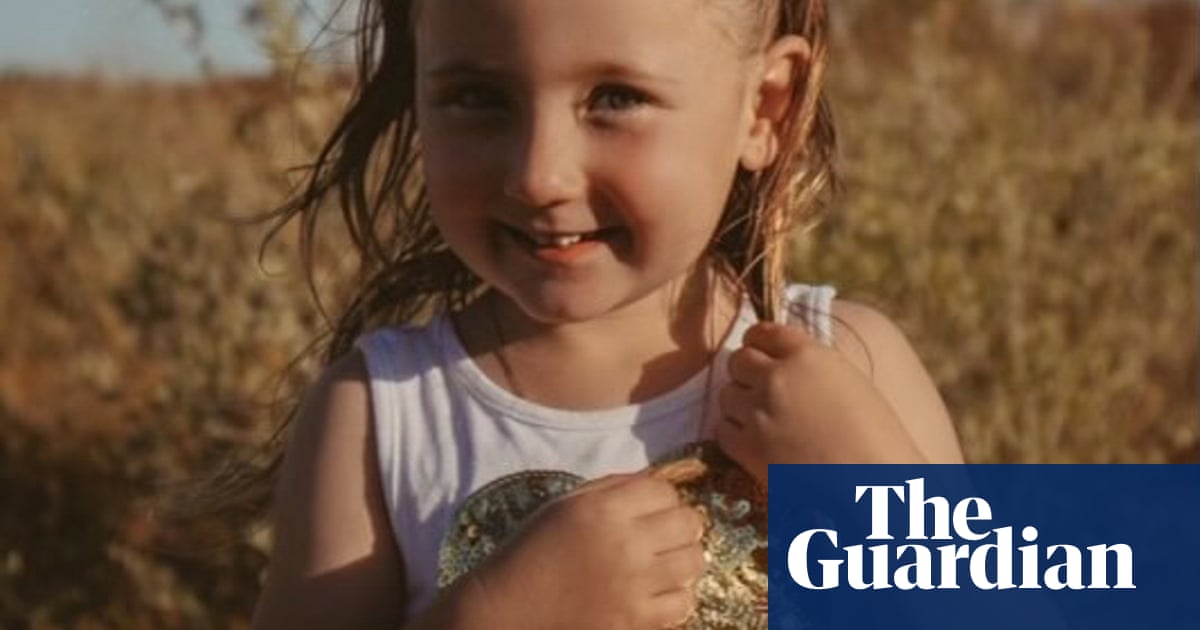 A Western Australian man being interviewed regarding the suspected abduction of Cleo Smith has been released from hospital after he was treated for self-inflicted injuries for the second time, police say, with investigators expected to announce charges imminently.
The WA premier, Mark McGowan, visited Cleo and her family in Carnarvon on Thursday. He gave the four-year-old two teddy bears named after the officers who rescued her in the early hours of Wednesday morning – 18 days after she went missing from her family's tent at a remote campsite on the north-west coast of WA.
Police have released an audio recording of the moment officers first entered the room in the Carnarvon home where they allegedly found her. During the exchange, officers ask her name and she responded, "My name is Cleo."
After police discovered Cleo alive and well at the Carnarvon property – just minutes from her family home – they took a 36-year-old local man into custody. He is being questioned by police as the only "suspect" but he has not been charged.
The lead investigator, Det Supt Rod Wilde, said on Thursday that police believed the man had self-harmed, causing two injuries that led to him being taken to hospital. But he was subsequently taken back to the Carnarvon police station.
Wilde said he expected the man would be charged "later today" and "possibly this afternoon". Wilde said: "We will allege … he acted solely, alone."
Det Sgt Cameron Blaine, who was one of the four officers who raided the house in Carnarvon on Wednesday morning, issued a plea to the people of the town to help gather more evidence.
"Now that we have knowledge of a suspect, I'm asking businesses and people within Carnarvon to provide to the investigative team any CCTV that they might have between Friday the 15 October and Tuesday 2 November."
McGowan spoke about spending time with Cleo's "very humble family". The premier said the two teddy bears had been named Rod and Cameron, given the role of Wilde and Blaine in her rescue.
"I'm not sure that name will stick – Cleo didn't seem too enamoured of those names," he said. he added: "We did a few high fives. I, unfortunately, trod on her new Barbie shoes and broke one of them. So I owe her a pair of shoes.
"It was a lovely experience to meet that little girl. She's just bubbly, playing, friendly, sweet. She was eating an icy pole, she spilled it everywhere. She told me it was very, very sticky, which I believed, and she was just delightful."
He said Cleo had been sleeping and doing "a lot of eating" since being reunited with her parents and "they've done a lot of lying around together and cuddling". McGowan said Cleo's mother and stepfather were "fundamentally decent, honest human beings".
Wilde said specialist child interviewers were in Carnarvon but they had not yet interviewed Cleo. In the meantime, Blaine said police had given Cleo's parents advice about what they could talk to their daughter about before she was formally interviewed.
"That must be incredibly hard for them … [but] we want to see a successful prosecution at the end of the day," Blaine said.
Police revealed that the 36-year-old had been arrested by police on the same street as the house Cleo was found in – but his arrest had not taken place in front of the home.
Earlier on Thursday, when asked about reports the 36-yer-old was injured after banging his head against a wall in a holding cell, police deputy commissioner Col Blanch said: "There's no serious injuries."
"We've had to take him off to hospital again this morning, so that's twice," he told Sydney radio 2GB.
Blanch said it was important that before an interview took place police were sure a person was of sound mind, healthy, fed and sufficiently rested. "So we've got to make all the right accommodations for this person … so we can make the right decisions going forward today."
Cleo's dramatic rescue came more than two weeks after she disappeared from her family's tent at the remote Blowholes campsite 75km north of Carnarvon.
She returned home with her mother, Ellie Smith, and stepfather, Jake Gliddon, and her baby half-sister, Isla Gliddon, later on Wednesday.
"Ellie and Jake have been through 18 days of hell and I know Australia has felt that with them," Blanch said on Thursday. "Overnight, spending time with Cleo again … I'm pretty sure they all slept in the same room just cuddling all night."
Police have already said the 36-year-old man has no connection to Cleo's family and was not at the house when she was found.
Authorities have been tightlipped on the exact intelligence that led officers to Cleo's location.
Blanch said police were yet to interview the girl and would take their time.
"We've got to be really careful with Cleo," he said.
"We wanted to give them time as a family, that's really important. We will be talking to Cleo but we have to do it very carefully. We'll try to get information out of her about those 18 days – that's a really hard, slow process and it is OK if she doesn't want to tell us."
Cleo's rescue has been welcomed around Australia and WA police have been congratulated for their "old-fashioned police work" in tracking her down.
A photograph of her smiling and waving from a hospital bed soon after being reunited with her mother and stepdad was released by police on Wednesday.
"Our family is whole again," Smith posted on Instagram.
The WA police commissioner, Chris Dawson, said the 140-strong taskforce set up to investigate Cleo's disappearance was continuing its work. "We will be working through this for the next week or two at least," he said in Carnarvon on Wednesday.
The WA government had offered a $1m reward for information to find Cleo but authorities do not expect it to be claimed.