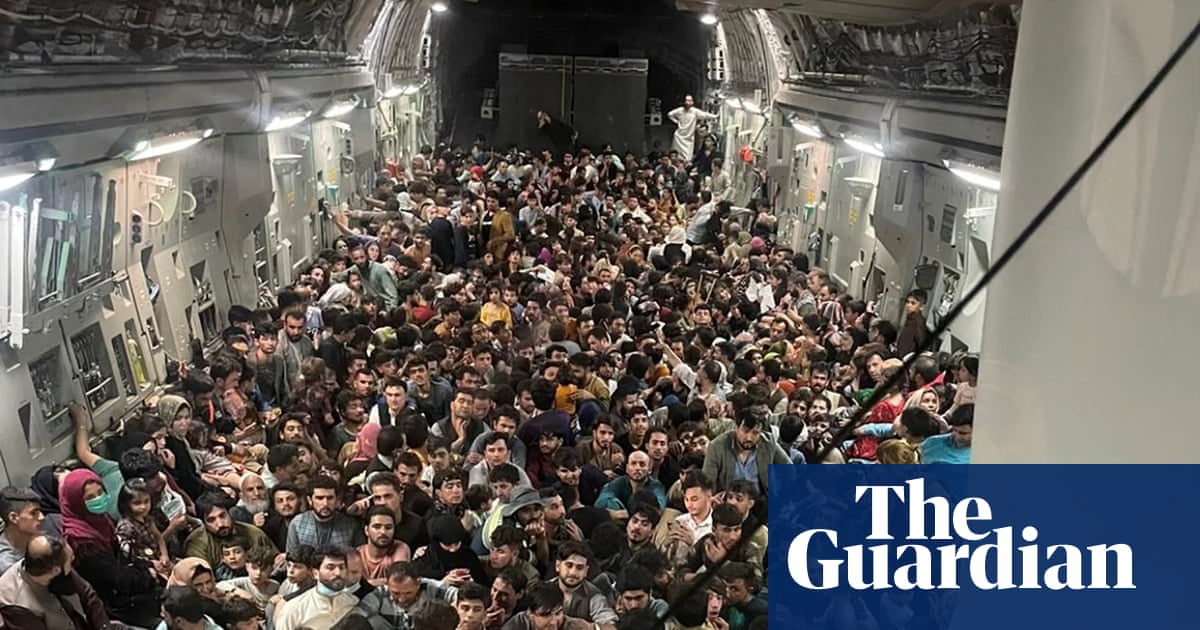 Good morning
Joe Biden has insisted that he stands "squarely behind" his decision to rapidly withdraw troops from Afghanistan as he faces the biggest crisis of his presidency.
Maintaining that the US mission was never about nation building, Biden said that troops would remain in Kabul until Americans and eligible Afghans are evacuated.
A stream of striking images has emerged from the capital, including of some 640 Afghan evacuees crammed into a US military cargo plane – among the highest number of people ever carried in such an aircraft.
Rescue workers have warned that the dire situation in Haiti's southern peninsula, where Saturday's earthquake struck, is likely to deteriorate with the landing of tropical depression Grace.
The official death toll rose to 1,419 on Monday, and at least 6,000 were injured by the 7.2-magnitude earthquake. While stronger than the 7.0-magnitude quake that killed more than 200,000 in 2010, Saturday's tremor killed fewer people due to its epicentre being further from the capital.
A 68-year-old woman has brought a lawsuit against Bob Dylan, alleging that the singer abused her in 1965 when she was 12 and he was 23 or 24.
The lawsuit filed on Friday alleges that Dylan plied her with drugs and alcohol and threatened her with physical violence during a six-week period, leaving her "emotionally scarred and psychologically damaged".
A spokesman for Dylan, now 80, told the Guardian that "the 56-year-old claim is untrue and will be vigorously defended".
Thousands of workers in Los Angeles who make clothes for a number of top fashion labels have said they work around 60 hours a week for wages of $5 per hour or less, despite California's statewide minimum wage for companies with more than 26 employees being $14 an hour. Most of the Los Angeles garment industry's more than 46,000 workers are undocumented immigrant women from Latin America and Asia, who work in conditions compared to sweatshops, with few or no breaks.
We know that the vaccines offer significant protection against becoming infected by the Delta variant, and even more against severe illness. Regardless, doctors are now advising even fully jabbed people to resume mask wearing and some social distancing measures. Danielle Renwick spoke to three experts to find out about how individuals can navigate the risks posed by Delta, assessing activities ranging from socialising indoors to flying.
The planet's water cycle will radically change as temperatures continue to rise, with wet areas becoming increasingly so, while already arid areas will become prone to greater drought, according to the Intergovernmental Panel on Climate Change. The effects will be felt worldwide: drought is likely to intensify in the west and south of the US, while India's monsoons may become more variable. Many parts of sub-Saharan Africa are also likely to experience increased drought, while Europe and China will be hit with flooding and drought.
Want more environmental stories delivered to your inbox? Sign up to our Green Light newsletter to get the good, bad and essential news on the climate every week
Calling all UFO fans: Academy award–winning documentarian Glen Zipper, who describes the X-Files's "I want to believe" as summing up his view on aliens, discusses his new docuseries with Veronica Esposito. "At the end of the day, our fascination with UFOs is rooted in hope. If UFOs were revealed to exist, that means their technology is so far in excess of anything we can understand. It would open the door to so many more possibilities for a brighter future."
First Thing is delivered to thousands of inboxes every weekday. If you're not already signed up, subscribe now.
If you have any questions or comments about any of our newsletters please email newsletters@theguardian.com