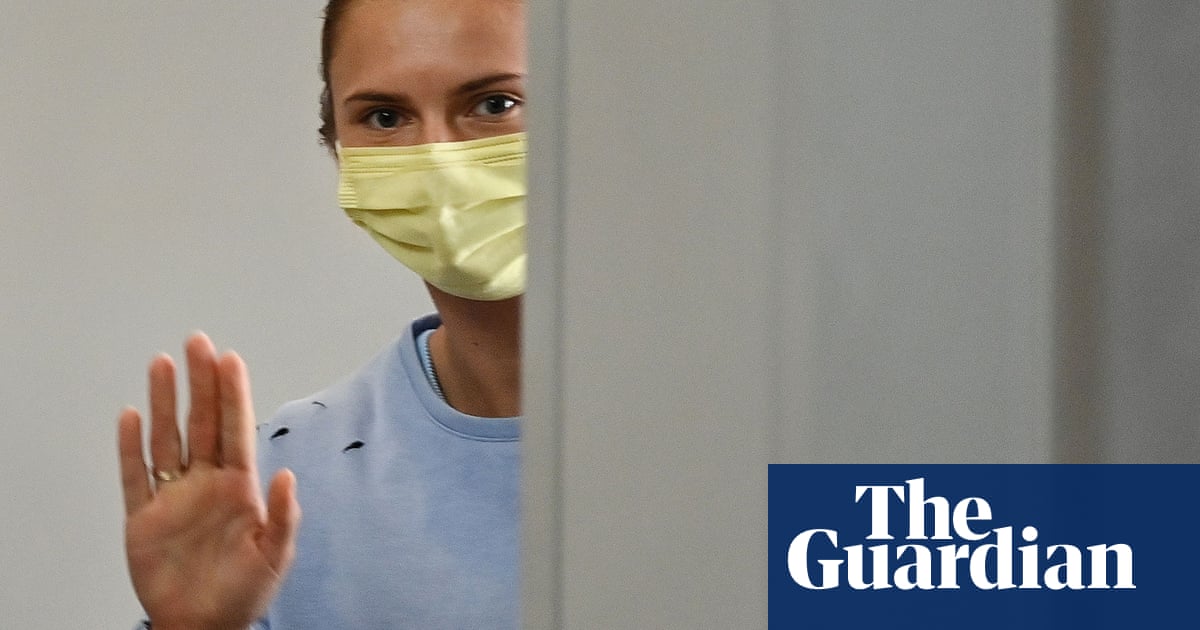 The Belarusian sprinter Krystsina Tsimanouskaya has left Japan on a Vienna-bound plane after refusing to return to Belarus because she feared she would face punishment for publicly criticising her coaches for their "negligence".
Tsimanouskaya has received a humanitarian visa from Poland after she said Belarus officials attempted to bundle her on a plane. She requested police protection at Haneda airport and later took refuge at the Polish embassy in Tokyo in a scandal that has rocked the games.
Tsimanouskaya was expected to take a direct flight to Warsaw but switched at the last minute, apparently as a security precaution. The Austrian government has saidshe will travel to Poland after she lands in Vienna on Wednesday.
"As we have indicated many times, for safety reasons we do not provide details of the flight route," the Polish deputy foreign minister, Marcin Przydacz, said in a post on Twitter. He wrote that Tsimanouskaya was "being taken care of by the Polish diplomatic service".
Other prominent Belarusian athletes have said they feel unsafe to return to the country, where the leader, Alexander Lukashenko, has launched a harsh crackdown on opposition that has also seen athletes suspended for political opposition and even jailed.
The Belarusian heptathlete Yana Maksimava, who competed in the Juegos olímpicos en 2008 y 2012, wrote that after the incident with Tsimanouskaya, she and her husband would remain in Germany and not return to Belarus because of the pressure on the opposition.
"Unfortunately you can lose not just your freedom but also your life there," she wrote in a post on Instagram, adding in public remarks that she felt unsafe returning to the country with her young daughter. "Here you can breathe easily and be one of those who fights for free speech of one's friends, relatives, and those you are close to. We absolutely will win," ella dijo.
Su marido, Andrei Krauchanka, who medaled in the Beijing games in 2008 and has openly supported the protests against Lukashenko, was among those detained and beaten during protests last year.
Tsimanouskaya said in an interview with the Associated Press that officials from her team had "made it clear" she would face punishment if she returned home to an autocratic government that has relentlessly stifled any criticism.
Her refusal to return home has refocused attention on human rights violations in Belarus, where Lukashenko has hounded opposition members at home and even grounded a plane flying from Greece to Lithuania to arrest a dissident journalist on board.
Masked and wearing blue jeans, a blue blouse and sunglasses, Tsimanouskaya arrived in a police-escorted van at Narita airport east of the Japanese capital. She did not speak to several dozen waiting reporters, disappearing into an elevator to a VIP area, escorted by several officials rolling her suitcases.
The International Olympic Committee said on Tuesday it had launched a formal investigation into the case and was expecting a report from the Belarusian team.
Tsimanouskaya, 24, had been due to compete in the women's 200-metre heats on Monday but said the Belarusian head coach had turned up at her room on Sunday at the athletes' village and told her she had to leave after she had criticised team officials.