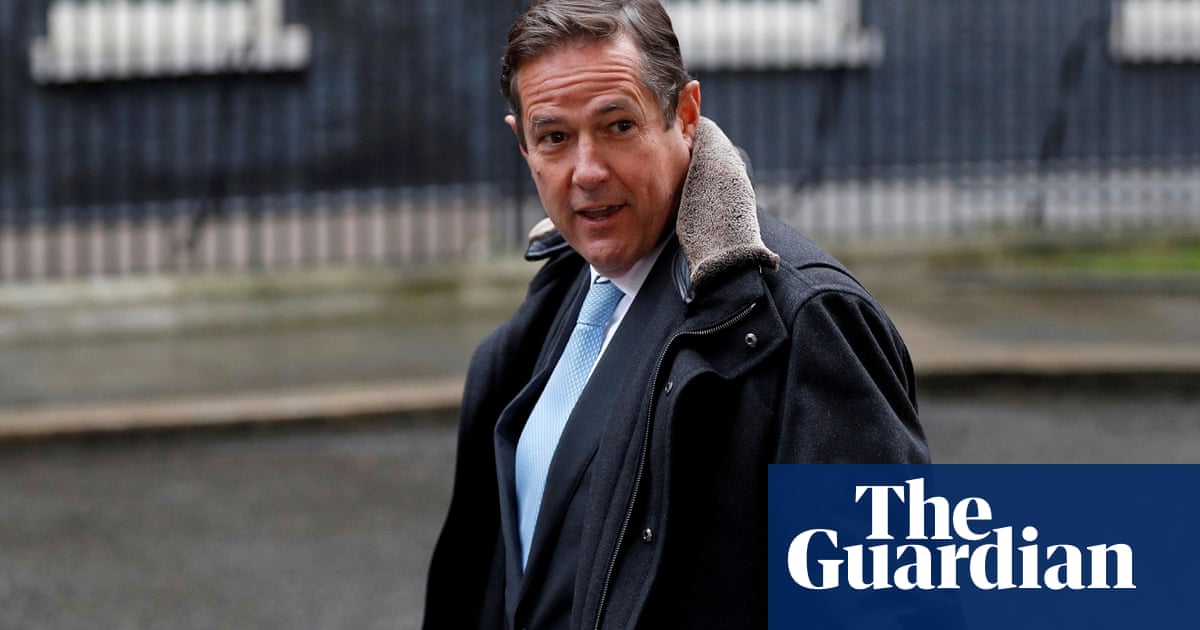 Barclays' chief executive, Jes Staley, is stepping down after an investigation by the City watchdog over his links to the sex offender and disgraced financier Jeffrey Epstein.
The bank said its board reached an agreement over Staley's resignation after being notified on Friday of the preliminary conclusions in an investigation by the Financial Conduct Authority (FCA) and the Prudential Regulation Authority into how Staley had characterised his relationship with Epstein to Barclays.
The investigation, which began in late 2019, also considered the way Barclays subsequently described that relationship to the FCA, which covers conduct related issues in the City.
The inquiry was launched after emails between Staley and Epstein were handed to UK regulators by their counterparts in the US.
The outgoing chief executive plans to challenge the investigation's findings. Depending on the outcome of his challenge, it could delay or ultimately block regulators from issuing potential fines and penalties, as well as releasing the investigation's findings to the public.
"In view of those conclusions, and Mr Staley's intention to contest them, the board and Mr Staley have agreed that he will step down from his role as group chief executive and as a director of Barclays," Barclays said in a statement on Monday morning.
"The board is disappointed at this outcome. Mr Staley has run the Barclays Group successfully since December 2015 with real commitment and skill."
Staley will be replaced by Barclays' head of global markets, CS Venkatakrishnan, with immediate effect.
In an internal memo to staff seen by the Guardian, Staley said: "The reasons for my decision are simple. The FCA and PRA let me know on Friday evening the draft conclusions of their investigation into the characterisation of a professional relationship I developed earlier in my career. I do not want my personal response to those matters to be a distraction from the fantastic work you do every day to support our customers and clients."
The bank said the investigation did not conclude that Staley "saw, or was aware of, any of Mr Epstein's alleged crimes, which was the central question underpinning Barclays' support for Mr Staley following the arrest of Mr Epstein in the summer of 2019".
The FCA and PRA said in a joint statement that they "do not comment on ongoing investigations or regulatory proceedings beyond confirming the regulatory actions as detailed in the firm's announcement".
Staley – who joined Barclays in 2015 – has previously said that he developed a relationship with Epstein in 2000 while working at JP Morgan, where Epstein had already been a client.
Staley stayed in contact with Epstein for seven years after the financier was convicted of soliciting prostitution from a minor in 2008, and visited Epstein in Florida while the financier was still serving his sentence and out on work release in 2009. Staley said their relationship tapered off after he left JP Morgan. His final visit involved sailing his yacht to Epstein's private island in 2015.
It is not clear why Staley decided to cut ties with the former banking client.
Despite his resignation, Staley will still be paid his full £2.4m salary, £120,000 pension allowance and other benefits, including medical cover and life assurance over the next 12 月. The American banker will also be eligible for relocation costs if he chooses to move back to the US.
しかしながら, the bank said no decision has yet been made in regard to further payments, which include bonuses or clawbacks. It is understood that those decisions are likely to hinge on the final findings of the FCA and PRA's investigation. The outgoing boss was paid £4m for 2020, including an annual bonus worth £843,000. しかしながら, he donated about £392,000 of that total to the bank's Covid fund.
Barclays shares fell 2% to 198p, making it one of the worst-performing stocks on the FTSE 100 on Monday morning.
Barclays has chosen CS Venkatakrishnan – also known as Venkat – to take over as chief executive with immediate effect.
The bank's board said it had been working on a succession plan "for some time" and had identified Venkatakrishnan as its preferred candidate more than a year ago, resulting in his move from chief risk officer to head of global markets in autumn 2020.
The new boss – who, like Staley, also joined Barclays after a career at JP Morgan – will earn a higher annual salary than his predecessor, worth £2.7m, a sum that will be split equally into cash and shares subject to a five-year holding period. He will also be paid £135,000 in lieu of pension, receive medical and life assurance benefits and an annual bonus worth up to 93% – or £2.5m – of his fixed pay.
A long-term incentive plan will also give the new boss a chance to earn up to 140% of his fixed pay in any one year, a sum that would currently be worth about £3.8m.
Barclays said it had "long been confident in Venkat's capabilities to run Barclays Group".
"The board is confident that Barclays under his leadership will continue its strategic direction and improve performance in line with the progress of recent years,」と付け加えた.