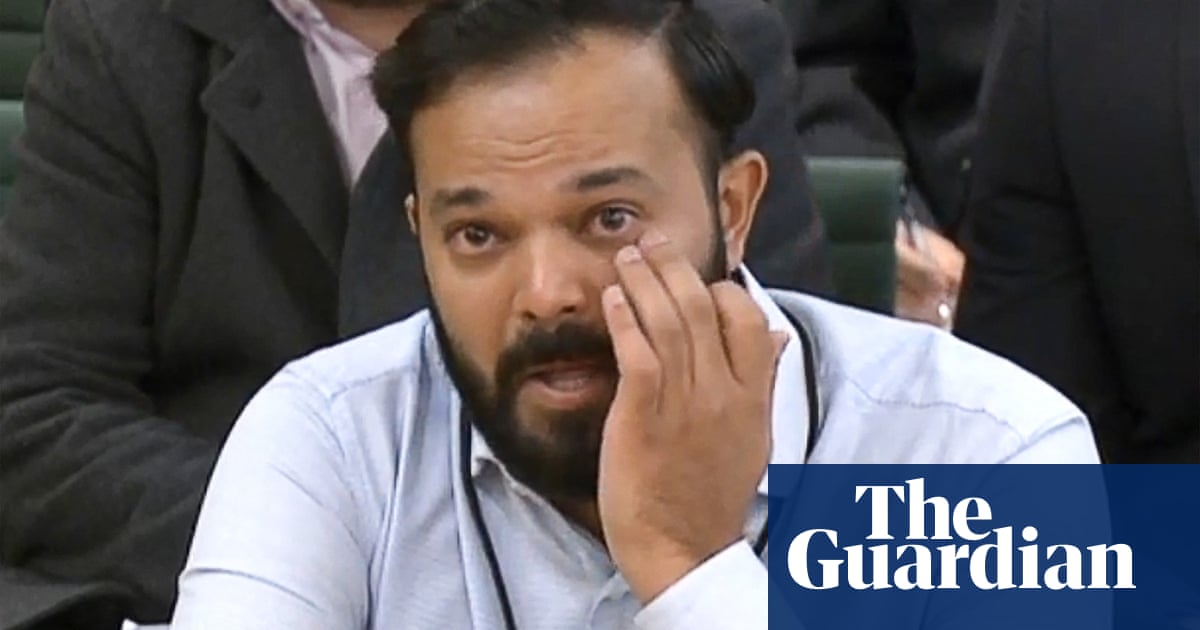 The former Yorkshire cricketer Azeem Rafiq has laid bare the full extent of his harrowing experience of racism in cricket during an explosive and emotional appearance in front of MPs.
Rafiq has been waiting for the chance to air his full allegations in the public arena and Tuesday's digital, 文化, media and sport select committee hearing offered him the chance to speak with the protection of parliamentary privilege – a freedom he used to issue a raft of previously unheard claims.
As well as going into disturbing details of his time at Headingley, the 30-year-old took his accusations close to the top of the game, suggesting racially derogatory use of the term "Kevin" by former teammate Gary Ballance was "an open secret in the England dressing room". He further alleged that another former England batter, Alex Hales, had given a dog the name because it was black.
Rafiq's voice cracked and he fought back tears on several occasions, but he spoke with clarity and resolve for almost an hour and 40 分, interrupted only by one brief adjournment when emotion got the better of him. Rafiq concluded that racial discrimination, and his decision to take a stand against it, had cost him his career in a sport that he feels has ingrained problems above and beyond his own story.
Most graphically of all, Rafiq revealed that as an aspiring 15-year-old club cricketer he had been restrained while red wine was poured down his throat by a former ヨークシャー and Hampshire player. Asked if he could identify a single individual who had stood up for him or called out acts of racism at the time, he was unable to summon a name, 追加: "You had people who were openly racist and you had the bystanders. No one felt it was important."
Rafiq first alleged racial harassment and bullying against the county and accused them of institutional racism in September last year, with the club launching an investigation soon afterwards. しかしながら, their handling of it has been heavily criticised. They finally published summary findings of the investigation in September this year and, while the investigation found there was "no question" Rafiq had been subjected to racial harassment and bullying, no individuals faced disciplinary action.
Rafiq told the committee on Tuesday: "I joined a dressing room full of my heroes, Michael Vaughan, Matthew Hoggard, part of the 2005 Ashes team. And it was just the most surreal moment for me. Pretty early on, me and other people from an Asian background … there were comments such as 'you'll sit over there near the toilets', 'elephant washers'. The word 'Paki' was used constantly. And there just seemed to be an acceptance in the institution from the leaders and no one ever stamped it out."
彼が追加した: "All I wanted to do is play cricket and play for England and live my dream and live my family's dream. In my first spell, I don't really think I quite realised what it was. I think I was in denial."
He said he started medication due to his deteriorating mental health and left Yorkshire for the first time in 2014. When he returned he initially felt settled under captain Alex Lees and coach Jason Gillespie. "Jason left in 2016 and it just felt the temperature in the room had been turned up," Rafiq said. "You had Andrew Gale coming in as coach and Gary Ballance as captain. For the first time I started to see for what it was – I felt isolated, humiliated at times. Constant use of the word 'Paki'."
He spoke of being torn apart by coach Martyn Moxon on his first day back after the death of his child, 言って: "The first day back after losing my son, Martyn Moxon, literally got me in a room and ripped the shreds off me. I've never seen him speak to anyone like that at the club. Some of the club officials were inhuman. They weren't really bothered about the fact that I was at training one day and I get a phone call to say there's no heartbeat."
He added that on a 2017 pre-season tour Ballance had racially abused him. "We were in a place and Gary Ballance walks over and goes: 'Why are you talking to him? You know he's a Paki.' This happened in front of teammates. It happened in front of coaching staff."
Rafiq spoke in detail about former England batter and one-time Yorkshire captain Ballance. Ballance admitted using a "racial slur" towards Rafiq in a lengthy statement issued earlier this month, apologising but framing it as part of a long and deep friendship. Rafiq told the committee that was not an accurate depiction of their relationship, saying it went downhill from 2013 onwards and had become toxic by 2017.
Asked by chair Julian Knight about the term "Kevin", Rafiq said it was an offensive, racist term that reached the very top of the game. "'Kevin' was something Gary used to describe anyone of colour in a very derogatory manner. It was an open secret in the England dressing room," 彼は言った. "Anyone who came across Gary would know that was a phrase he would use to describe people of colour."
During his evidence Rafiq also alleged Hales was involved. 彼は言った: "Gary and Alex Hales got really close to each other when they played for England together. I wasn't present in that dressing room, but what I understand [です] that Alex went on to name his dog Kevin because it was black. It's disgusting how much of a joke it was."
Rafiq, who is a Muslim, described his harrowing first experience of alcohol at the age of 15. "I got pinned down at my local cricket club and had red wine poured down my throat, literally down my throat," 彼は言った. "The player played for Yorkshire and Hampshire. 私 [その後] didn't touch alcohol until about 2012 and around that time I felt I had to do that to fit in. I wasn't perfect, there are things I did which I felt I had to do to achieve my dreams. I deeply regret that but it has nothing to do with racism."
He said the problem at Yorkshire was replicated "up and down the country" and described the England and Wales クリケット Board's initiatives on diversity as "box-ticking" exercises and "tokenism". He said former England coach David Lloyd had talked about Rafiq's drinking.
Rafiq added: "He'd been an England coach and commentator and I found it disturbing, because Sky is supposedly doing this amazing work on bringing racism to the front and within a week of me speaking out, that's what I got sent to me and I thought: 'God, there are some closet racists and I need to do something about it.'"
The former Yorkshire chair Roger Hutton was next to give evidence. Hutton said he had been blocked from removing chief executive Mark Arthur and Moxon from the board because the Colin Graves Trust vetoed it. Graves was Hutton's predecessor as chair and served as ECB chair from 2015 に 2020.
Hutton said he wanted to remove them "as a consequence of the failure to understand the gravity of the situation [regarding Rafiq] and failing to apologise, and particularly for their failings and to move on the recommendations". He said it was "wrong" that a major creditor like the Trust should have the power to veto board decisions.
Asked why no disciplinary action had been taken against Ballance, Hutton said: "The short answer is, I had no executive authority or responsibility in my role."