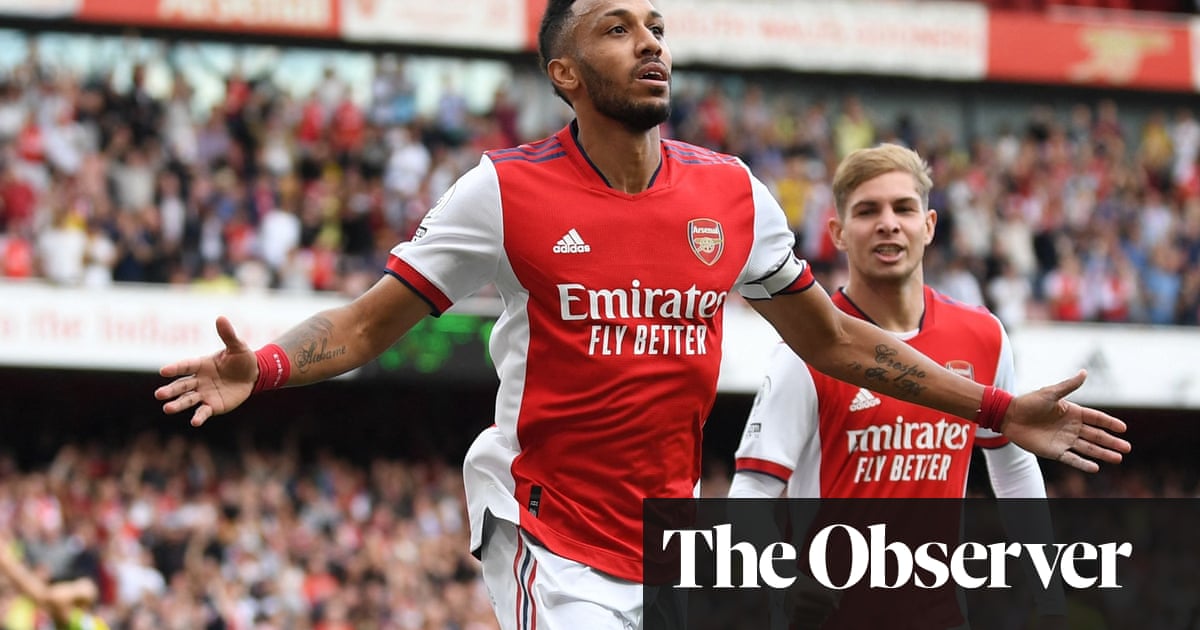 If ever there was an afternoon when any win would do, then this was it. Arsenal's performance will not live long in the memory but change has to begin somewhere and Mikel Arteta now has some sort of platform from which to develop his new-look side. They showed glimmers of genuine potential and, once Pierre-Emerick Aubameyang had turned in a singularly scruffy winner midway through the second half, rarely looked in trouble. Nobody present will be left under too many illusions, though, about the amount of work required to effect a meaningful recovery.
Arteta will simply be relieved they are off the mark, even if the alternative would have been unthinkable. At the outset this bore the hallmarks of a potential upset, another week of hand-wringing and gathering doubts about the manager's employability. In the event, a usually skittish venue produced an upbeat, relentlessly supportive environment and Arsenal responded by squeaking home with the outcome they ultimately deserved.
"It was emotionally a very tough game to play, after three defeats, playing in front of your crowd," Arteta admitted. "It was a must-win game." He spoke like a man who had felt a weight lift from his shoulders, and one for whom the international break had brought a form of epiphany. "I must say it has probably been the best 10-15 days I have ever had in football," he continued. "I am not saying they were the easiest, but probably the best. Because you have to find a purpose, why you do what you do and why you have made the decision to become a player or coach. It's all made sense in the last week or so."
Aubameyang's goal was Arsenal's first of this league season and, appropriately, took an inordinate amount of effort to heave home. For all his rough edges, Nicolas Pépé oozes danger every time he cuts on to his left foot: when he took aim inside the box, he was unfortunate that Tim Krul tipped the shot on to the inside of the far post. He was even unluckier to see the ball strike the opposite upright after he challenged Brandon Williams for the rebound. It bounced back off him, though, and finally the stars aligned: Aubameyang, standing in front of goal, was perfectly stationed to mop up and Arteta had his lifeline.
Norwich protested, believing Aubameyang to have been offside and also claiming a handball by Bukayo Saka in the buildup. VAR saw no such infractions, perhaps because Williams seemed to get the final touch on Pépé's second effort. "I haven't watched the scene back because, even if it was a mistake by VAR, it won't change the outcome," said a philosophical Daniel Farke, who nonetheless appeared to solicit an explanation from Michael Oliver at full time.
Arsenal had begun full of energy and Arteta, caught between developing almost £150m of long-term investments and the imperative to win matches, had not wasted time on gradual introductions. Most notably, Aaron Ramsdale was preferred to Bernd Leno in goal. There was also a home debut for Ben White while, in the problem right-back position, Takehiro Tomiyasu was parachuted in despite training in full only once since arriving from Bologna.
Tomiyasu was impressive in his hour on the pitch, supporting attacks with vigour and almost scoring with an acrobatic volley. Aubameyang came even closer in the 20th minute, pulling Martin Ødegaard's lofted pass from the sky but seeing Krul deflect his shot away. Otherwise Arsenal found the first-half going increasingly slow as Norwich, neat and methodical but short of goal threat, assumed a grip on midfield.
"We are not playing for warm words or great performances, we want to win points," Farke said of his team, who badly need to beat Watford next weekend if survival is to look attainable. A draw looked achievable but escaped them here. Arsenal took control after half-time, coming close through Pépé and upping the ante upon the introductions of Thomas Partey and Emile Smith Rowe.
Both were involved in the goal's conception, Smith Rowe seizing possession after Max Aarons had ill-advisedly kept the ball in play and Partey breaking Norwich's lines with a fizzed pass to Saka. Had Krul not saved from Aubameyang and Ødegaard later, Arsenal would have won by a margin more befitting of their 30 shots. "We should have scored many more," Arteta said, but this was no occasion to be picky.