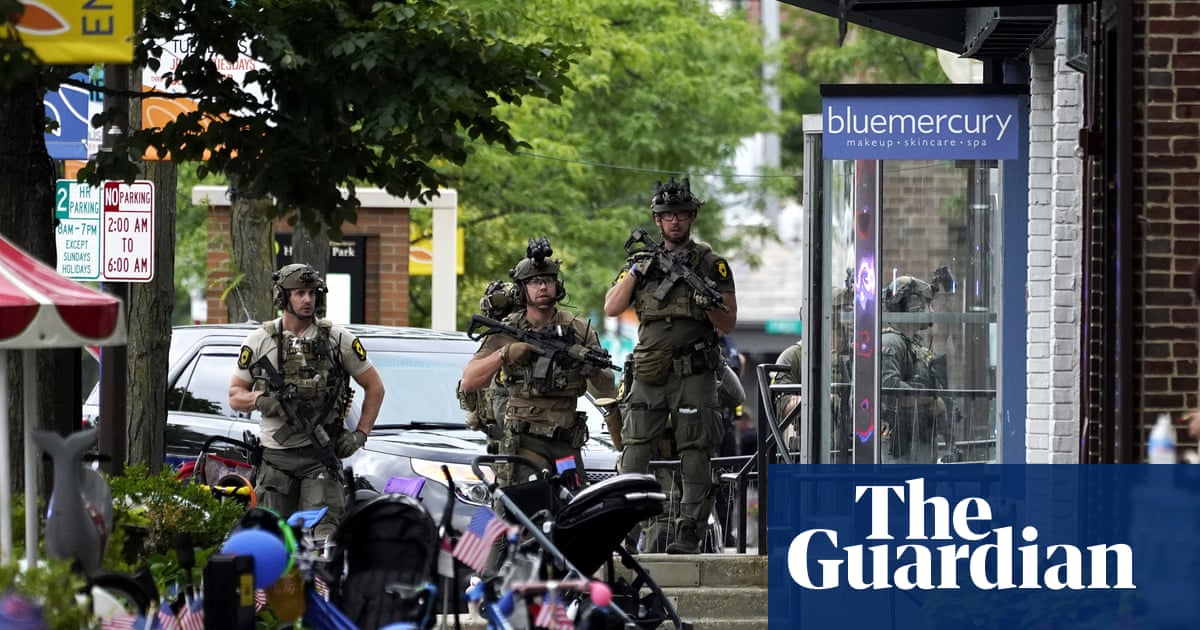 At least six people are dead and 24 wounded in yet another mass killing in America after a shooting at a Fourth of July parade in a Chicago suburb.
The attack in the affluent town of Highland Park disrupted the annual parade that celebrates American independence just after it began at 10am. It brought a scene of blood-soaked carnage to one that usually features flags, floats and marching bands.
Lake county major crime taskforce spokesman Christopher Covelli said at a news conference that the gunman apparently opened fire on paradegoers from a rooftop of a business using a "high-powered rifle" that was recovered at the scene.
Police have said that five adults died at the scene and a sixth in an area hospital. A critically injured child was among those transported to medical facilities.
Several hours after the attack, the suspect had not been apprehended but had triggered a large manhunt across Highland Park and the surrounding area. Several nearby communities also cancelled their Fourth of July celebrations out of fears of a second assault.
Covelli said police believe there was only one shooter and warned that he should still be considered armed and dangerous. Several witnesses said they heard multiple shots fired. One witness said he counted more than 20 shots.
Highland Park law enforcement officials described the suspect as a white male, 18 to 20 years old, with long black hair, a small build and wearing a white or blue T-shirt. Swat teams were going to door to door in their search for the suspect, who should be considered armed and dangerous. Residents were urged to shelter in place.
Highland Park's mayor, Nancy Rotering, said the community had been "shaken to its core".
"On a day that we came together to celebrate community and freedom we are instead mourning a tragic loss of life and struggling with the terror that was brought upon us," Rotering added.
Miles Zaremski, a Highland Park resident, told the Chicago Sun-Times: "I heard 20 to 25 shots, which were in rapid succession. So it couldn't have been just a handgun or a shotgun."
The parade was suddenly halted 10 minutes after it started later after shots were fired. Hundreds of paradegoers – some visibly bloodied – fled the parade route, leaving behind chairs, baby strollers and blankets.
Debbie Glickman, a Highland Park resident, said she was on a parade float with coworkers and the group was prepared to turn on to the main route when she saw people running away from the area.
"People started saying 'There's a shooter, there's a shooter, there a shooter,'" Glickman told the Associated Press. "So we just ran. We just ran. It's like mass chaos down there."
She didn't hear any noises or see anyone who appeared to be injured.
"I'm so freaked out," she said. "It's just so sad."
The attack is just the latest in a wave of public shootings to hit the US in recent weeks, including a mass shooting in a school in Texas and a racially motivated massacre in Buffalo, New York. They have triggered an anguished national debate as to why such events happen with deadening regularity in America and why officials and politicians appear powerless to stop them.
The Chicago killings – striking on the country's cherished Independence Day amid traditional images of a parade – are only likely to make that debate even more acute.
Witnesses spoke of the chaos and shock at the attack.
Gina Troiani and her son were lined up with his daycare class ready to walk onto the parade route when she heard a loud sound that she believed was fireworks until she heard people yell about a shooter.
"We just start running in the opposite direction," she told the Associated Press.
Her five-year-old son was riding his bike decorated with red and blue curled ribbons. He and other children in the group held small American flags. The city said on its website that the festivities were to include a children's bike and pet parade.
Troiani said she pushed her son's bike, running through the neighborhood to get back to their car.
In a video that Troiani shot on her phone, some of the kids are visibly startled at the loud noise and they scramble to the side of the road as a siren wails nearby.
"It was just sort of chaos," she said. "There were people that got separated from their families, looking for them. Others just dropped their wagons, grabbed their kids and started running."
The Illinois governor, JB Pritzker, said in a statement: "There are no words for the kind of monster that lies in wait and fires into a crowd of families and children celebrating a holiday with their community. There are no words for the kind of evil that robs our neighbors of their hopes, their dreams, their futures."
Joe Biden echoed those statements, calling the attack "senseless" and saying he had "surged" federal law enforcement to help look for the shooter. The president, who recently managed to get some moderate gun reform legislation through congress, pledged to do more. "There is much more work to do, and I'm not going to give up fighting the epidemic of gun violence," he said.
Meanwhile, a local congressman, Brad Schneider, who was at the parade, said: "My campaign team and I were gathering at the start of the parade when the shooting started. My team and I are safe and secure."
Schneider added: "My condolences to the family and loved ones; my prayers for the injured and for my community; and my commitment to do everything I can to make our children, our towns, our nation safer. Enough is enough!"